Lanesboro Arts Welcomes New Gallery & Communications Director; Announces Executive Director and Program Director Roles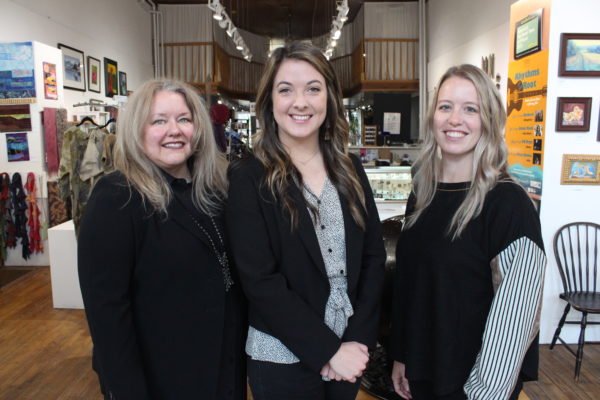 11/11/2021
Lanesboro Arts welcomes new Gallery and Communications Director Kris Viesselman, who will curate the Lanesboro Arts Juried Sales Gallery and Exhibition Gallery, along with managing related marketing and communications. Additionally, Lanesboro Arts announces new roles for existing staff members: the organization recently appointed Kara Maloney to sole Executive Director, and promoted Melissa Wray to Program Director in July 2021.
The recent staffing changes reflect the decision by the Lanesboro Arts Board of Directors to phase out the Team Leadership model that started in 2018, which was led by three Co-Executive Directors including Maloney. The decision to return to a sole executive director leadership structure was made after an extensive planning process and the amicable departure of two of the three Co-Executive Directors with the retirement of Robbie Brokken in July 2021 and departure of Adam Wiltgen in March 2020. With Maloney at the helm, supported by Viesselman and Wray, the organization is prepared and eager to tackle new opportunities.
"Lanesboro Arts has navigated an unprecedented pandemic with healthy financial standing and continued the vital role as community arts connector, thanks to the dedication and leadership of Kara Maloney and Melissa Wray. With these recent staffing changes for Maloney and Wray and with the recent hiring of Kris Viesselman, we are thrilled to see how the organization will continue to grow and serve artists and community," says board chair Mike Augustin.
Staff and board members have updated and revised systems, policies and procedures to ensure ease of transition and organizational sustainability throughout the leadership changes.
About Kris Viesselman
From an early age, Kris Viesselman has loved to collaborate with creative people. As a child, she'd corral the neighborhood kids to perform musical productions.
In the decades since, she has held senior leadership roles at a number of well-known companies and organizations, including National Geographic. Kris also founded the creative company Electric Ivy, where she worked with a number of museums and arts organizations.
During the pandemic lockdown, Kris co-founded a thematic digital magazine, Wander (Wandermag.design), as an outlet for women illustrators from around the world.
A longtime visual artist and occasional singer, Kris holds an Art degree from Buena Vista College in Storm Lake, Iowa.
About Kara Maloney
Kara Maloney is the Executive Director at Lanesboro Arts who oversees all strategic planning and development activity. She also drives the organization's broader educational and community engagement efforts. Maloney brings strong leadership, organizational continuity, positive energy, and new ideas to the Lanesboro Arts roles she's held since 2016.
As a board member of the Lanesboro Chamber of Commerce and Southeastern Minnesota Arts Council, Maloney's dedication to local efforts runs deep. Maloney's experience in cross-sector partnerships, innovative arts programs, and leadership roles has ensured ongoing programmatic excellence from the organization.
Maloney participated in the Blandin Community Leadership Training Cohort, the Bush Foundation's Community Creativity Cohort 2, and Propel's Financial Leadership Cohort. Maloney has approached her new role as Executive Director for the organization with a keen eye for strategic development, a dedication to the arts, and a commitment to community and social change that will ensure growth and excellence for the organization's future.
About Melissa Wray
Community and storytelling are at the heart of Program Director Melissa Wray's creative work. Melissa has been with Lanesboro Arts since 2019. With her recent appointment as Program Director in July 2021, she manages programs, special projects, and oversees the organization's marketing and publicity efforts.
With over a decade of nonprofit arts program management experience, including a Masters in Arts and Cultural Leadership from the University of Minnesota, her leadership and creative program development have been an asset for Lanesboro Arts' program and audience development.
Melissa is also the founding board director of Mainspring, a community arts and cultural center in Caledonia, MN, and is the founder of the podcast MinnePod.
About Lanesboro Arts
Lanesboro Arts is a nonprofit, multidisciplinary arts organization activating the people and places of Lanesboro by empowering and creating opportunities for artists. The organization offers accessible programs, including visual art galleries, performing arts at the St. Mane Theatre, an annual fine arts fair, artist residencies, public art projects, and educational outreach. Lanesboro Arts has received national recognition for the use of innovative programming and cross-sector partnerships to build community.