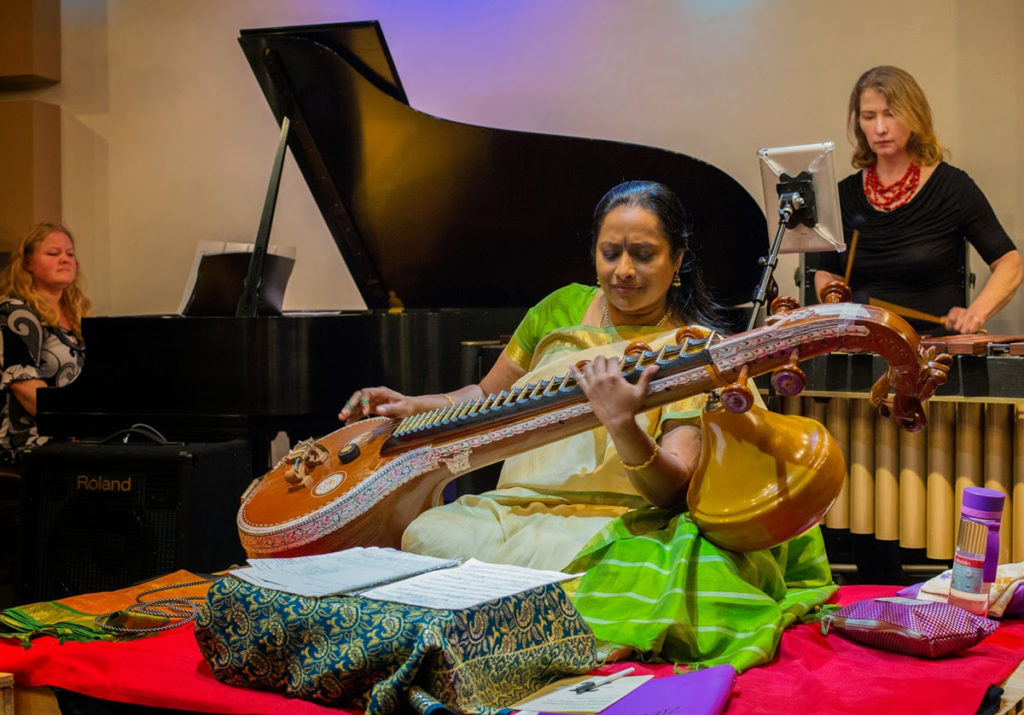 Saint Paul-based new music ensemble Zeitgeist is set to bring a cross-cultural musical adventure to Lanesboro Arts' St. Mane Theatre on Saturday, May 12 at 7:30 p.m. Zeitgeist is joined by veena virtuoso Nirmala Rajasekar and mridangam player Thanjavur Murugaboopathi to present "Summer Rain," a series of collaborative developed compositions that blend the classical music of India and new Western classical music and aim to provide a greater understanding of the two traditions.
Nirmala Rajasekar is a world renowned Carnatic veena virtuoso and educator of South Indian Music. Based in Plymouth, MN, she has performed in venues throughout the world and is a recipient of many awards including a Bush artistic fellowship, a McKnight fellowship, Rotary Vocational Excellence award and Best Senior Veena Artiste. Nirmala travels around the world teaching and performing Carnatic Music vocally and on her veena (an instrument similar to a sitar). An active collaborator with other forms of art, Nirmala says she looks at collaboration as a way to handshake with another genre. "I can never claim to know everything about that other genre," she shares, "because it takes lifetimes of learning, but at least I get a little insight into a world other than my own."
Lauded for providing "a once-in-a-lifetime experience for adventurous concertgoers," Zeitgeist is a new music chamber ensemble comprised of two percussion, piano and woodwinds. One of the longest established new music groups in the country, Zeitgeist commissions and presents a wide variety of new music for audiences in the Twin Cities and on tour. Always eager to explore new artistic frontiers, Zeitgeist collaborates with poets, choreographers, directors, visual artists and sound artists of all types to create imaginative new work that challenges the boundaries of traditional chamber music. The members of Zeitgeist are: Heather Barringer, percussion; Patti Cudd, percussion; Pat O'Keefe, woodwinds; and Nicola Melville piano.
This concert will mark Zeitgeist's second time at the St. Mane Theatre as the group performed in the venue in December of 2014 with accordion player Victor Zuponik and storyteller Kevin Kling. "We're thrilled to be returning to Lanesboro," Barringer exclaims. "The intimacy of the St. Mane not only makes for an ideal environment for listening, but also for forging new links between musicians and music lovers."
This production is presented by LANESBORO ARTS and sponsored by Inspire(d) Media, Commonweal Theatre, Granny's Liquors and High Court Pub.
Please note:
The St. Mane Theatre box office will open at 6:30 p.m. the evening of the concert. Remaining tickets will be sold in-person beginning at that time.
If you are unable to buy tickets online or need additional assistance, you may try calling 507-467-2446 to purchase tickets over the phone during business hours.
We will have a list of the names of ticket buyers at the box office beginning at 6:30 p.m. If the ticket buyer and their guests arrive together, no physical receipt or proof of purchase is needed in order to be admitted to the event–we will have a list!
Alternatively, attendees can also present a printed copy of the Eventbrite ticket PDF the ticket buyer was sent or simply pull it up and present it on a smart device.