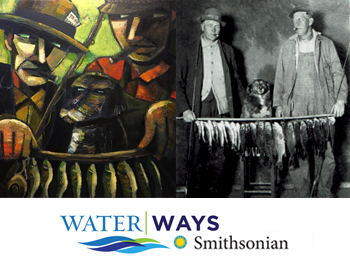 Lanesboro Arts presents 'Currents of Change,' a companion art exhibit to the Smithsonian Institute's Museum on Main Street Water/Ways exhibition that pairs historical water photos of Lanesboro with mixed media artworks interpreting those photos by 15 regional artists: Mary Solberg, Jamie Heiden, Paul Brokken, Ron Germundson, Linda Ricklefs Baudry, Bebe Keith, Joan Finnegan, David Tacke, Leisa Luis Grill, Susanne Crane, Sara Lubinski, Erik Pearson, Meg Vinson, Fred Dingler, and Lori Biwer Stewart.
The historical photos featured in 'Currents of Change' were selected and provided by the staff and board of the Lanesboro Museum. The selected photos showcases Lanesboro's deep relationship with water over time and includes winter scenes, floods, fishing, the river, dam, ponds, blizzards, and more.
The exhibit opening is happening in conjunction with the grand opening festivities for Water/Ways with a reception in the Lanesboro Arts Gallery on Saturday, January 7, 2017, from 4-6 p.m., and runs through March 5, 2017. The reception will include wine and hors d'oeuvres, as well as live music. Shanai and Colin from Works Progress will also be setting up Water Bar to serve room temperature flights of tap and well water from different locations within the watershed. Water Bar is a unique chance to sample area waters, learn about water quality issues, and also chat with staff from Bolton & Menk, an engineering and surveying firm with a strong commitment to water quality. Always free and open to the public, the Lanesboro Arts Gallery is open six days a week during Water/Ways.
Providing year-round arts programming for more than thirty years, the mission of Lanesboro Arts is to serve as a regional catalyst for artistic excellence and educational development in providing diverse art experiences for people of all ages. Handicapped accessible and free to the public, the exhibition gallery is located at 103 Parkway Ave N. in Lanesboro, Minnesota.
Currents of Change is sponsored by Davies Printing Company in Rochester, MN

Water Bar is sponsored by Bolton & Menk Engineering