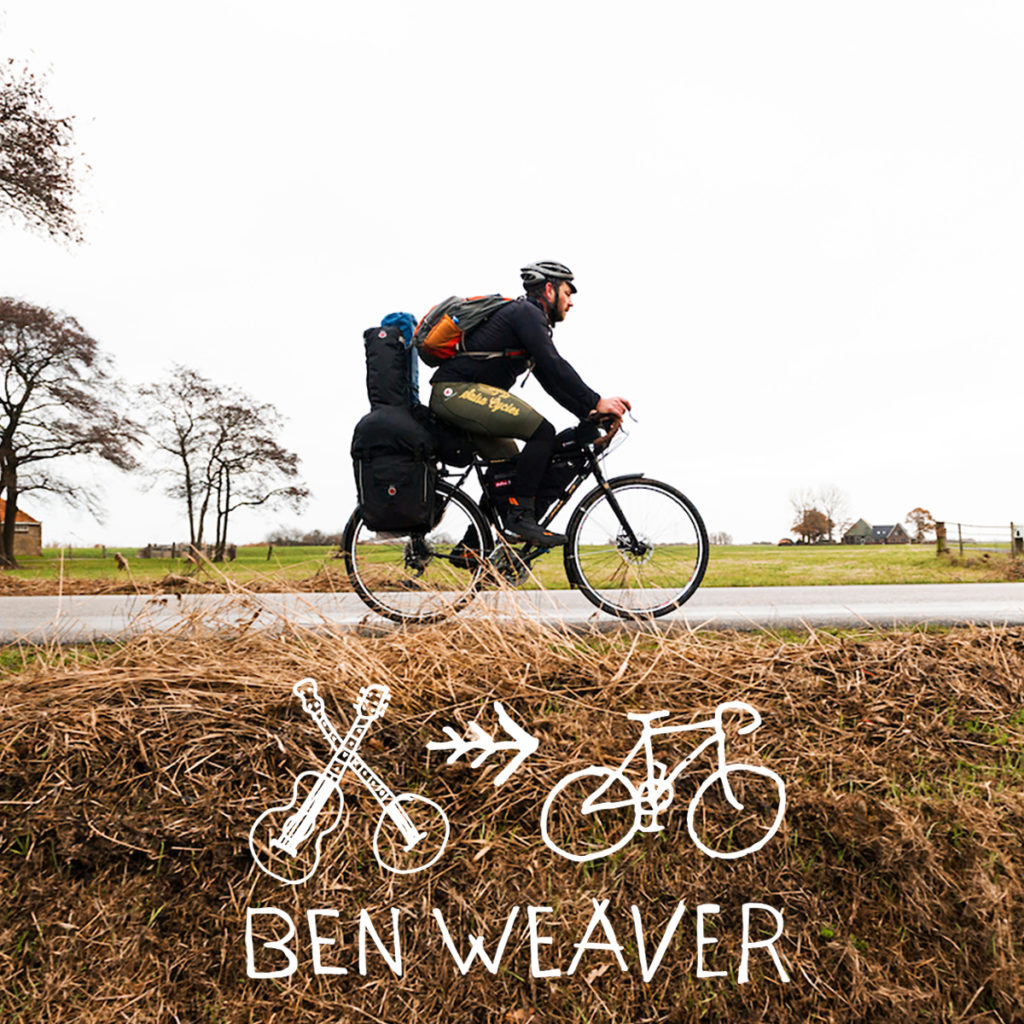 Lanesboro Arts presents "Music for Free on the Great Divide Mountain Bike Route," a film screening and concert event with artist Ben Weaver at the St. Mane Theatre in downtown Lanesboro on Saturday, June 29 at 7:00 p.m. Ben is a Saint Paul-based songwriter, musician, poet, letterpress artist, cyclist and outdoor adventure advocate that is returning to engage with the Lanesboro area community following a pair of outreach events in 2017 and a mini-residency in 2018. Ben will lead a group bicycle ride beginning at 10:00 a.m. on June 29 that will include a stop during the journey to enjoy food, stories and live music.  Please check back to learn more and register for the group bicycle ride.
Adventure films often position the athletes as the heroes. Ben Weaver has always felt this approach leaves out an important part of the story. The part about the people who helped along the way. "Music for Free on the Great Divide Mountain Bike Route" follows Ben's journey as he pedaled 3,000 miles in June 2018 from Banff, Alberta, Canada to Antelope Wells, New Mexico, U.S.A, with filmmaker Keenan Desplanques in order to tell a different kind of adventure story. Stopping in the communities along the way, Ben gave free performances and offered thanks to the people who continue to support the Great Divide Mountain Bike Route (the longest mapped, off-road bikepacking route in the world) and its riders. Ben believes mountain vistas and overcoming physical challenge are not nearly as inspiring as listening to a stranger tell their story, and in it, hearing your own. If "Music for Free…" had a chorus it would be this: The people are the heroes.
For Ben, an artist is a person who believes in the impossible. They are the representatives of awe, the kinds of people who set off into the storm with no matches. Artists are the ones who lay down on the ground and wrestle with the wolves, metaphorically and sometimes literally.  Artists keep the truth of a spirit breathing, constantly in pursuit of an energy, a source, a language larger than the sum of our petty concerns. For Ben, it's about reciprocity, a way of listening and sharing, observing and making for more than oneself. The artist makes visible for a moment the potential of the human spirit for those who may not otherwise be able to see it.
The film screening & concert on June 29, as well as the group bicycle ride earlier in the day, offer community members an opportunity to continue dialog around the issues and ideas explored during Ben's previous visits to Lanesboro. Ben reflects on his January 2018 mini-residency by sharing, "During my time in Lanesboro, I learned that people are more alike than their judgements of others often allow them to see and that art can bring these different groups together to help listen and understand their ways of supporting one another." Ben adds, "My experience in Lanesboro as part of the Performing Artist Engagement Program has informed an ongoing conversation I am working on about how to connect people in rural communities with different backgrounds, and how to open up more acceptance concerning the development and imagining of sustainable economies that support healthy ecosystems."
Please note:
The St. Mane Theatre box office will open at 6:00 p.m. the day of the film & concert. Tickets will also be sold in-person beginning at that time.
New in 2019: Each ticket purchased with a bank card will be charged an additional processing fee of $0.99. Patrons can avoid this processing fee by paying via cash or check in the Lanesboro Arts Gallery, or before the show in the St. Mane Theatre lobby.
If you are unable to purchase tickets online or need additional assistance, you may try calling 507-467-2446 to purchase a ticket over the phone during business hours. Tickets are also sold in-person during business hours at Lanesboro Arts Gallery.
We will have a list of the names of tickets buyers at the box office beginning at 6:00 p.m. If the buyer and their guests arrive together, no physical receipt or proof of purchase is needed in order to be admitted to the event–we will have a list!
Alternatively, attendees can also present a printed copy of the ticket PDF the ticket buyer was e-mailed or simply pull it up and present it on a smart device.
Lanesboro Arts is committed to accessibility for all people. Learn more about our access services.