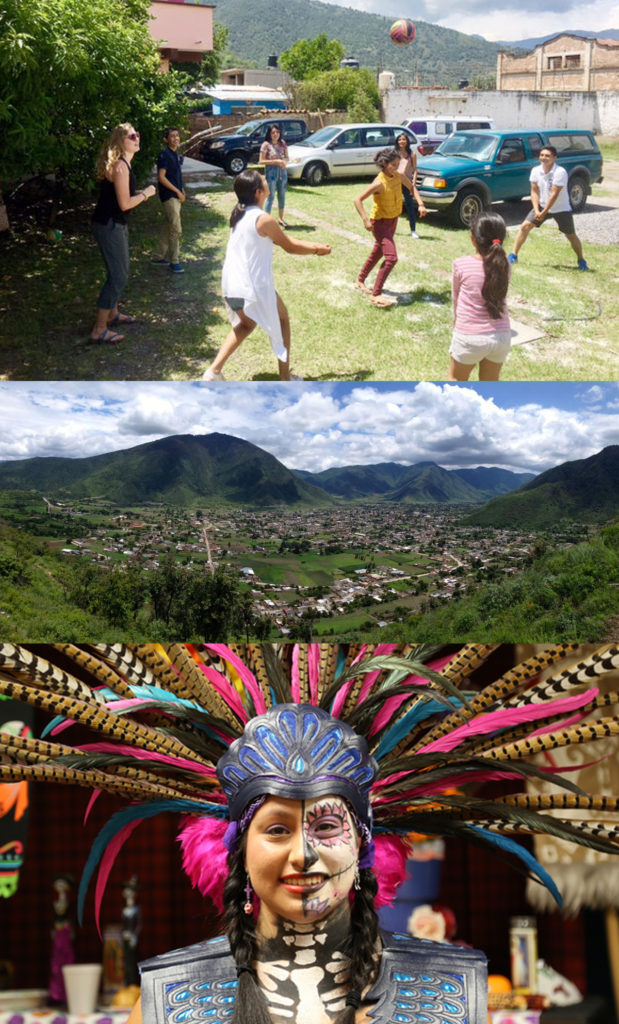 Join artist in residence Cecilia Cornejo for a special work-in-progress screening of her upcoming film Ways of Being Home at the St. Mane Theatre in Lanesboro on Friday, September 20 at 7:30 p.m. Ways of Being Home continues and expands prior examinations of displacement, marginalization, and belonging, this time from the perspective of the Mexican community living in Northfield, MN where filmmaker Cecilia Cornejo has resided since 2010. The film follows a nonlinear narrative that freely combines interviews, reenactments, animated sequences, and portraits of Northfield and Maltrata, the town that most of the Mexicans in Northfield left in order to come north.
Cecilia collected numerous interviews for this documentary film and has spoken with many members of the transnational community in both locations. During her time in Maltrata, Mexico, connections to Northfield seemed to pop up constantly. "We encountered a lot of people, just walking in the streets, who once lived in Northfield and are now back in Maltrata," she says. "We were recording a church service once, and there was a little kid with a shirt that said 'Minnesota Orthodontics' on the back. He told us about his aunts living in Northfield."
The 20 minute screening of this work-in-progress film will be followed by a 30-40 minute Q&A and discussion with Cecilia.
As a film that explores notions of home and belonging from the perspective of an immigrant community, Ways of Being Home inspired and informs Cecilia's residency project in Lanesboro, The Wandering House, which is focused on engaging the broader community around themes of home and welcoming. Ways of Being Home has received support from the Minnesota State Arts Board (Artist Initiative Grant 2016, 2018) and a Jerome Foundation Film, Video, and Digital Media Grant (2016).
Northfield filmmaker Cecilia Cornejo is interested in exploring notions of home and belonging in collaboration with the Lanesboro community through The Wandering House, an ice-fishing house she retrofitted as a mobile audio-recording studio, as an artist in residence at Lanesboro Arts September 16 – October 7, 2019 and Feb. 1 – 8, 2020. As an immigrant woman of color who has lived in the Midwest for the past twenty years, Cecilia invites community members to record their oral testimonies as they reflect on the significance of home, a concept that some of us may take for granted but is in flux for displaced communities around the globe. The Wandering House is designed to encourage curiosity and reflection, engaging participants in the production of collective knowledge and mutual understanding, while amplifying more nuanced narratives of rural life.
A Capstone Presentation and Discussion for The Wandering House project will happen Friday, February 7, 2020 at the St. Mane Theatre. For more on Cecilia's residency in Lanesboro, visit: lanesboroarts.org/cecilia-cornejo.
Cecilia Cornejo is a Chilean-born documentary filmmaker, artist, and teacher based in Northfield, Minnesota. She holds a Bachelor's degree in Communications Studies from The University of Iowa and a Master of Fine Arts in Film, Video, and New Media from the School of the Art Institute of Chicago. With ties to both the American Midwest and the central coast of Chile, Cecilia's work explores notions of displacement and belonging and is rooted in the experience of living in-between cultures. She uses a range of approaches and production methodologies—from the very personal and essayistic to the expansive and collaborative—to create works that move fluidly from the local to the global, and from the intimate to the openly political. Cecilia is invested in developing methods of collaboration with the people who take part in her work by transforming documentary subjects into active participants, co-creators of meaning, and architects of their representation. She teaches in the Cinema and Media Studies Department at Carleton College.