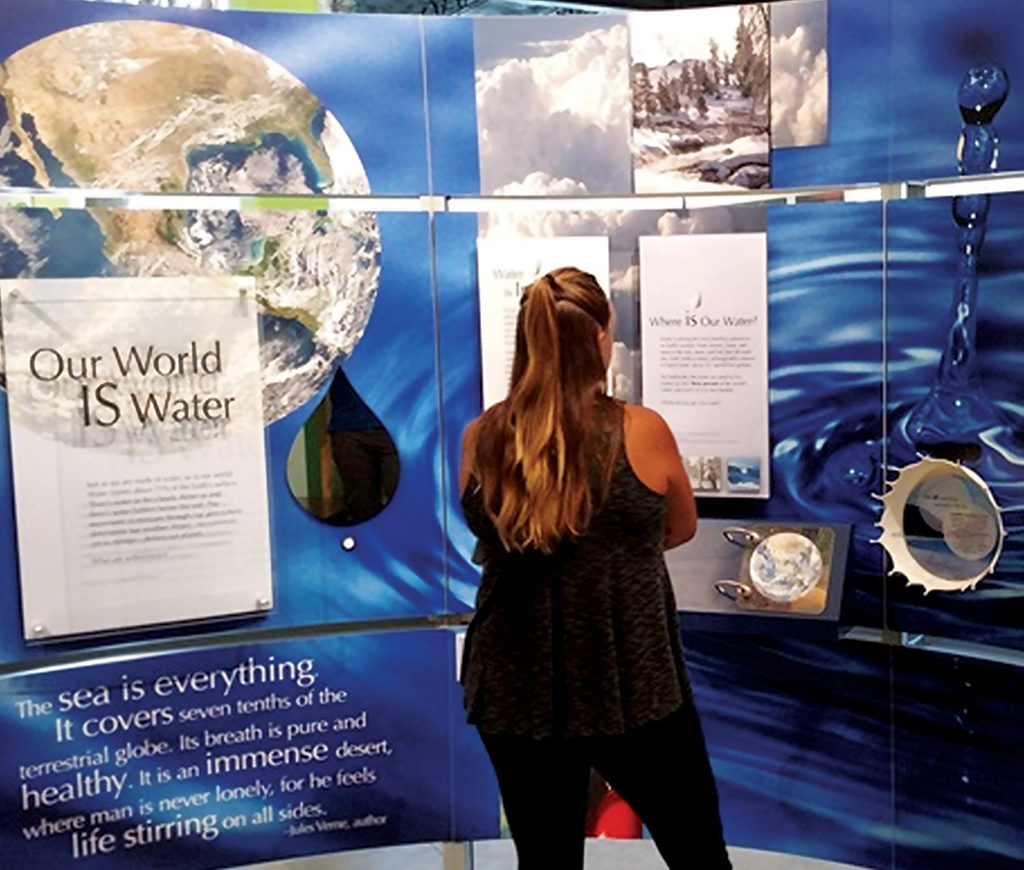 Free admission! Open to the public Wednesdays through Sundays, 10 a.m. to 4 p.m. in events hall at Commonweal Theatre. Opening ceremony and ribbon cutting 7:30pm on Saturday, January 7th.
From above, Earth appears as a water planet with more than 71 percent of its surface covered with this vital resource for life. Water impacts climate, agriculture, transportation, industry and more. It inspires art and music. The newest traveling exhibition from the Smithsonian's Museum on Main Street (MoMS) program, Water/Ways, examines water as an environmental necessity and an important cultural element.
Water/Ways reveals the central nature of water on our lives by exploring how Americans use water, how water unites communities, how water affects every element of life, and how Americans care for our water and protect this valuable resource.
All of the water currently on the planet is all that there will ever be. Through the water cycle it is in endless motion on Earth's surface, below ground and in the atmosphere. Water/Ways explores this cycle, water's effect on landscape, settlement and migration, and its impact on culture and spirituality. It looks at how political and economic planning have long been affected by access to water and control of water resources. Human creativity and resourcefulness provide new ways of protecting water resources and renewing respect for the natural environment.
A 700 sq ft exhibition designed specifically for small-town museums, libraries and cultural organizations, Water/Ways aims to serve as a community meeting place to convene conversations about water's impact on American culture. Water/Ways is part of the Smithsonian's Think Water Initiative to raise awareness of water as a critical resource for life through exhibitions, educational resources and public programs. The public can participated in the conversation on social media at #thinkWater.
The Smithsonian Institute's Traveling Exhibition Service (SITES) has been sharing the wealth of Smithsonian collections and research programs with millions of people outside Washington, D.C., for 65 years. SITES connects Americans to their shared cultural heritage through a wide range of exhibitions about art, science and history, which are shown wherever people live, work and play.
Interested in bringing a school group? Interested in volunteering as a docent or tour guide?  Please contact Lissie Harter to schedule your group or learn more about volunteering at volunteer@eagle-bluff.org
Please contact the Commonweal Theatre directly at 800.657.7025 for questions related to their facilities. The Commonweal Theatre is handicap accessible.