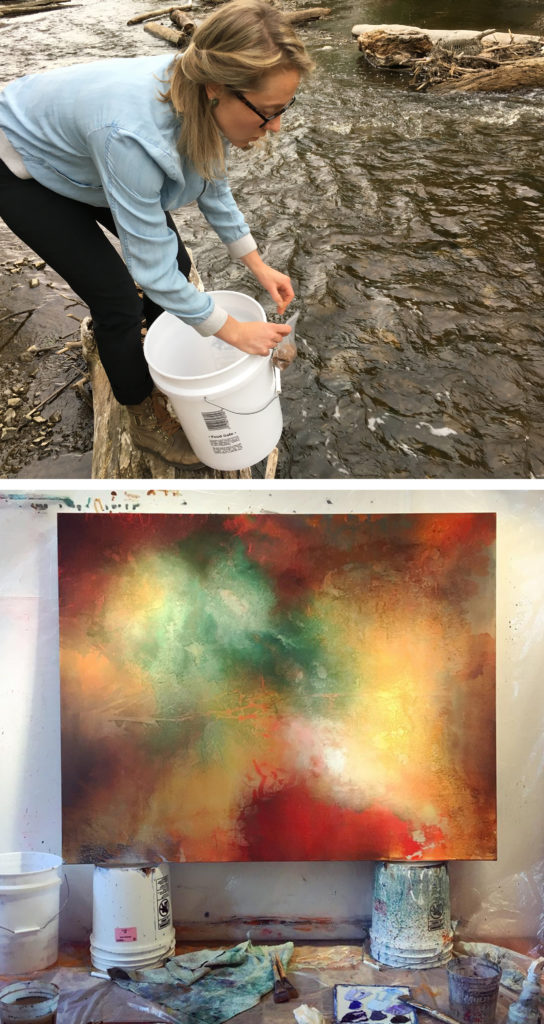 Come early! Join Annie, the Lanesboro Landscape Improvers, and the Grand Opening of Root River Rod Co for a water related clean-up & work party in Lanesboro beginning at 7am, meet at the Coffee Street Walking Bridge! Coffee, water, snacks & supplies will be provided, but bring some gloves and/or waders as we'll be cleaning up trash as well as some down trees.

Saint Paul painter Annie Hejny draws more than just inspiration from rivers and lakes — combining water, soil, and ceremony to create her acrylic abstractions.
Artist Resident Annie Hejny invites community members of all ages to join her in Gateway Park, the green space between the Coffee Street Walking Bridge and the County Road 8 Underpass, to participate in an honorable harvest of water and sediment from the Root River. Participants will be invited to write intentional words of gratitude to water on several large blank canvases. Together, you'll work with Annie to pour earth, water and paint over these words, in a process that she has developed through years of paintings with river water. There will also be time reflection and storytelling, which will further inform Annie's work. Later, Annie will complete the paintings separately, working in the studio above the St. Mane Theatre to create a new Root River series.
The final paintings will be shown at a Capstone Art & Poetry Presentation on the Lanesboro Museum porch on Saturday, August 26. Community members interested in creating their own work of art using water and sediment from the Root River, and/or diving deeper into the water conversation, are encouraged to participate in Workshop: The Spirit of the Root River in Words and Color on Thursday, August 17.
"It is humbling to cradle 40 pounds of water in my arms, hoist 30 pounds of earth on my back, and carry it through the woods, into my art studio. This challenge, however, allows me to reflect on my strength as a woman and of all the women in our world who gather water for their daily living. Persisting past these physical limits mirrors my commitment to an ethical lifestyle, one which respects land and water." – Annie Hejny on her process

Click here for more on Annie Hejny's artist residency at Lanesboro Arts.
Made possible by support from: