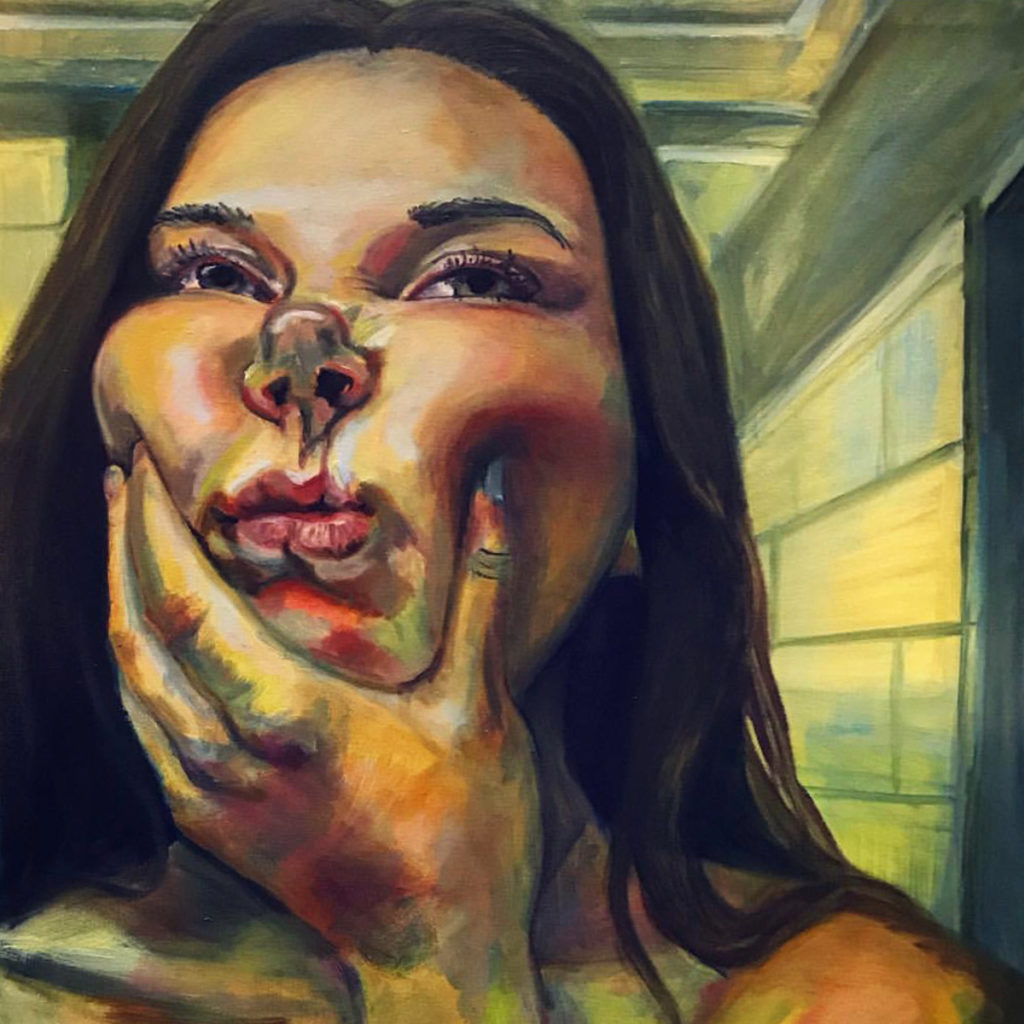 Lanesboro Arts is proud to present "Spitting Image," a juried exhibition showcasing the self-portraits of forty-one artists working in a variety of mediums, such as painting, drawing, photography, and mixed media. The exhibit opens Saturday, February 9th and runs through April 6th, 2019. Always free and open to the public, the Lanesboro Arts Gallery is open Tuesday – Saturday 10 a.m. – 5 p.m.
"Historically, artists would use themselves as models because they couldn't afford to pay someone else," shares Gallery Director Robbie Brokken. "This tradition has given us a glimpse into the past and continues to provide insight into the mind of the artist and how they see themselves." Brokken reveals, "You could give ten artists all the same materials and each one would make something entirely unique. It's been fascinating to see all the different mediums in 'Spitting Image' and what each individual artist has done with them."
Participating artist Erik Pearson says that many of his paintings serve as unintentional portraits, because they contain a character with elements based on him. "Every once and a while I enjoy creating a deliberate self-portrait, to examine what it is that I think portrays myself." Pearson adds, "It gives me a chance to add personal elements, tendencies, or inside jokes, and to see if anyone can recognize those elements."
Parent and participating artist Dinah Langsjoen explains that her piece, "Self-Portrait with Torin," is a visual testimony to how the love of a child can change someone into a better version of themselves. Langsjoen states, "This painting transformed dramatically in the first year of our lives together, and represents how a mother's life becomes an extension of their children."
Participating artist Julie Fakler of Fairbault, Minn. comments, "I only create artwork based around domestic animals, so this show was outside my comfort zone. In high school and college, I produced lots of self-portraits, but I have not done one in 20 years. My piece "Willy-Willy, Charlie, and I" features one of my lap cats, my dog and my lap – It's the closest I've came to painting a human in a long time! I'm very excited to be included in this group."
Participating Artists:
Karen Aarre
Layne Noser
Nancy Unnasch
Dirk Nelson
Marlene K. Maloney
Jeanette Dragvold
April Royet
Annette Hanley
Joan Finnegan
Papa MBye
Julie Fakler
Brenna Busse
Shari Albers
Elmer Petersen
Jack Mader
Ashton Hall
Krystl Louwagie
Sarah Piper
Caroline Schwert
Michael Bellotti
Tracey Lambrecht
Autumn Wooden
Chris Cinque
Lynn M. Hobart
Peter C. Bilkey
Lou
Grayston Barron
Debra James
Maureen Healy Mossman
Julie Greenwood
Robbie Brokken
Dinah Langsjoen
Erik Pearson
Mikayla Metten
Jean Manrique
Mary Solberg
Kathy Neacy
Sara Slee Brown
Carol Slade
Katie Schmitt
Sydney Pitzen
This exhibit is made possible by the voters of Minnesota through a Minnesota State Arts Board Operating Support grant, thanks to a legislative appropriation from the arts and cultural heritage fund. For more information visit www.lanesboroarts.org, call 507-467-2446 or email gallery@lanesboroarts.org. Handicapped accessible and free to the public, the exhibition gallery is located at 103 Parkway Avenue North in Lanesboro, MN.
Featured Image: Self-Portrait by Grayston Barron