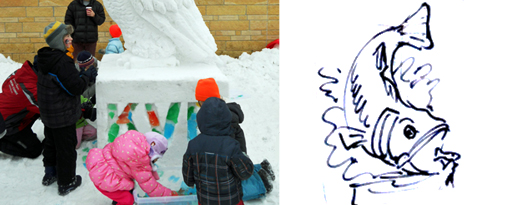 Artist Michael Martino will be in Sylvan Park on January the 14th creating a snow sculpture! This sculpture will coincide with the Water/Ways events going on in Lanesboro from January 7th – February 19th. In Sylvan Park starting at Noon on the 14th there will be engagement activities for families to come and participate along side the snow sculpture.
A text based sculpture for community members to fill in and create a mural with colored ice.
A place to make poetry with water related words.
A Google Voice number where people can call and leave stories of water related memories/reflections. These stories will be then transcribed and placed on the story map in the We Are Water Exhibition.
There will also be piles of snow near by the sculpture that will be used for additional community snow sculptures!
Please join us for these fun events and help yourself to hot chocolate, coffee and cookies. This event is made possible through the Minnesota Humanities Center.
*Featured image on the left is a previous snow sculpture created by Michael Martino with a similar engagement activity. The photo on the right is a sketch Martino made of the sculpture he will create in Sylvan Park.