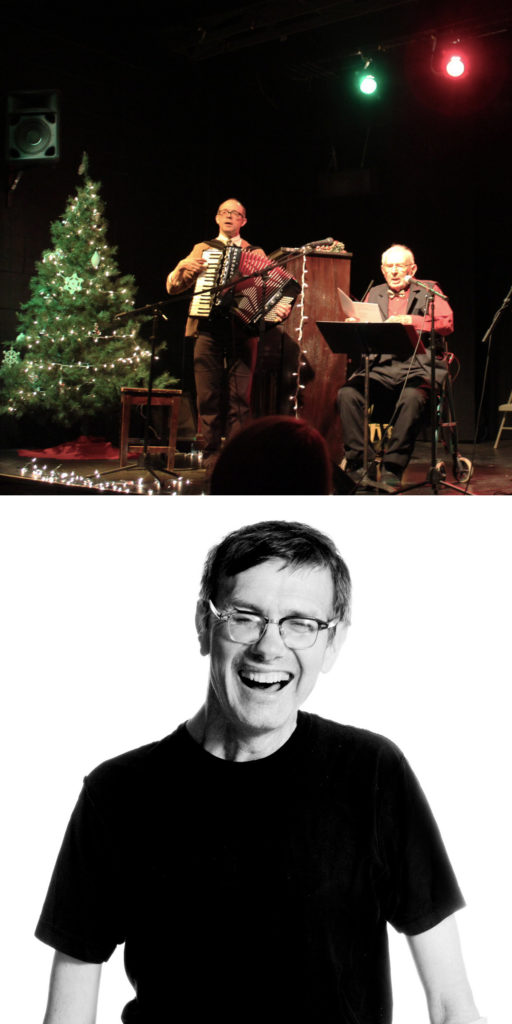 An annual Lanesboro institution, Minneapolis-based musician Dan Chouinard is celebrating his 11th year at the Old-Fashioned Holiday Sing-Along on Friday, December 22, 2017 at 7:30 p.m. at the St. Mane Theatre. Dan will host the evening, with his fantastic piano and accordion playing, gentle spirit and genuine appreciation for sharing stories with the audience. As a treat for our Lanesboro audience, Dan has invited special guest Kevin Kling, a well-known playwright and storyteller whose plays and adaptations have been performed around the world. Kevin and Dan have performed together for over a decade in shows for Open Eye Theatre, Minnesota Public Radio and the Guthrie Theater, including ten years of the annual Tales from the Charred Underbelly of the Yule Log with the Brass Messengers and Simone Perrin (Dan's guest on the Lanesboro Holiday Show in 2014).
Based in Minneapolis, Kevin Kling delivers hilarious, often tender stories and is best known for his popular commentaries on National Public Radio's All Things Considered. Kling's autobiographical tales are as enchanting as they are true to life: hopping freight trains, getting hit by lightning, performing his banned play in Czechoslovakia, growing up in Minnesota, and eating things before knowing what they are. Kling has been awarded numerous arts grants and fellowships. The National Endowment for the Arts, The McKnight Foundation, The Minnesota State Arts Board, The Bush Foundation, The Jerome Foundation and others have recognized Kling's artistry.  In 2014, Mayor R.T. Rybak named Kevin "Minneapolis Story Laureate."
Kevin was born with a congenital birth defect — his left arm is about three-quarters the size of his right arm, and his left hand has no wrist or thumb. In 2001 Kevin was in a motorcycle accident and suffered brachial plexus injury (BPI). The brachial plexus nerves in his right arm were pulled completely out of their sockets. Currently, he has partial use of his left arm and cannot use his right arm at all.
Chouinard will also welcome local talent to the stage during the Holiday Sing-Along, including Carla Noack, Catherine Glynn, Tom Schramm and Walter Bradley, Bertram Boyum, The Brokken & Davis Comedy Minute, Bebe Keith, Laura Nelson, Rocky Haddorff, The Fillmore County Fools, Dave Harrenstein, and the Ekstrom Trio.
The Holiday Sing-Along is presented by Lanesboro Arts and sponsored by the Commonweal Theatre, Inspire(d) Magazine, and Thrivent Financial – Walter Bradley. Tickets are going fast! The cost is $15, or $12 LA members, and they are sold online at www.lanesboroarts.org; at the Lanesboro Arts Gallery, 507-467-2446; and — if there are any tickets left! — at the St. Mane Theatre box office beginning at 6:30 p.m. the night of the event. The St. Mane Theatre is located at 206 Parkway Avenue North in Lanesboro. For more information visit www.lanesboroarts.org.
Interested in participating? Contact Adam at adam@lanesboroarts.org.
Please note:
The St. Mane Theatre box office will open for business at 6:30 p.m. on the day of the event. Remaining tickets will be sold in-person beginning at that time.
If you are unable to buy tickets online or need additional assistance, you may try calling 507-467-2446, on weekdays before 5pm, to purchase tickets over the phone.
We will have a list of the names of ticket buyers at the box office beginning at 6:30 p.m. If the ticket buyer and their guests arrive together, no receipt or proof of purchase is needed in order to be admitted to the event–we will have a list!
Alternatively, attendees can also present a printed copy of the Eventbrite ticket PDF the ticket buyer was sent or simply pull it up and present it on a smart phone.
Sponsored by: