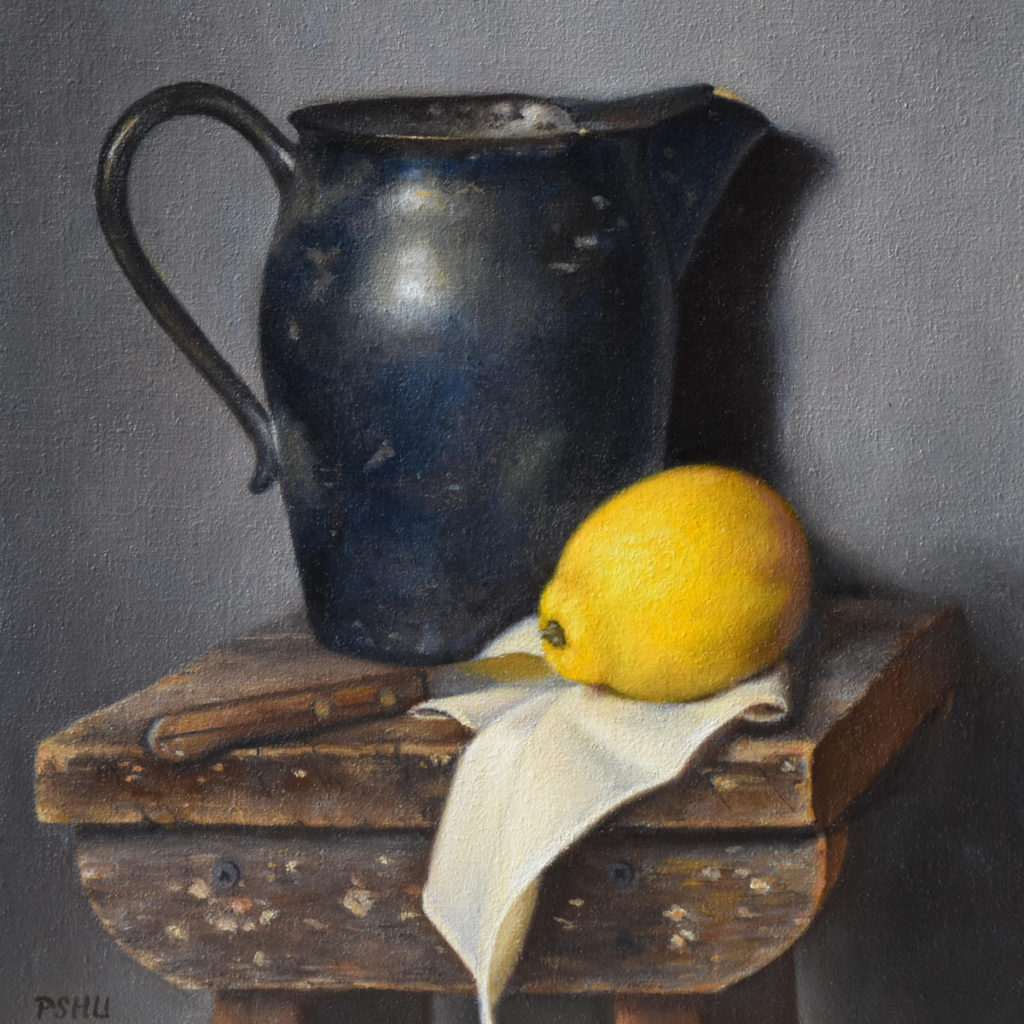 Lanesboro Arts presents "Beauty in Simple Things," an exhibition of still life oil paintings by Patricia Schu. The exhibit opens with an artist reception on Saturday, April 21, 2018, from 6-7:30 p.m., and runs through June 17, 2018. The reception will include wine and hors d'oeuvres, as well as live music. Always free and open to the public, the Lanesboro Arts Gallery is open from 10-5 p.m. Tuesday – Saturday through April 28. The gallery will also be open on Sundays 11 – 4 p.m. beginning April 29.
A Minnesota native, Pat was born in Minneapolis, where she now lives with her husband Carl, and cat Goldie. Her love of art emerged as a child, and has continued throughout her adult years. Although many of those years were spent working and raising her three children, she would eventually set aside time for art classes at various local colleges. As time moved on, so did the kids, and Pat was able to retire after 26 years in the financial services industry. The possibility of full-time art became a reality.
After checking out several art schools, Pat enrolled in part-time classes at The Atelier Studio Program of Fine Art (formerly known as The Atelier Lack) in Minneapolis. Within a month, those part-time classes led to full-time studies there. Using the techniques of the 'old masters' in an environment of master artist/apprentice is the primary instructional method of this program. The fundamental principles of realistic drawing and painting in the classical style are emphasized throughout the 4 year program which Pat completed in May 2010.
Embracing a range of subjects, Pat's paintings include figures, portraits, landscapes, and most prominently still lifes. She is at her best when painting compositions of everyday objects or scenes that tell a story and reveal a bit about herself. Drawing inspiration from the many artists who came before her, Pat strives to share the beauty that she sees in the ordinary "stuff of life" by creating her artwork in the quiet solitude of her home studio.
For Pat, the process of setting up a still life that has meaning, or reflects the emotion or beauty she is trying to reflect, can be very time consuming. Much time is initially spent simply pondering possibilities. "I search for items that represent humanity in some way…old well-used or loved items, or the mundane objects of daily living that have a beauty of their own," Pat shares.
While many of Pat's paintings involve long hours and several layers of paint, a few of the paintings in this exhibition are studies completed in one or two painting sessions. Pat's studies do not have the same level of detail, but often reflect a spirit and liveliness that is more unique to quicker methods. Overall, Pat enjoys the versatility of working with oil paint and the level of detail, atmosphere and texture that is possible. She adds, "Working in many layers contributes to a depth and richness of color unique to oil paint…and the creamy, buttery texture of the paint is wonderful!"
Pat's paintings have been exhibited in solo and group exhibitions in galleries and shows in the Minneapolis/St Paul area. In addition, her work is in several private collections, and she was a winner of the Award of Excellence in the 2010 Primavera Art Show in Plymouth.
This exhibit is sponsored by F & M Community Bank and made possible by the voters of Minnesota through a Minnesota State Arts Board Operating Support grant, thanks to a legislative appropriation from the arts and cultural heritage fund. For more information visit www.lanesboroarts.org, call 507-467-2446 or email gallery@lanesboroarts.org. Handicapped accessible and free to the public, the exhibition gallery is located at 103 Parkway Avenue North in Lanesboro.