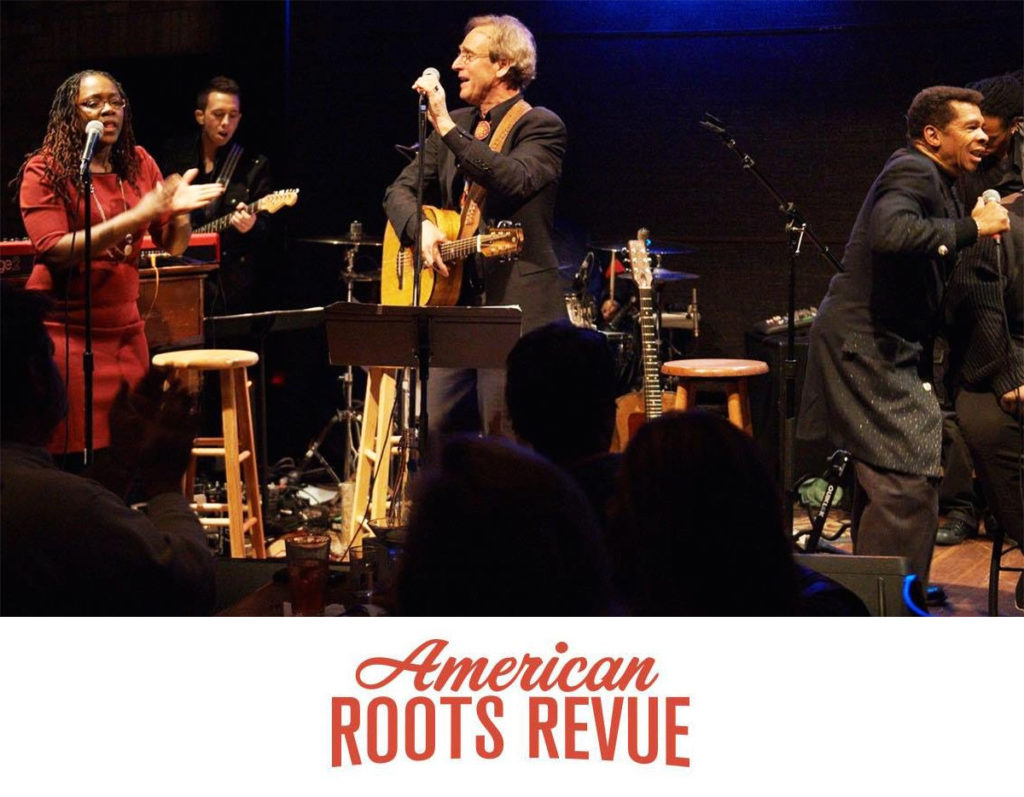 Lanesboro Arts presents Larry Long's American Roots Revue with Tonia Hughes, Cory Wong, Petar Janjic, Billy Peterson, JD Steele & Billy Steele at the historic St. Mane Theatre in downtown Lanesboro on Friday, May 17th at 7:30 p.m. The American Roots Revue will bring together several of Minnesota's most gifted performers and arts educators for an extraordinary evening of artists sharing the stage and each other's songs! Produced by award-winning singer-songwriter, Smithsonian Records recording artist and community builder Larry Long, the American Roots Revue works from the core of America's richest musical traditions of First Nation, gospel, blues, folk, rock and R&B. The ensemble boasts the artistic range to salute iconic American musical heroes like Pete Seeger, Mahalia Jackson, Marvin Gaye, Donny Hathaway and Billie Holiday among others. American Roots Revue performs original works as well, which honor the life-stories of Minnesota elders long established and newly arrived.
The American Roots Revue reinvents itself with a different line up and a unique performance at each stop it makes along the road. In Lanesboro, Larry Long will be joined by JD Steele (Mr. Steele and his dynamic vocal siblings, "The Steeles," have garnered nearly every major music award and accolade that Minnesota has to offer), Billy Peterson (bass player, songwriter, composer, session musician, producer and oldest musical son of the renowned Peterson family), Tonia Hughes (Tonia's powerhouse vocal style is colored with melodic acrobats and elements of Gospel, Blues, Jazz, R&B, Rock and Worship) Cory Wong (a standout guitarist and musician who tours internationally with Nashville singer-songwriter Ben Rector and Michigan funk act Vulfpeck), Billy Steele (keyboard player and vocalist who is also another member of the dynamic Steele family and the producer of the Grammy Award-winning act Sounds of Blackness) and Petar Janjic (drummer for Foreign Motion, fDeluxe and Chastity Brown).
Larry Long will visit Lanesboro prior to this concert for a series of community engagement events utilizing his songwriting curriculum to assist community members in the process of sharing local stories and turning that collective narrative into a song that celebrates commonalities across various groups. This activity is made possible by the voters of Minnesota through a grant from the Minnesota State Arts Board, thanks to a legislative appropriation from the Arts & Cultural Heritage Fund. Please check back for more details on the community song events with Larry Long.
Larry Long is an American singer-songwriter who has made his life work the celebration of everyday heroes. Author, historian, actor, and broadcaster Studs Terkel called Larry "a true American Troubadour." Larry has written and performed hundreds of ballads celebrating community and history makers. His work has taken him from rural Alabama to the Lakota communities in South Dakota as he has given musical voice to struggling Midwest farmers, embattled workers, veterans and marginalized communities. He assembled the first hometown tribute to Woody Guthrie in Okemah, Oklahoma, which today has evolved into the annual Woody Guthrie Folk Festival. Now a Smithsonian Folkways recording artist, Long has sung at major concerts and festivals throughout the United States and world, including Awesome Africa Festival (South Africa), Winnipeg Folk Festival (Canada), at the Hollywood Bowl with Kris Kristofferson, and at Madison Square Garden with Joan Baez and others for Pete Seeger's 90th Birthday Celebration.
Twin Cities recording artist and actress Tonia Hughes is undoubtedly one of the best kept secrets in the Midwest. Her vocal style is colored with melodic acrobats and elements of Gospel, Blues, Jazz, R&B, Rock and Worship. The fusion of which produces a delivery that is authentic, incomparable and electrifying! Besides being a proud recipient of the 2017 -2018 McKnight Fellowship for Musicians, Ms. Hughes has garnered critical acclaim for her leading roles in musical and theatrical productions. Her credits include Caroline or Change (2009), Guthrie Theater; Loves Covers (2010), Women 's Club of Minneapolis; Mahalia (2011), Fellowship Baptist Church; Cinderella, The Ordway Theater (2011). Black Nativity (2003– present), Penumbra Theater;
J.D. Steele, the eldest Steele sibling, was awarded a Bush Artist Composer Fellowship and is currently the director and founder of the MacPhail Community Youth Choir. When speaking of J.D.'s gifts as a song writer in the acclaimed Burial at Thebes at the Guthrie Theatre, the StarTribune wrote "…Steele made the magic happen".  In 2005, he ventured to Nairobi Kenya and developed a youth choir called Shangilia Youth Ensemble located in one of the largest slums in Africa. His three workshops enabled the choir to make its debut at the Zanzibar Film Festival in Tanzania and have successfully finished a tour in the states. Finally, the choir made its way to the Twin Cities and was presented in concert in 2010 at the prestigious Ordway Theater in St. Paul.  He has been commissioned on ten original musicals including the collaboration with his sister, Jevetta, on Two Queens, One Castle at Mixed Blood Theater in Minneapolis and Snapshots; Life in The City at the great American History Theatre in St. Paul.  J.D. continues to tour internationally with the musical productions of Bagdad Cafe the Musical and the Gospel at Colonus.
Billy Steele, the youngest of the Steele siblings, performs, writes, and produces for the Grammy Award winning ensemble, the Sounds of Blackness, for who he is currently serving as Assistant Director. He is the co-recipient of three Grammies via this talented ensemble. He continues to write and produce for various artists, including the Steeles. His voice has been heard on soundtracks with artists such as Rod Stewart, Luther Vandross and many more. Recently, he collaborated on the Disney soundtrack Legends, The John Henry Story, narrated by James Earl Jones.
Cory Wong has been hailed as a "multifaceted" artist by NPR and "the most famous Minnesota musician you've probably never heard of" by MPR's The Current. He is most recognized for his guitar work with internationally touring Midwestern funk heroes Vulfpeck, but in August of 2018, he continued cultivating his own brand of modern funk and jazz with his 2nd solo album The Optimist. Wong's journey is particularly interesting. He's produced records in Peru, done time on the jazz fusion circuit with a little known quartet Foreign Motion, and been in the touring band of an American Idol contestant. Perhaps most unusually, and maybe most tellingly, it turns out he had a song available as download-able content for the rhythm-game Rock Band II. The song, "UpStream," is a beguiling piece of finger style, which says a lot about Wong's origins and journey as a beguilingly technical and versatile guitarist.
Billy Peterson is one of the premier, most celebrated bass players in the world. His uncompromising talents as a performer have brought him widespread recognition, as well as his plenty credits as a composer, arranger and producer. So it is no surprise that the world-renowned bassist is quite often also compared with a chameleon, but not only as he can fill many positions, but also as he is at home in several genres of music weather it be rock, pop, R&B, soul, jazz, folk or country. Peterson´s contributions to the music scene are inestimable and his imagination and boundless enthusiasm behind the bass are singular and stunning. During his extensive musical career, the permanently in-demand bassist has worked with many internationally famous, acclaimed artists, among them Carlos Santana, Bob Dylan, Neil Young, Prince, Les Paul or Steve Miller, just to name a few.
A rising drummer in the Twin Cities scene, Petar Janjic was born in Kingstown, Serbia. At five, his father (a well known Serbian drummer) gave him a drum set. At 10, Petar began studying with legendary Serbian drummer, Slobodan Stojanovic. In high school, Petar toured all over Europe. Petar came to the United States in 2008. Currently, he subs for Michael Bland, who plays with the legendary Dr. Mombo's Combo and is formerly a member of Prince's The New Power Generation. Petar has played with Eric Roberson, Anthony David, N'Dambi, Lady Boi, Ryan Liestman, Mayda, Chastity Brown, Estair Godinez, Acoustic Alchemy. Locally he works with a variety of bands including: The R Factor, The Sevilles, Devine collection, Cory Wong Quartet, Alex Rossi and the Root City band, Vintage Rags and more. Petar's main project is the jazz/funk/fusion group Foreign Motion.
This concert is presented by Lanesboro Arts and sponsored by the Wisconsin Public Radio, Commonweal Theatre, Inspire(d) Magazine, High Court Pub and Granny's Liquors.
Please note:
The St. Mane Theatre box office will open at 6:30 p.m. the day of the concert. Tickets will also be sold in-person beginning at that time.
New in 2019: Each ticket purchased with a bank card will be charged an additional processing fee of $0.99. Patrons can avoid this processing fee by paying via cash or check in the Lanesboro Arts Gallery, or before the show in the St. Mane Theatre lobby.
If you are unable to purchase tickets online or need additional assistance, you may try calling 507-467-2446 to purchase a ticket over the phone during business hours. Tickets are also sold in-person during business hours at Lanesboro Arts Gallery.
We will have a list of the names of tickets buyers at the box office beginning at 6:30 p.m. If the buyer and their guests arrive together, no physical receipt or proof of purchase is needed in order to be admitted to the event–we will have a list!
Alternatively, attendees can present a printed copy of the ticket PDF the ticket buyer was e-mailed or simply pull it up and present it on a smart device.
Lanesboro Arts is committed to accessibility for all people. Learn more about our access services.