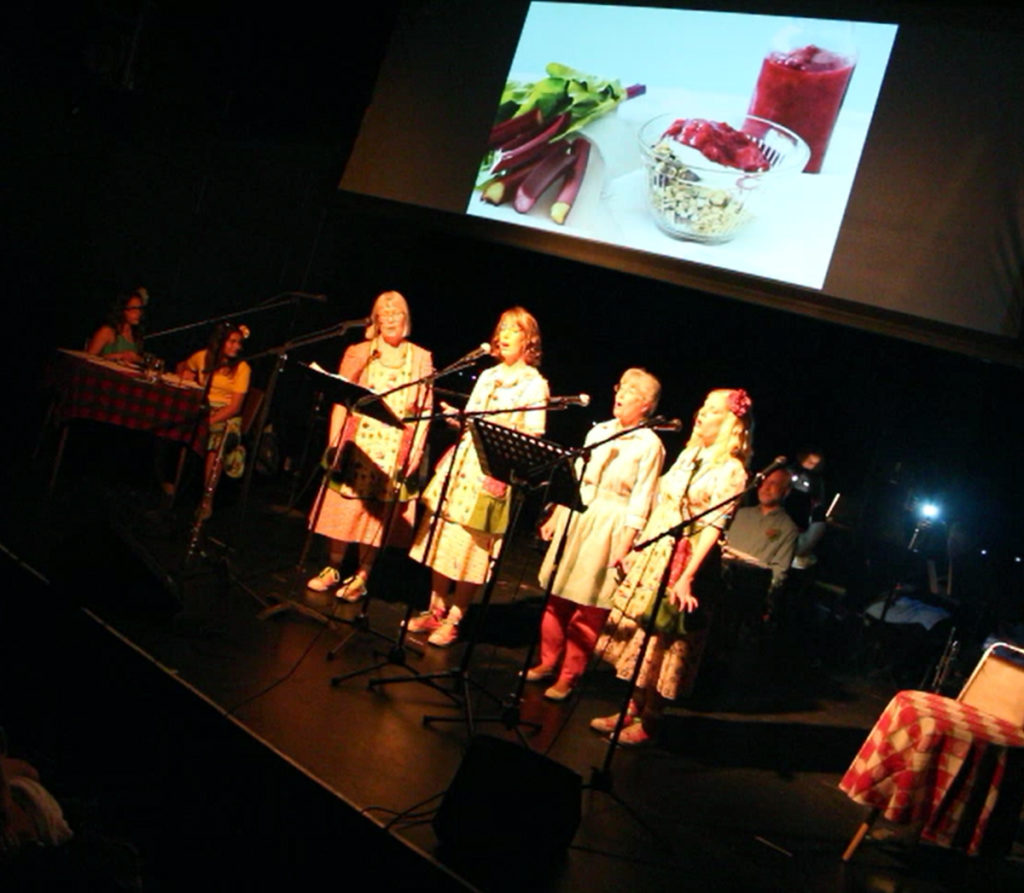 The Rhubarb Sisters return with a new show to open the Rhubarb Festival Weekend in Lanesboro for one performance only on Friday, June 1, at 7:30 p.m. at the St. Mane Theatre in scenic Lanesboro, Minn. Singing like angels, with tantalizing four-part a cappella harmonies, the Rhubarb Sisters have performed on "A Prairie Home Companion" and have made countless concert appearances in Lanesboro and the region throughout their 12 years as a group.
"What I really love is making people smile. It really is about bringing joy and sharing the things that are true," says Rhubarb Sister Julie Kiehne. "People want to seek more of the back-home roots to their childhood. Rhubarb brings that out." Rhubarb Sister Beth Hennessy agrees, "We're similar to rhubarb. We're about finding happiness in your own backyard."
"This goes so far beyond rhubarb," former Rhubarb Sister Peggy Hanson states. "The group performs for a lot for church groups, mother-daughter teas and that kind of event. The basic message is that rhubarb is a humble thing. It's just back by the garage." But just because it's humble, doesn't mean it isn't useful. "It blends with anything. It's Midwestern values — make do with what you have. And you can hardly find it in stores," she says. "It's inherently noncommercial."
So are the Rhubarb Sisters, who also travel far and wide in their house dresses and vintage aprons, singing about the wonders of rhubarb. "People respond to it. It's very emotional. They think of home and grandma and homemade desserts," Hanson says. So what does that sound like? Warm up the pitch pipe and listen to the Rhubarb Sisters sing "This Stalk Is Your Stalk" to the tune of "This Land is Your Land." "We have a good time," Hanson says. "We make our fun."
Please note:
The St. Mane Theatre box office will open at 6:30 p.m. the evening of the concert. Remaining tickets will be sold in-person beginning at that time.
If you are unable to buy tickets online or need additional assistance, you may try calling 507-467-2446 to purchase tickets over the phone during business hours.
We will have a list of the names of ticket buyers at the box office beginning at 6:30 p.m. If the ticket buyer and their guests arrive together, no physical receipt or proof of purchase is needed in order to be admitted to the event–we will have a list!
Alternatively, attendees can also present a printed copy of the Eventbrite ticket PDF the ticket buyer was sent or simply pull it up and present it on a smart device.