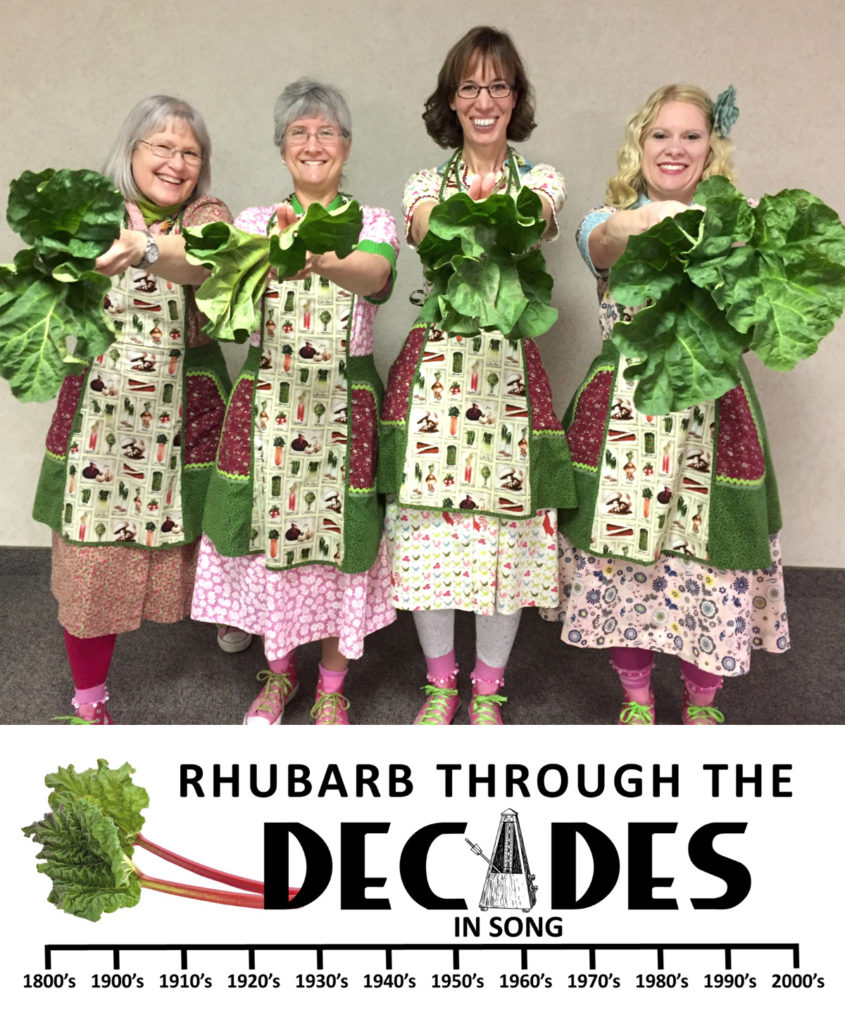 Lanesboro Arts is proud to present The Rhubarb Sisters in a new production of parodies – "Rhubarb Through the Decades in Song" – at the St. Mane Theatre in downtown Lanesboro on Friday, June 1 at 7:30 p.m. The Sisters will present their special blend of music from the 1800's to the 2000's, with those tangy rhubarb lyrics, to welcome in Lanesboro's annual Rhubarb Festival in Sylvan Park taking place the next day on Saturday, June 2. Songs will be performed both a cappella and with a special musical combo, "The Rhu-Gals," in a new script written by Elizabeth Fuglestad, with music selected & arranged by Beth Hennessy.
The Rhubarb Sisters hail from Lanesboro, the "Rhubarb Capital of Minnesota."  Since 2006, they have enjoyed entertaining audiences throughout southeastern Minnesota and spreading their rhubarb message of hope and good cheer.  They have found that rhubarb can make its way into almost any familiar song.  Just like the rhubarb they name themselves after, they are all about finding happiness in your own backyard.
Are these girls really sisters?  Not biologically, but they are "sisters" united in their love of rhubarb and belief in simplicity and the comforts of home-living. They love to ask audiences "who here has rhubarb in their freezers?"   Responses almost always include memories of mothers and grandmothers serving up rhubarb in younger days.  Rhubarb means happiness, and happiness means home where good memories are created.
For the group, the basic message is that rhubarb is a humble thing.  It's just back by the garage. But just because it's humble, doesn't mean it isn't useful. In the Midwest, we make the most of what we have and rhubarb blends with anything. Additionally, you can hardly find Rhubarb in stores.  It's inherently noncommercial and so are the Rhubarb Sisters, who travel far and wide in their vintage-style dresses and aprons, singing about the wonders of rhubarb.
Current members of The Rhubarb Sisters are Elizabeth Fuglestad, Julie Kiehne, Valerie Peterson Wilson and Beth Hennessy, all from the Lanesboro and Chatfield areas of southeastern Minnesota.  In addition to their ongoing commitment to Lanesboro's annual Rhubarb Festival, The Rhubarb Sisters have performed for community groups in Southeastern Minnesota, at Duluth's CHUM Rhubarb Festival, on Lanesboro's Over the Back Fence live radio show, and at the Whalan Stand Still Parade. The Rhubarb Sisters were featured on A Prairie Home Companion when it was broadcast live from Lanesboro, as well as on KSMQ's Off-90 show.
This concert is presented by LANESBORO ARTS and sponsored by Inspire(d) Media, Commonweal Theatre, Granny's Liquors and High Court Pub.
Please note:
The St. Mane Theatre box office will open at 6:30 p.m. the evening of the concert. Remaining tickets will be sold in-person beginning at that time.
If you are unable to buy tickets online or need additional assistance, you may try calling 507-467-2446 to purchase tickets over the phone during business hours.
We will have a list of the names of ticket buyers at the box office beginning at 6:30 p.m. If the ticket buyer and their guests arrive together, no physical receipt or proof of purchase is needed in order to be admitted to the event–we will have a list!
Alternatively, attendees can also present a printed copy of the Eventbrite ticket PDF the ticket buyer was sent or simply pull it up and present it on a smart device.