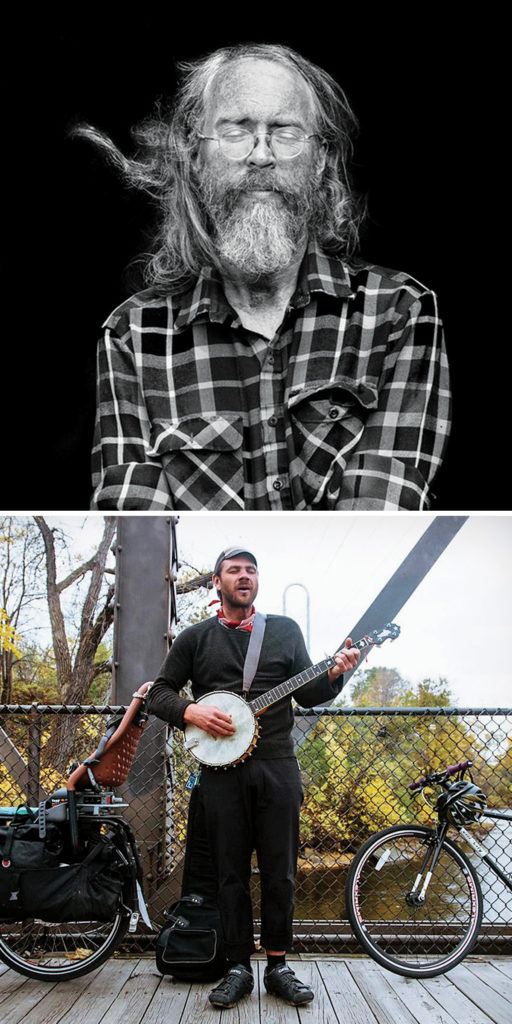 Tickets for this event are SOLD OUT. A wait list will begin in the lobby at 6:30 p.m. the evening of the performance. Any tickets that may happen to become available will be sold at that time.
Lanesboro Arts is thrilled to present Minnesota roots musicians Charlie Parr and Ben Weaver in an intimate listening-room environment at the historic St. Mane Theatre in downtown Lanesboro, MN on Saturday, January 20th, 2018 at 7:30 p.m. Returning to the St. Mane Theatre after a memorable 2015 performance, Charlie Parr released his 13th album Dog in September, was profiled recently in a City Pages cover story and is preparing to embark on a European tour in February. This concert will also serve as the capstone event of a mini-residency with Ben Weaver, who is staying in Lanesboro all week to engage with residents and participate in various storytelling, adventure and music events with area residents as part of the Performing Artist Engagement Program supported by the Southeastern Minnesota Arts Council.
Fans who have been following Charlie Parr through his many previous albums and decades of nonstop touring already know that the Duluth-based songwriter has a way of carving a path straight to the gut. On his newest record, Dog, however, he seems to be digging deeper and hitting those nerves quicker than ever before
"I want my son to have this when I'm gone," Charlie sings not 10 seconds into the opening song on Dog, "Hobo." His voice sounds weary but insistent, his accompaniment sparse and sorrowful. By the second line, the listener has no choice but to be transported on a journey through the burrows of his troubled mind, following him through shadowy twists and turns as he searches for a way out. It turns out Charlie's been grappling with quite a bit over these past few years. With the new album out on Red House Records this past fall, he's just as candid about discussing his experiences in person as he is while singing on the heat-rending Dog.
"I had some really, really bad depression problems over the last couple years," Charlie explains. "I've been trying to get fit, trying not to drink so much, trying not to do the rock 'n' roll guy thing. And then I got depressed. Really depressed. And to me, depression feels like there's me, and then there's this kind of hazy fog of rancid jello all around me, that you can't feel your way out of. And then there's this really, really horrible third thing, this impulsive thing, that doesn't feel like it's me or my depression. It feels like it's coming from outside somewhere. And it's the thing that comes on you all of a sudden, and it's the voice of suicide, it's the voice of 'quit.'" Parr adds, "These songs have all kind of come out of that. Especially songs like 'Salt Water' and 'Dog,' they really came heavily out of just being depressed, and having to say something about it."
Ben Weaver is a songwriter, musician, poet, letterpress printer, and adventure advocate who is returning to Lanesboro after a pair of 2017 appearances for a week-long series of outreach events January 15 – 19, 2018. His experiences touring long distances by bicycle make him uniquely qualified to connect residents with natural spaces, find ways to give back through outreach with seniors and students, and build community through storytelling workshops and exchanges that help awaken greater reciprocity between people and the land. His special blend of poetic advocacy and talent as a communicator inspires and energizes.
Please note:
The St. Mane Theatre box office will open at 6:30 p.m. the day of the event. Remaining tickets will be sold in-person beginning at that time.
If you are unable to buy tickets online or need additional assistance, you may try calling 507-467-2446 to purchase tickets over the phone during business hours.
We will have a list of the names of ticket buyers at the box office beginning at 6:30 p.m. If the ticket buyer and their guests arrive together, no physical receipt or proof of purchase is needed in order to be admitted to the event–we will have a list!
Alternatively, attendees can also present a printed copy of the Eventbrite ticket PDF the ticket buyer was sent or simply pull it up and present it on a smart device.