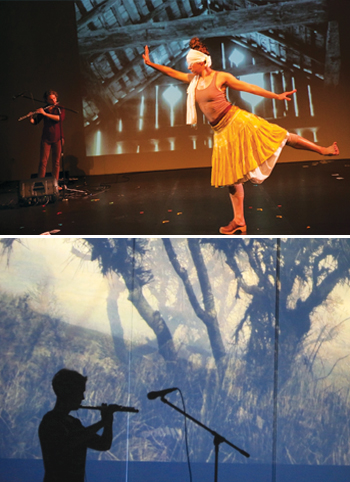 Tamara Ober, Film & Dance | Julie Johnson: Flute, Bass Flute & Live Looping Pedals
'Now is the Time' is an original multi-media journey that speaks to the human experience of the four seasons through film, dance, and live music.
Tamara Ober is a Minneapolis based dancer, choreographer, and multidisciplinary creator. She's a graduate of the University of MN with a BFA in Dance and BA in Sociology. She joined Zenon Dance Company in 2002 where she's worked with over 35 world-renowned choreographers, toured to New York, St. Petersburg, and Budapest, and has received the McKnight Fellowship for Dancers 2013. Tamara created 2 critically acclaimed solo shows integrating dance, theater, and film: Pipa (2010) and Sin Eater (2012), both of which toured and received numerous awards.  Tamara Ober and Julie Johnson have been supported by the 2012 MacPhail Center for Music Artist Grant, the Spotlight Series showcase, and Live Music for Dance MN grant ('13) for a live music/dance/film work, "Standing on the Hollow". They received a Tofte Artist Residency in 2014 where they started a new work, "The Devil May Care", release date TBD.  Tamara has consulted in the development of programs for the renovation of the Northrop Auditorium, ICLA's new masters program in Austria, and a multidisciplinary program at the Perpich Center for Arts Education in connection with the Walker Art Center's Out There Series. She's done lecture/demonstrations, speeches, and workshops for various educational institutions and consulted for movement in plays and theater works.  www.tamaraober.com
Based in Minneapolis, flutist and composer Julie Johnson brings her distinct sound and approach—rougher and more soulful than a typical classical sound, yet more pure than a typical jazz player's—to many multi-genre projects, including places where, she's been told, the flute doesn't belong.  As a creator and a performer of new music, Julie's work walks the line between composition and songwriting, art music and popular music, between genres as seemingly different as classical and blues.  A finalist for the McKnight Fellowship for Performing Musicians and a winner of grants from the Minnesota State Arts Board, the American Composers Forum, the Lanesboro Arts Center, Springboard for the Arts, MacPhail Center for Music, MRAC, and a Banff Centre residency, she plays in many styles, working to bring both the flute and her audiences to music they haven't been in contact with before.  She performs regularly with her roots/folk group, Julie Johnson & The No-Accounts, with cellist Jacqueline Ultan in J2J, and with modern dancer/choreographer Tamara Ober.  www.julieflute.net
Please note:
The St. Mane Theatre box office will open for business at 6:30 p.m. on the day of the event. Remaining tickets will be sold in-person beginning at that time.
If you are unable to buy tickets online or need additional assistance, you may try calling 507-467-2446, on weekdays before 5pm, to purchase tickets over the phone.
We will have a list of the names of ticket buyers at the box office beginning at 6:30 p.m. If the ticket buyer and their guests arrive together, no receipt or proof of purchase is needed in order to be admitted to the event–we will have a list!
Alternatively, attendees can also present a printed copy of the Eventbrite ticket PDF the ticket buyer was sent or simply pull it up and present it on a smart phone.
Sponsored by: