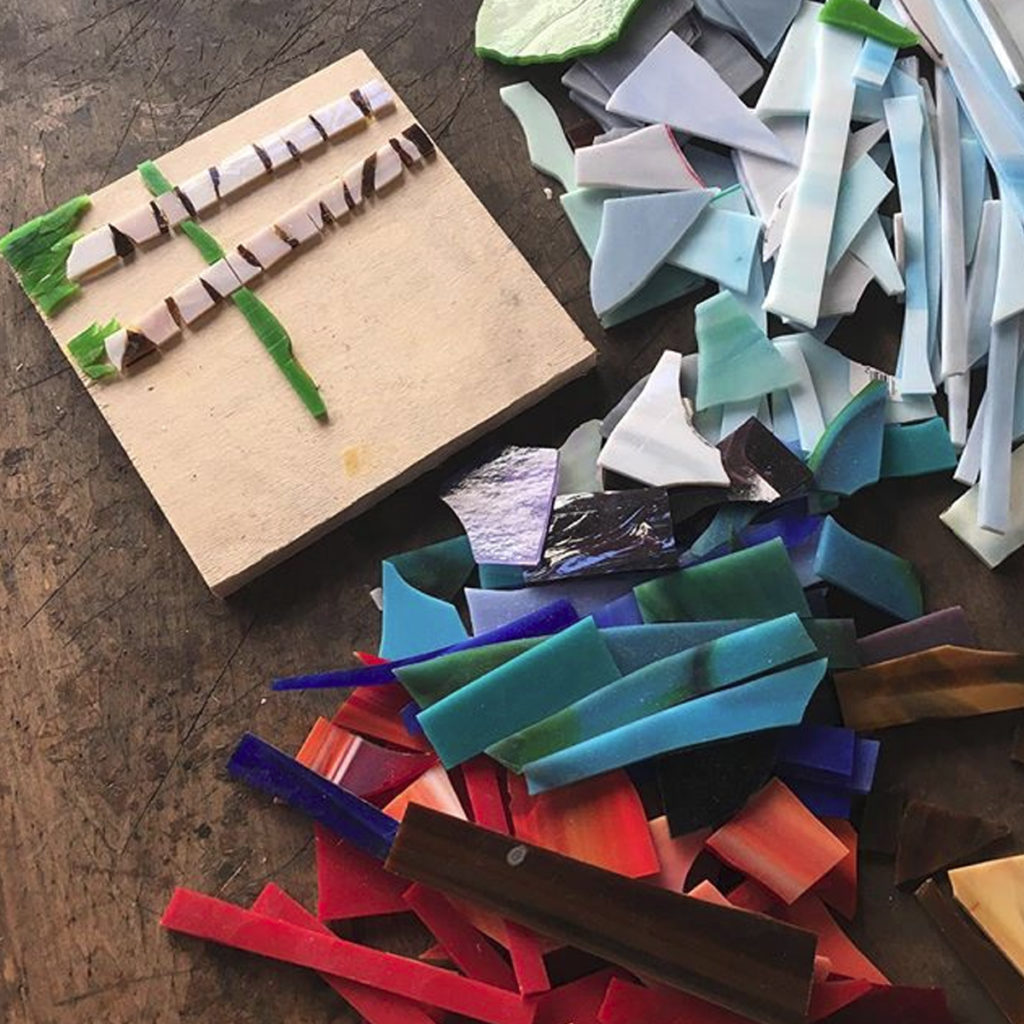 Drop in to the book sale nook at the Lanesboro Public Library on Saturday, September 16th to participate in the creation of community mosaic mural panels with artist in residence Bailey Cahlander. From 10 a.m. to 1:00 p.m., Bailey will be lead hands-on mosaic making sessions with participants of all ages. No experience or time commitment is necessary! Help out for a 10 minutes or stick around for an hour; any and all contributions are welcome!
Bailey will be living and working in Lanesboro September 6 – 20 as an artist in residence at Lanesboro Arts. The mosaic panels completed during her residency will be installed on the recently refurbished boarded windows & door on the Coffee Street side of the Pedal Pushers building (121 Parkway Ave N). Bailey's project aligns with the Arts Campus goal of  enhancing walkability by further defining and strengthening the pedestrian connection between the Parkway Ave and the Coffee Street Walking Bridge. For more information on Bailey's residency in Lanesboro, please visit: lanesboroarts.org/bailey-cahlander
Special thanks to the City of Lanesboro & the Lanesboro Heritage Preservation Commission.
Bailey has worked as a mosaic artist since 2007, beginning with a Community program for young adults called Artswork, based out of St. Paul, Minnesota. In her four years with Artswork, she experienced working as an individual, and as a group, to bring art to underutilized spaces around the Twin Cities through large scale mosaic murals.
She is a graduate of Luther College in Decorah and is a former Marketing Communications Coordinator with Hennepin Theatre Trust, working to promote the Trust's downtown placemaking initiative, Made Here.  In 2016, Bailey led the collaborative creation of a mosaic mural installed on the façade of the Orpheum Theatre, along with a vertical garden. She also has glass mosaics installed within businesses in Decorah.
Made possible by support from: