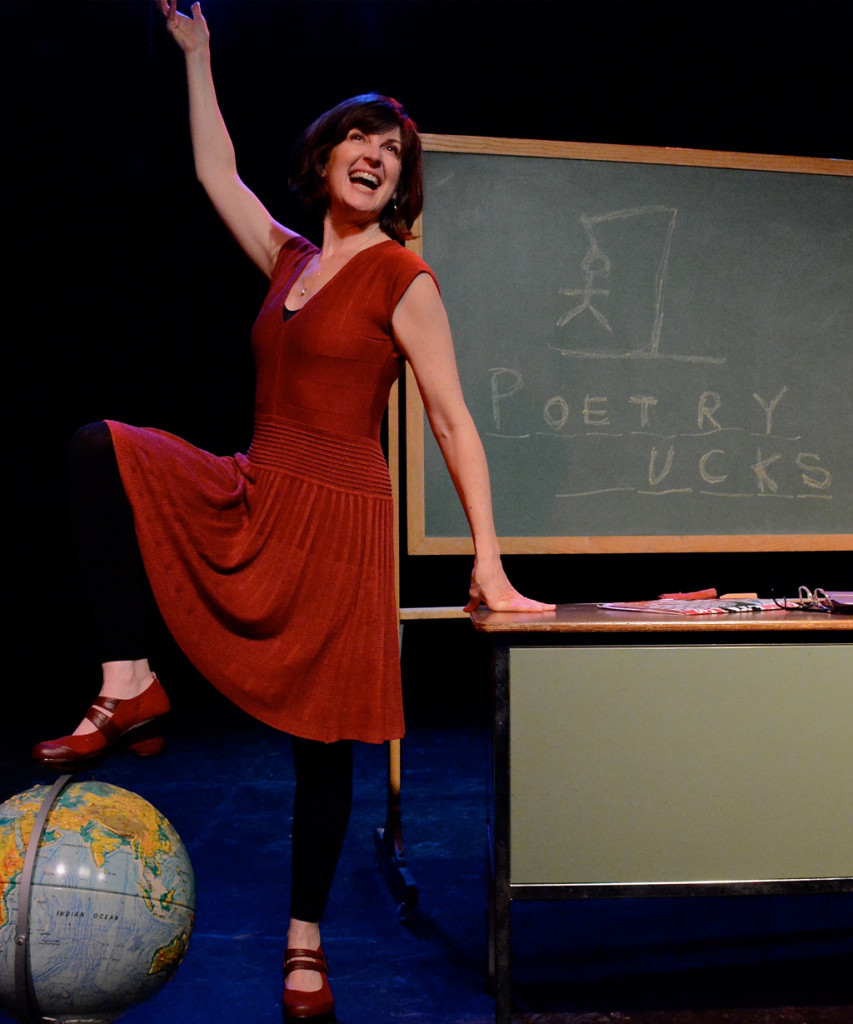 Lanesboro Arts will present "Miss Myrna Davenport's Poetry in Motion", a brand new original play written and performed by Catherine Glynn. There will be three public performances at the St. Mane Theatre, on Saturday, January 30; Friday, February 5; and Sunday, February 7, 2016. The Friday and Saturday performances will be held at 7:30 p.m. and the Sunday performance will be at 1:30 p.m.; Catherine will lead a Q&A following all three of the performances at the St. Mane Theatre. Following the Saturday, January 30 performance will be a capstone party at the High Court Pub in Lanesboro, where the public is welcome to celebrate the creation and performance of this original play with Catherine and others on the production team.
Folks are also welcome to join Catherine Glynn in a more intimate setting for a 'coffee talk' about the creation and production of the play, on either Thursday, Feb. 4, 6pm at Blooming Grounds Coffeehouse in Winona or Saturday, Feb. 6, 11 a.m. upstairs at Community Grounds Market in Lanesboro. "Miss Myrna Davenport's Poetry in Motion" is Catherine's homage to teachers, artists, and students of life everywhere. 'All that's best of dark and bright' Miss Myrna is among others things, a teacher, a dancer, and an inspiring reflection to all she sees. But like any human being, she's also a jumble of other mixed metaphors. As she moves through life as a renegade substitute teacher, Myrna's life begins to unfold before her and the class she is teaching, revealing a paradoxical and touching story.
Lanesboro Arts is thrilled to be supporting Lanesboro artist Catherine Glynn in the artistic creation and performance of this new play, a poignant story with a message so vital for all of us 'students of life'. This message is represented by the thoughts running through Miss Myrna's head of "How can I wake you up? How can I make you present?". The play is directed by Lee Gundersheimer, Managing Director of Great River Shakespeare Festival (Winona, MN). Thomas White of the Commonweal Theatre Company (Lanesboro, MN) is doing lights and stage managing. Steve Date and Scott Zosel of Zosel & Co. in Minneapolis helped with promo materials, and Catherine Glynn created the set, props and costumes. The play is 75 minutes in length, and self-rated 'PG-13' for suggestive dance in one scene.
Catherine Glynn is a native Minnesotan who makes her living performing, writing, and teaching. She was born and raised in Southwest Minneapolis and she studied Humanities at the College of St. Benedict & St. John's University. After graduating Catherine traveled to the Federated States of Micronesia to serve in the Peace Corps. Following her stint abroad, she created her first original one woman show called "Cassandra" at the Pillsbury Playhouse. She then headed to Texas to study acting at UT-Austin. Once she had her MFA, she was hired to teach at UT's Theatre & Dance Department. She spent 5 years as a full time adjunct professor in voice, acting and movement. Because she loves learning so much she went back for even more schooling at, what her brother Tom lovingly refers to as the 'Citadel of Acting' (i.e., The University of Delaware's Professional Theatre Training Program.) At the PTTP she studied the classics intensively, traveled to Japan to stomp her way into Tadashi Suzuki's highly acclaimed version of Oedipus Rex, and earned her second MFA.
Catherine is a former company member with the Rude Mechs in Austin, Texas; the Commonweal Theatre in Lanesboro; and is an Artistic Associate with Collaboraction Theatre in Chicago. She's acted in Shakespeare Festivals across the US, danced and performed in various Fringe Festivals in Austin, San Diego, and Minneapolis. She even did some burlesque in Chicago. Among her favorite contemporary stage performances is yet another one woman show called "Bad Dates" which she performed at the New American Theatre in Illinois. She's delighted to have found an artistic home in Lanesboro with her husband Jeremy van Meter. It's here, in the 'Boro that she came up with her wild idea for Miss Myrna. It came to her while reprising her role in "The Belle of Amherst" as poet Emily Dickinson last year. She takes great pleasure teaching people to express themselves fully. In addition to her performance career Catherine is the owner and Director of Voce Veritas, an executive coaching firm. She's also a certified Pilates Instructor. She is incredibly grateful to the Southeastern Minnesota Arts Council for their most generous grant, and to audiences everywhere who support the arts!
"Miss Myrna Davenport's Poetry in Motion" is sponsored by Inspire(d) Media, Community Grounds Market, the High Court Pub, and The Old Village Hall Restaurant and Pub
This activity is made possible by the voters of Minnesota through a grant from the Southeastern Minnesota Arts Council thanks to a legislative appropriation from the arts & cultural heritage fund.
Please note:
The St. Mane Theatre box office will open for business one hour before the event. Remaining tickets will be sold in-person beginning at that time.
If you are unable to buy tickets online or need additional assistance, you may try calling 507-467-2446, on weekdays before 5pm, to purchase tickets over the phone.
We will have a list of the names of ticket buyers at the box office beginning one hour before the event. If the ticket buyer and their guests arrive together, no receipt or proof of purchase is needed in order to be admitted to the event–we will have a list!
Alternatively, attendees can also present a printed copy of the Eventbrite ticket PDF the ticket buyer was sent or simply pull it up and present it on a smart phone.
Sponsored by: