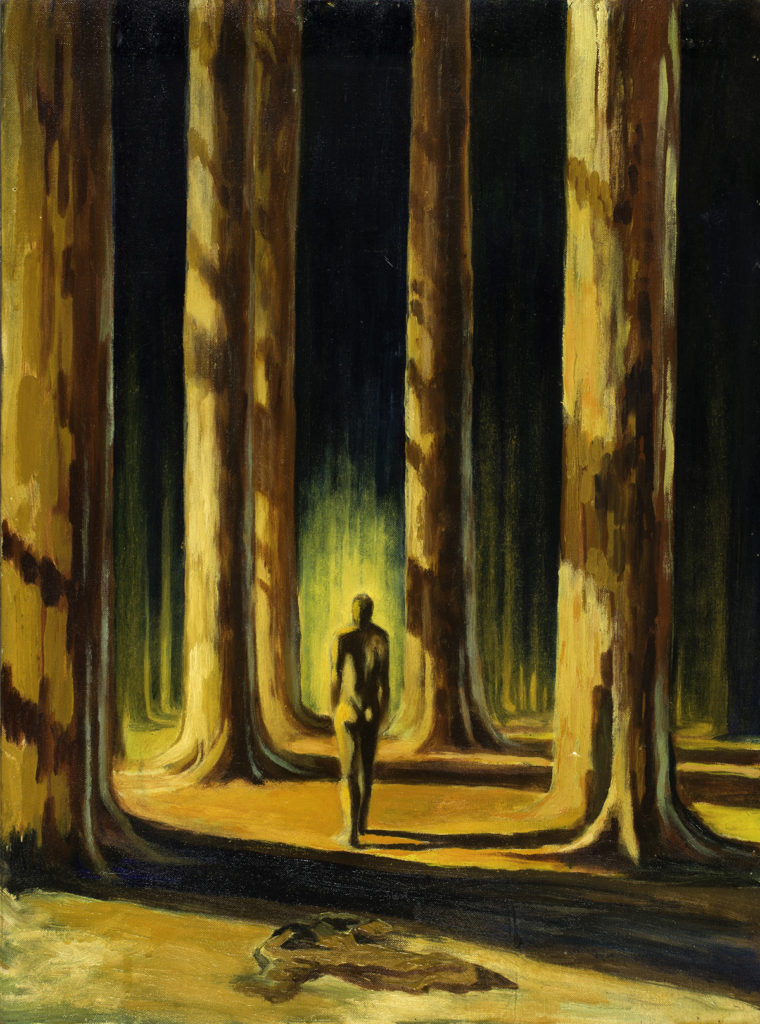 Lanesboro Arts presents "The Ride of Your Life," a retrospective exhibition of oil paintings and intaglio prints by Marvin Messing. An opening reception with Messing family members is happening on Saturday, April 13th from 6-8 p.m.  The exhibition runs through June 16th, 2019.  The opening reception will include wine, hor d'oeuvers and live music by Dave O'Mara and Larry Price. Always free and open to the public, the Lanesboro Arts Gallery is open Tuesday though Saturday in April, Tuesday through Sunday in May and seven days a week in June.
Marvin Messing's surreal paintings deeply reflect his personal experiences of World War II. In a satirical and playful way his art raises social, political, and religious questions. He references his life experiences as the "ride of his life," showcasing that everyone embraces life differently and no one's experiences are identical, but the final destination is the same for all.
He often stated, "What I am attempting to say is not as important as the viewer's response."
Born in 1922, artist Marvin Messing developed his love for art growing up in Freeport Illinois. After high school Messing attended college at the Art Institute of Chicago. In his third year he was advised to continue developing his skills in sculpture but was interrupted by American's entry into World War II, which lead him to enlist in the Navy, later serving in the South Pacific. Due to Messing's artistic abilities he worked with the Navy Intelligence as a topographical map and model maker. By night he, along with other artists, was dropped near Japanese held islands, sent to explore and return in the morning. Then later drawing maps based upon what he had seen.
Messing remained silent about his experiences during that time, but his art work was profoundly influenced by his participation and perception of the war. Messing described the drive behind his art: "Our nature is a paradox — divine yet savage; compassionate, yet monstrous.  I question aspects of this paradox in graphic and symbolic images," he said.
After the war Messing resumed life in Freeport, working and pursuing art. In the 1960's, Messing became actively involved in the Civil Rights Movement, which ended up being one of the most prolific periods of his artistic career. He firmly believed that artists have a duty to inform and evoke deep thought about the human condition through their art. He explored these themes through oil painting, sculpture, and printmaking. Towards the end of his career he described his style as "contemplative art;" he wanted it to stir up controversy and provoke thought.
In 1984, Messing relocated to Flathead Valley, Montana to be closer to his daughters Pamela Messing Hughes and Kris Messing. Outside of his own artistic practice, Messing spent 11 years of this life teaching art at several community colleges in Montana and Illinois. In 2006, he had to lay down his paint brush due to tremors caused by Parkinson's disease, which later took his life at the age of 92 in 2014.
His artistic career spanned over 70 years and his work is still being shown today in private collections, churches, and museums. Pamela and Kris grew up watching Messing create his paintings and discussing the meanings of his work with him.  "We remember him working a full day at the family store, spending "dad time" with us after supper and then painting or sculpting for hours after we went to bed," shared Pamela. Upon his death, they decided his paintings needed to continue to stay in the public eye.  "The questions and topics raised by his work are timeless," Kris stated. "Dad's paintings are as pertinent today as when he painted them."
This exhibit is sponsored by F & M Community Bank and made possible by the voters of Minnesota through a Minnesota State Arts Board Operating Support grant, thanks to a legislative appropriation from the arts and cultural heritage fund. For more information visit www.lanesboroarts.org, call 507-467-2446 or email gallery@lanesboroarts.org. Handicapped accessible and free to the public, the exhibition gallery is located at 103 Parkway Avenue North in Lanesboro, MN.
Featured image: "Tryptych for Today," oil on canvas by Marvin Messing
Sponsored by: