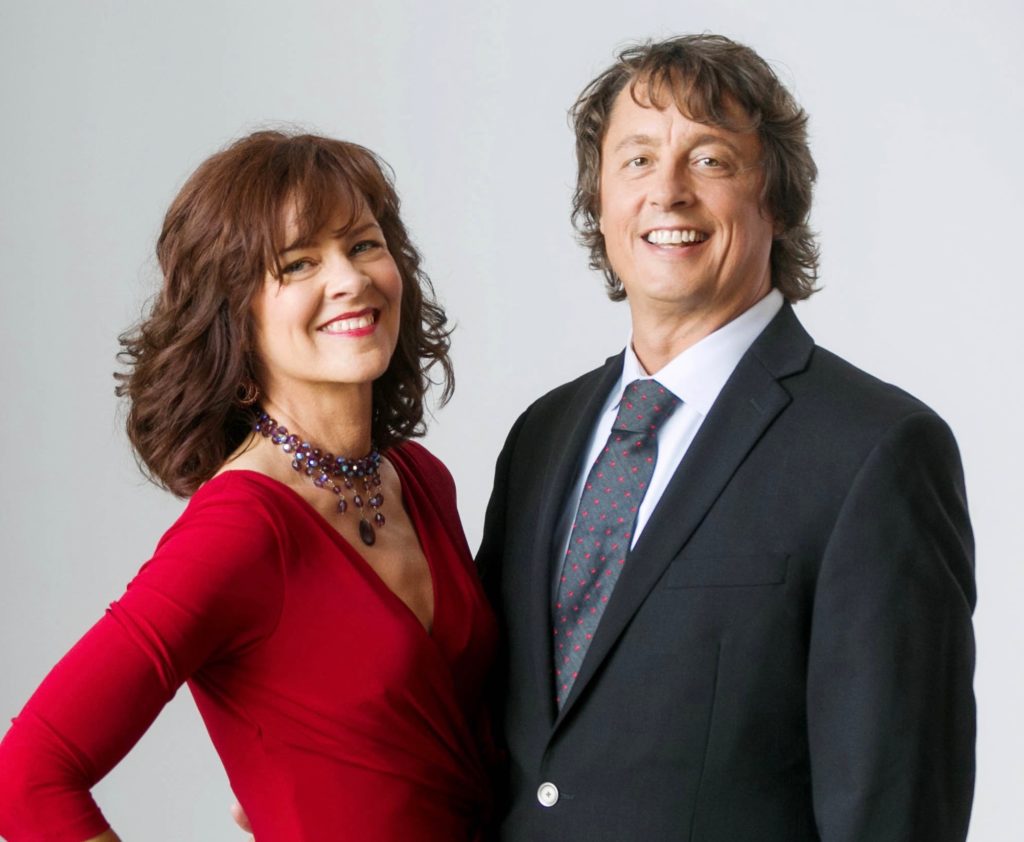 Lanesboro Arts is proud to present "The February Show!," a delightful Valentine's Day variety show of music, stories and laughter on Friday, February 14 at 7:30 p.m. at the St. Mane Theatre in downtown Lanesboro, MN. Returning to the St. Mane after a nearly sold out performance in 2017 of "Our Mighty Mississippi," Steven Marking is back with his trademark baritone vocals & captivating storytelling. This time he's joined by his wife, the talented jazz pianist and crooner JoAnn Funk, as well as the jazz bass stylings of Jeff Brueske.
Come one, come two, come all! The February Show is a performance event for everyone: couples, friends or just someone wanting a wonderful evening of music and laughter. The trio will perform a wide variety of astonishingly beautiful music and will tell many tales, some of them quite tall. As JoAnn herself says, "Oh yes, we should celebrate the love and romance of Valentine's Day, but there are many more holidays in February! Why, there is even a 'Do a Grouch a Favor Day!' The February Show celebrates the entire month of February (including Valentine's Day) and all that it brings."
Baritone Steven Marking performs an astonishing range of music, from songs and musicals to Schubert, Samuel Barber and Flanders and Swann. Steven has over 40 opera roles to his credit. Since his move to the Twin Cities in 2012, he has sung with the Minnesota Chorale, Metropolitan Symphony, performed a role with Minnesota Opera, sung many oratorios and led hymn sings, as well as shows with Jeff and JoAnn. His newest CD, "Holy Chestnuts" is collection of Victorian Era Anthems, recorded with organ and piano at Hennepin Avenue United Methodist Church in Minneapolis, where he was the bass baritone soloist for four years.
Jazz pianist singer JoAnn Funk brings her unique piano vocal style to this entertaining show. Her style has been compared to Blossom Dearie and Diana Krall but is very much her own. JoAnn is a Twin Cities favorite who is well known to her fans for her nine years of performances of Jazz in The Lobby Bar at The Saint Paul Hotel. Her fourth and most recent CD, "Jazz in The Lobby Bar," continues to receive international airplay.
Bassist and vocalist Jeff Brueske rounds out the talented trio, adding swing and beauty to everything, and also doing some great singing. Jeff might be the most understated musician you will ever meet. He is a choir director, educator, has a master's degree in guitar performance and is also a fine bassist. His vocals are a treat and are reminiscent of John Pizzarelli.
This event is presented by Lanesboro Arts, happening in conjunction with the "Lovebirds in Lanesboro" weekend, and sponsored by the Wisconsin Public Radio, Commonweal Theatre, Inspire(d) Magazine, High Court Pub and Granny's Liquors.
Please note:
The St. Mane Theatre box office will open at 6:30 p.m. the day of the concert. Tickets will also be sold in-person beginning at that time.
Each ticket purchased with a bank card will be charged an additional processing fee of $0.99. Patrons can avoid this processing fee by paying via cash or check in the Lanesboro Arts Gallery, or before the show in the St. Mane Theatre lobby.
If you are unable to purchase tickets online or need additional assistance, you may try calling 507-467-2446 to purchase a ticket over the phone during business hours. Tickets are also sold in-person during business hours at Lanesboro Arts Gallery.
We will have a list of the names of tickets buyers at the box office beginning at 6:30 p.m. If the buyer and their guests arrive together, no physical receipt or proof of purchase is needed in order to be admitted to the event–we will have a list!
Alternatively, attendees can present a printed copy of the ticket PDF the ticket buyer was e-mailed or simply pull it up and present it on a smart device.
Lanesboro Arts is committed to accessibility for all people. Learn more about our access services.