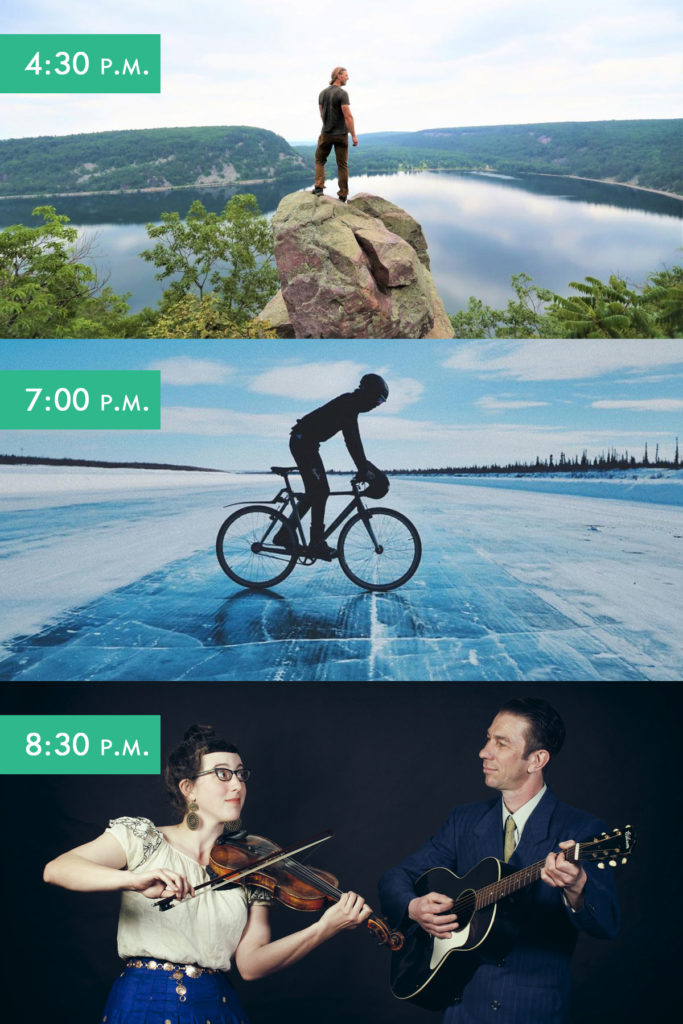 Lanesboro Arts is proud to host the 8th annual Frozen River Film Festival Preview Event featuring documentary films from the upcoming festival at the St. Mane Theatre in Lanesboro on Saturday, January 26, 2019. "Decoding the Driftless," a 60 minute film of science exploration and adventure that features rare footage of natural phenomena in the Driftless Region, will be screened at 4:30 p.m. The Adventure Film Set, a 77-minute collection of seven fast-paced, short-length films highlighting extreme sports or other fresh and unfamiliar activities, will be shown at 7:00 p.m. Live music by old-time country duo The Yellow-Bellied Sapsuckers begins at 8:30 p.m. at the High Court Pub in downtown Lanesboro.
"Buy one ticket, attend two film screenings!" One $8 regular price ticket ($5 for Lanesboro Arts members) is good for entry to both the 4:30 p.m. and 7 p.m. film screenings. Of course, attendees themselves may choose to attend only one, or both, screenings. There is no admission charge for the concert at High Court Pub, however the venue is 21+ only. The 2019 Frozen River Film Festival (FRFF) takes place February 6 – 10 in Winona, MN. FRFF 2019 'Donor Premiere' and 'Big Muddy' passes will also be honored for screenings in Lanesboro. Dinner & drink specials/discounts for ticket holders are also being offered by downtown establishments!
Directed by Jonas Stenstrom, "Decoding the Driftless" is a wild ride of adventure through the air, across rugged landscapes, on and under water, through a secret underworld, and across time itself to explore and decipher ancient clues of the Driftless Region, with its captivating scenic beauty. View the trailer here. Producer George Howe will also be in attendance to introduce the film and lead a Q & A following the film!
The six short films included in the 2019 Adventure Film Set showcase compelling stories of individuals pushing themselves to the limits while cycling, canoeing, winter surfing, ice climbing, traveling, and base jumping. These films are sure to motivate and physically activate viewers! The total run time of this film set is 77 minutes.
For more details on these films, including complete details of each of the 2019 Adventure Film Set selections, please click here.
Based in Soldiers Grove, WI, The Yellow-Bellied Sapsuckers perform original songs and tunes inspired by the classic hillbilly, country-duo, and old-time musical traditions–and also mines this same repertoire for forgotten gems that deserve to be heard again. In 2018, the Sapsuckers were nominated for Best Country Band in Wisconsin by the Wisconsin Area Music Industry Association.
Please note:
Only tickets good for entry to both film screenings on January 26 (4:30 p.m. and 7 p.m.) are being sold. You may of course choose to attend only one, or both, film screenings. There is no admission charge for the concert at High Court Pub, however the venue is 21+ only.
The St. Mane Theatre box office will open at 3:30 p.m. the day of the preview event. Tickets will also be sold in-person beginning at that time.
New in 2019: Each ticket purchased with a bank card will be charged an additional processing fee of $0.99. Patrons can avoid this processing fee by paying via cash or check in the Lanesboro Arts Gallery, or before the show in the St. Mane Theatre lobby.
If you are unable to purchase tickets online or need additional assistance, you may try calling 507-467-2446 to purchase a ticket over the phone during business hours. Tickets are also sold in-person during business hours at Lanesboro Arts Gallery.
We will have a list of the names of tickets buyers at the box office beginning at 3:30 p.m. If the buyer and their guests arrive together, no physical receipt or proof of purchase is needed in order to be admitted to the event–we will have a list!
Alternatively, attendees can also present a printed copy of the ticket PDF the ticket buyer was e-mailed or simply pull it up and present it on a smart device.
Lanesboro Arts is committed to accessibility for all people. Learn more about our access services.