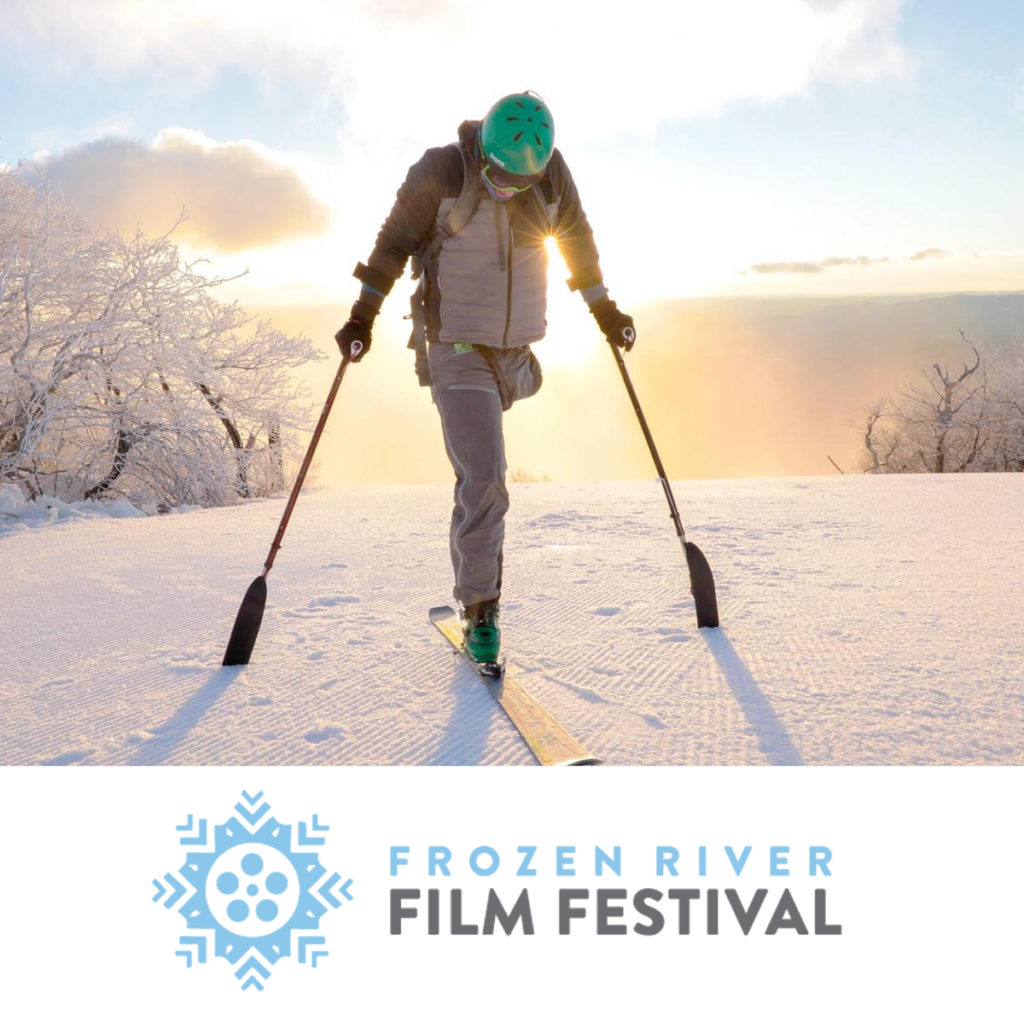 Frozen River Film Festival proudly presents The Adventure Set: five fast-paced, short-length films that will grab your attention and perch you on the edge of your seat at the St. Mane Theatre in downtown Lanesboro on Saturday, January 25 at 4:00 p.m. Highlighting extreme sports or other fresh and unfamiliar activities, while also demonstrating a certain level of difficulty and/or danger, these films are sure to motivate and physically activate viewers. The total run time of this film set is 99 minutes and the screening is happening in conjunction with the 9th annual Frozen River Film Festival Lanesboro Preview Weekend.
Frozen River's 'Donor Premiere' and 'Big Muddy' passes will be honored for all film events in Lanesboro, however advance registration via email, over the phone or in the Lanesboro Arts Gallery is still encouraged. A $15 Lanesboro Day Pass is also available, which will grant admission to all three film events happening on Saturday, January 25. The 2020 Frozen River Film Festival takes place February 5 – 9 in Winona, MN.
2020 Adventure Film Set Selections:
Broken (7 minutes)
Directed by: Simon Perkins
After losing his leg to cancer as a young adult, Jon Wilson struggled with feeling broken. Challenging himself in the outdoors presented a possible remedy. Today, crutching up and skiing down mountains at night provides a distinct backdrop for Jon to explore, accept, and embrace the idea of "brokenness," allowing him to find a more sincere, vulnerable and honest connection with life.
Tough: The Roger Volkmann Story (15 minutes)
Directed by: Jeff Ostenson
After suffering a serious stroke at age 55, Dr. Roger Volkman, struggles to pursue his life-long passion for rock climbing. With many supporters and care-givers by his side he attempts to summit an old favorite climb – Devil's Tower.
Ice & Palms (32 minutes)
Directed by Philipp Becker
Bikepacking takes on a whole new meaning when it's the bike you're wearing as a backpack. German freeskiers Jochen Mesle and Max Kroneck set out to cycle 1,800 kilometers from their homes in Durbheim, Germany to Nice, France, and ski big lines along the five-week journey. Although the ski resorts are closed for the season, spring comes late to the Austrian Alps. The friends must wait out storms and get creative about carrying 50 kilos of gear across a still-closed mountain pass to finally dip their ski boot-battered feet in the Mediterranean.
(People) of Water (23 minutes)
Directed by: Forest Woodward
For thousands of years, outrigger canoes have connected diverse cultures and people around the world. People of water follows the story of Rob Prechtl, a member of the US Men's Raft team, as they embark on a journey to learn the craft of outrigger paddling.
Rios Patagonicos (22 minutes)
Directed by Marie Leclère and Bruno Foment
In 2018, the "Rios Patagonicos" expedition took 15 canyoneers to stride the immensity of Chilean Patagonia, in search for rivers and waterfalls. Their goal: explore untouched territories, spot and open over 30 canyons, on a unique territory, where canyoneering discipline is close to non-existent.
This event is presented by Lanesboro Arts and sponsored by the Wisconsin Public Radio, Commonweal Theatre, Inspire(d) Magazine, High Court Pub and Granny's Liquors.
Please note:
FRFF 'Donor Premiere' and 'Big Muddy' pass holders may claim their free tickets at the door (as available) or in advance by calling 507-467-2446 or stopping into the Lanesboro Arts Gallery during business hours.
The St. Mane Theatre box office will open at 12:00 p.m. the day of the event. Tickets will also be sold in-person beginning at that time.
Each ticket purchased with a bank card will be charged an additional processing fee of $0.99. Patrons can avoid this processing fee by paying via cash or check in the Lanesboro Arts Gallery, or before the event in the St. Mane Theatre lobby.
If you are unable to purchase tickets online or need additional assistance, you may try calling 507-467-2446 to purchase a ticket over the phone during business hours. Tickets are also sold in-person during business hours at Lanesboro Arts Gallery.
We will have a list of the names of tickets buyers at the box office beginning at 3:00 p.m. If the buyer and their guests arrive together, no physical receipt or proof of purchase is needed in order to be admitted to the event–we will have a list!
Alternatively, attendees can present a printed copy of the ticket PDF the ticket buyer was e-mailed or simply pull it up and present it on a smart device.
Lanesboro Arts is committed to accessibility for all people. Learn more about our access services.