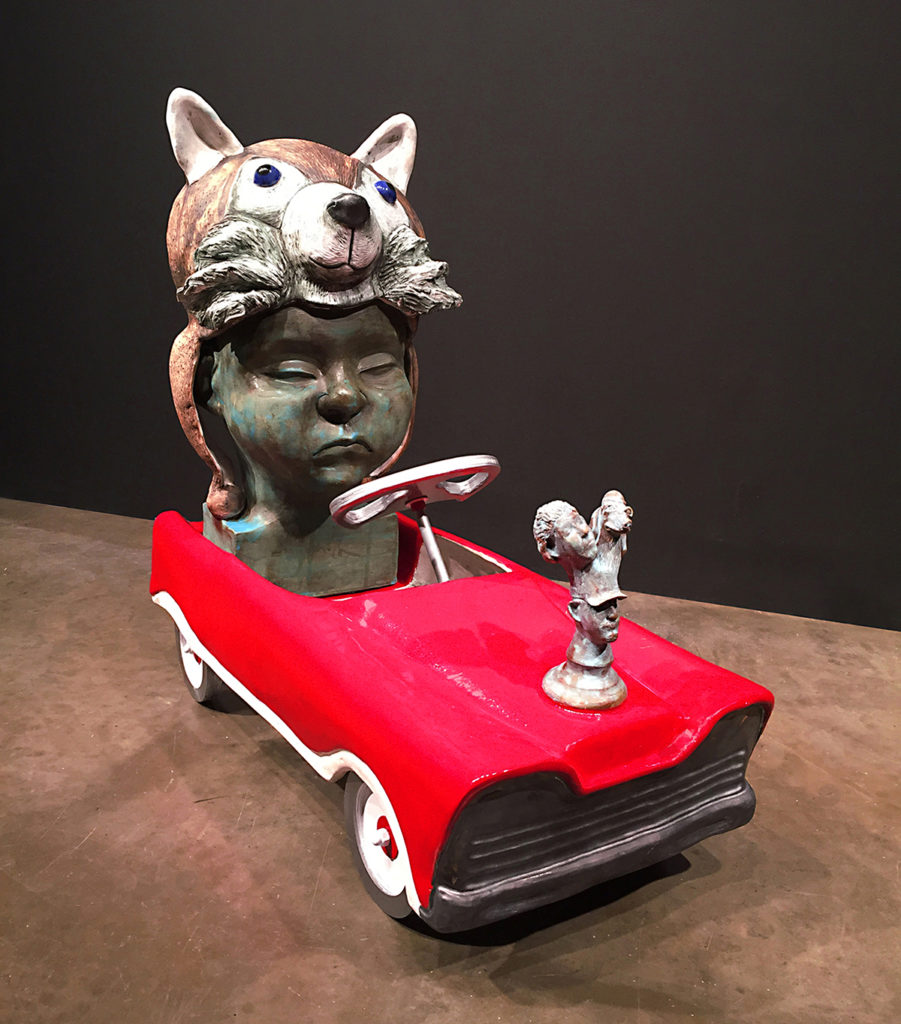 "Feats of Clay" is the theme of this year's juried group show at Lanesboro Arts Gallery. The exhibition features creative interpretations and variations on the medium of clay by 17 artists working in a variety of ceramic styles. The exhibit opens with an artist reception on Saturday, June 23, 2018 from 6-8 p.m. and runs through August 12, 2018. The reception will include wine and hors d'oeuvres, as well as live music by guitarist Kerry Klungtvedt. Always free and open to the public, the Lanesboro Arts Gallery is open seven days a week through October.
Gallery Director Robbie Brokken explains that "Feats of Clay" showcases both mixed media pieces and those made only of clay, including sculptures and functional ware from both traditional and newer, fantasy-based styles. Brokken elaborates sharing, "From the surreal creations of Jeremy Jones and the narrative storytelling of Eva Margaret to the work of Elizabeth Shriver that closely imitates nature, this exhibit is a fun opportunity to experience how diverse the medium of clay can really be. It can morph into almost anything."
A mix of new artists and ones featured at Lanesboro Arts in the past, the 17 artists juried for inclusion in "Feats of Clay" are Renee Bergstrom, Tyrrell O'Brien, Robbie Brokken, Debra Evans-Paige, Julie Fakler, Richard Gilchrist, Richard Hess, Jeremy Jones, Diane Knight, James Lang, Eva Margaret, Kelly Jean Ohl, Sue Pariseau, Carey Shanahan, Elizabeth Shriver, Wendy Thoreson, and Lisa Truax.
In addition to the work created by the 17 juried artists, a collaborative piece entitled "The Sleeping Giant Creature Preserve" will also be a part of the exhibition. The brainchild of artist Diane Knight, the piece features an array of clay critters and creatures created by 22 regional artists throughout the month of April in her Whalan, MN studio. "It was so much fun, and just really healthy, for all of us to work together and use our hands on an open-ended project like this where we were free to create anything," Knight exclaimed. "We found a lot of joy in the shared process."
Providing year-round arts programming for more than thirty years, the mission of Lanesboro Arts is to serve as a regional catalyst for artistic excellence and educational development in providing diverse art experiences for people of all ages. Handicapped accessible and free to the public, the exhibition gallery is located at 103 Parkway Ave N. in Lanesboro, Minnesota.
The exhibit is sponsored by Inspire(d) Magazine made possible by the voters of Minnesota through a Minnesota State Arts Board Operating Support grant, thanks to a legislative appropriation from the arts and cultural heritage fund.