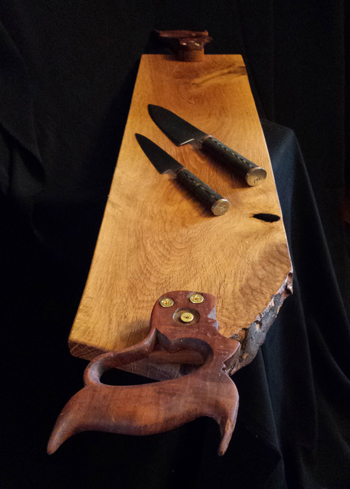 Lanesboro Arts presents "Story Wood: Combining Nature & Rural History", an exhibit of 3D woodwork by Tim Blanski. The exhibit opens with an artist reception on Saturday, April 16, 2016, from 6-8 p.m., and runs through June 12, 2016. The reception will include wine and hors d'oeuvres, as well as live music. Always free and open to the public, the Lanesboro Arts Gallery is open five days a week through May and six days a week through December.
Tim Blanski has been working with rustic furniture and whimsical natural crafts for over 12 years. In 2001, Tim left a corporate technology career to move from St. Paul, MN to a small rural farm in Minnesota where he can focus full time on the "elegant rustic arts" and custom furniture making.
Tim is a professional artisan and woodworker who enjoys combining elements from nature with antique, recycled, or reclaimed wood from America's rural heritage to create elegant furniture with an individual story. Each and every piece is one of a kind and hand crafted. Tim uses only recycled wood, of which the majority is over 100 years old. All of the natural twigs, sticks, pinecones, bark, or other elements are collected from his own farm woodland or from travels across the country.
Providing year-round arts programming for more than thirty years, the mission of Lanesboro Arts is to serve as a regional catalyst for artistic excellence and educational development in providing diverse art experiences for people of all ages. Handicapped accessible and free to the public, the exhibition gallery is located at 103 Parkway Ave N. in Lanesboro, Minnesota.
The exhibit is made possible by the voters of Minnesota through a Minnesota State Arts Board Operating Support grant, thanks to a legislative appropriation from the arts and cultural heritage fund.
Sponsored in part by Inspire(d) Media