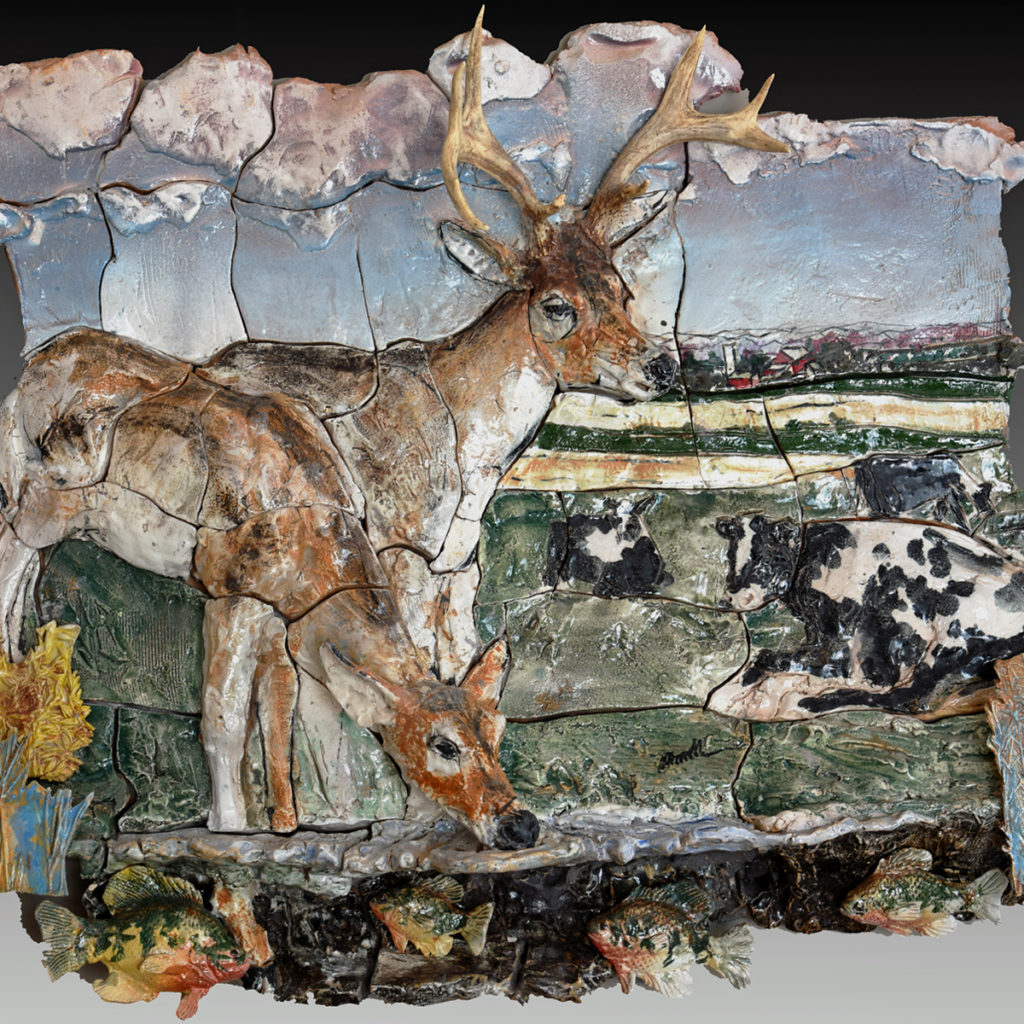 Lanesboro Arts presents "Outside the Human Habitat", a ceramic exhibit by Bruce Howdle. The exhibit opens with an artist reception on Saturday, October 14, 2017, from 6-8 p.m., and runs through December 17, 2017. The reception will include wine and hors d'oeuvres, as well as live music. Always free and open to the public, the Lanesboro Arts Gallery is open seven days a week through October and six days a week through December.
Bruce Howdle is a ceramic relief sculptural muralist as well a potter that has been creating ceramic sculpture since 1976. His work ranges from 9 foot high thrown forms to 52 foot wide relief murals that require 9 or more tons of clay. Bruce's firing process utilizes sodium. The clay surface is melted, preserving the integrity of the media and making the piece very durable.
After a college career focused in the fine arts with an emphasis in clay, Bruce founded a studio in the middle of the USA and vowed to make it work; making a conscious effort to avoid areas of the arts that compromised individuality for the ubiquitous commercial style that looks the same from east to west.  Howdle's style, surface, and method creates works that are uniquely his. Howdle believes it is more important  to maintain the spontaneity of the surface than the identity of the subject portrayed. He strives to see the clay and the gesture of the subject expressed through how he worked the surface. For Howdle, it is all about the surface.
Over the years his work has become increasingly more colorful and more playful. His themes have expanded to encompass animals in motion, under-water worlds, human aspirations and human history.  He has also designed installations that wrap around building corners, follow large curved surfaces, and adorned plaster, brick and stone walls.
Working in clay Bruce has derived a profound respect for the earth and what it has to offer. The malleability of clay allows him to create virtually any image in as much or as little detail as he wishes out of the simplest material and with confidence that it will last hundreds, even thousands of years.
Over the decades Howdle has been working in clay, he says he has often thought about, "the days as a boy when I saw the rusted remnants of old cars, barbed wire and old machinery thrown in gullies to help slow erosion from farm fields."  Howdle stated that even as a young adult, he knew of these dump sites as places where wild animals used human refuse for shelter and as a hunting ground. Howdle says that his when his awareness of the contrast between nature and the rusted remnants of human activity began. "Outside the Human Habitat" is about animals in motion and the wild things in the human habitat.
This exhibit is sponsored by KTTC and the voters of Minnesota through a Minnesota State Arts Board Operating Support grant, thanks to a legislative appropriation from the arts and cultural heritage fund. For more information visit www.lanesboroarts.org, call 507-467-2446 or email gallery@lanesboroarts.org. Handicapped accessible and free to the public, the exhibition gallery is located at 103 Parkway Avenue North in Lanesboro.

Sponsored by: