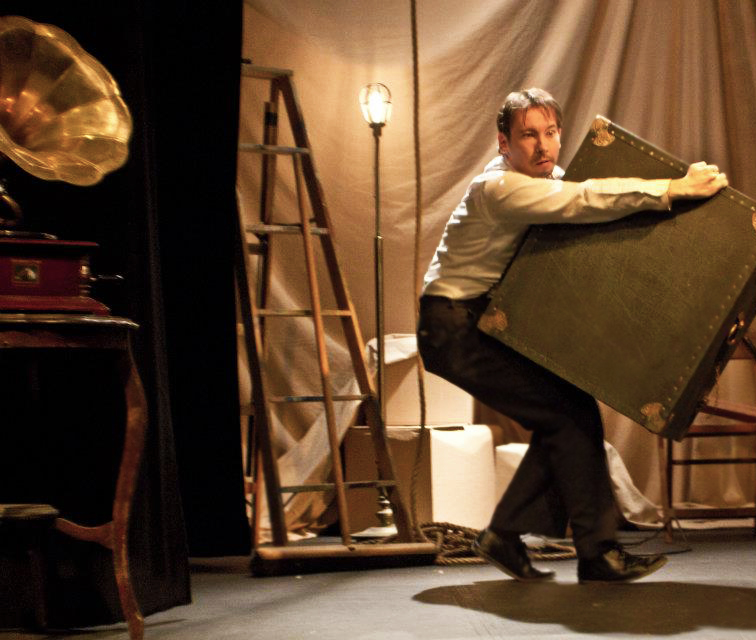 Three performances: Dec 1 – 3, 2017
Lanesboro Arts is proud to present "The Art of the Entertainer," a comedic one-man show starring Lanesboro artist Brandt Roberts at the St. Mane Theatre in Lanesboro, MN on Friday December 1 and 2 at 7:00 p.m. and Sunday, December 3 at 5:00 p.m.
The story follows Roberts in the role of Gerald, a janitor at a vaudeville theatre in the early 1930s, who finds a dusty record late one night inside an old steamer trunk. The record is entitled The Art of the Entertainer: an audio guide to the art of live performance. Led by the recorded voice of Sir Byron Ramsey, Gerald embarks on a madcap adventure through the theatrical realm. It becomes a night shift filled with audience participation, music, and various sketches parodying some of theatre's most famous genres. A fun night for the whole family!
Brandt Roberts is currently wrapping up his fourth season a member of the resident ensemble at Commonweal Theatre Company, having starred as the eponymous character in this year's production of "The Elephant Man." The creation and staging of "The Art of the Entertainer" was the subject of his Master's thesis at the Savannah College of Art and Design.
Please note:
The St. Mane Theatre box office will open for business at 6:00 p.m. on the day of the event. Remaining tickets will be sold in-person beginning at that time.
If you are unable to buy tickets online or need additional assistance, you may try calling 507-467-2446, on weekdays before 5pm, to purchase tickets over the phone.
We will have a list of the names of ticket buyers at the box office beginning at 6:00 p.m. If the ticket buyer and their guests arrive together, no receipt or proof of purchase is needed in order to be admitted to the event–we will have a list!
Alternatively, attendees can also present a printed copy of the Eventbrite ticket PDF the ticket buyer was sent or simply pull it up and present it on a smart phone.
Sponsored by: