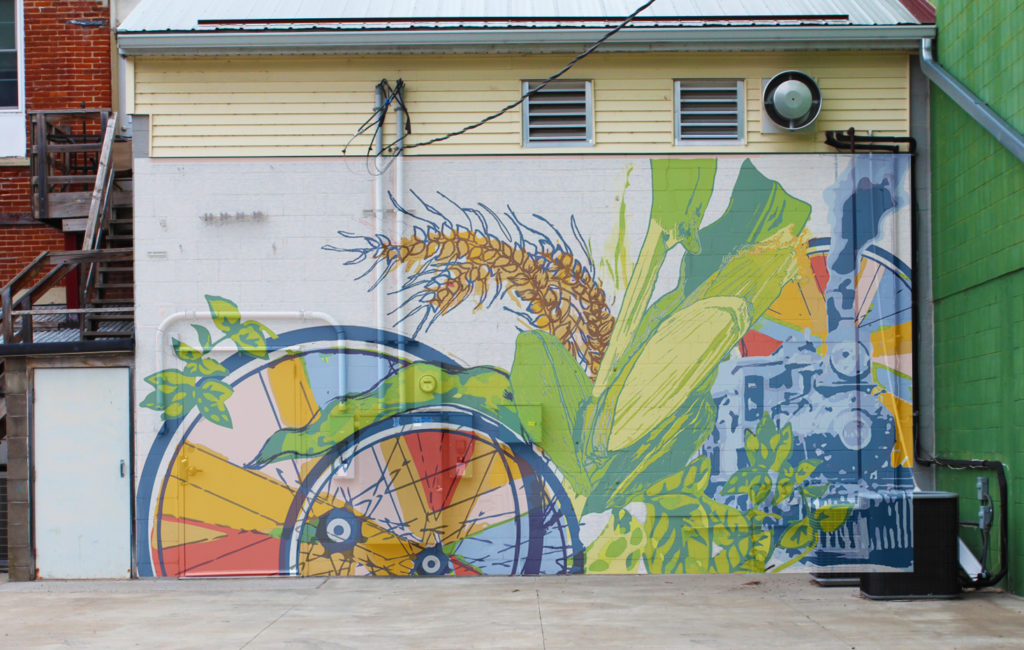 Lanesboro Arts invites community members of all ages to participate in the painting of a large-scale mural on the back of the St. Mane Theatre on Tuesday, July 11 from 8 a.m. to 2 p.m.  Live music, refreshments and family art activities are also planned. Individuals or groups interested in helping can stop by on July 11 or contact Kara Maloney at Lanesboro Arts to schedule painting time during the week of July 10.
This family-friendly project is happening in conjunction with a grant that Lanesboro Arts received from the National Association of Realtors for placemaking in support of Surprise Sculpture, a youth program offering artistic exploration and construction site-specific sculptures for public spaces. Projects range from large wire spider webs in the bluffs to drawings in vacant storefront windows to an enormous dragonfly made out of upcycled and recycled materials. Surprise Sculpture aims to increase the beauty of overlooked places in the community, encourage walkability, and foster public interaction.
Ideas for the mural were brainstormed by community members and Surprise Sculpture students in March and will be painted by community members with the help of GoodSpace Murals, a Minneapolis-based artist collective. "Lanesboro Arts is thrilled to be collaborating with an established arts and culture organization. They were easily able to take the many designs community members had proposed and unify them into one impactful work of art" said Kara Maloney, Surprise Sculpture's Educational Lead. GoodSpace Murals designs large and small-scale exterior paint murals, engages in community collaborated creation processes, and guides participants in processes to connect communities through artistic creation.
The St. Mane Theatre is located within Lanesboro's historic district and is listed on the National Register of Historic Places as designated by the U.S. Department of the Interior. The building is privately owned by the Lanesboro Arts Center but hosts public events such as concerts, films, variety shows, educational classes, artists residencies, and more for diverse audiences locally, regionally, and nationally. The mural would be placed on a non-contributing backstage mid-1900s addition.
Lanesboro has a history of Arts Campus initiatives. This project will the fifth community engagement public art project in Lanesboro, following the 2001/2011 Bronze Medallion Tour, 2005 Theatre Construction Wall Mural, 2014 Lanesboro Library Mural, and the 2014 Haiku Poetry Parking Lot.
Lanesboro Arts received a "Paint the Town" grant through the Southern Minnesota Initiative Foundation (SMIF) in partnership with Ace Hardware in St. Charles to supply the paint. The grant is designed to engage volunteers, create a sense of community pride, and build collaborative efforts to beautify communities through murals or welcome signs. The SMIF donated 31 gallons of paint for the project.