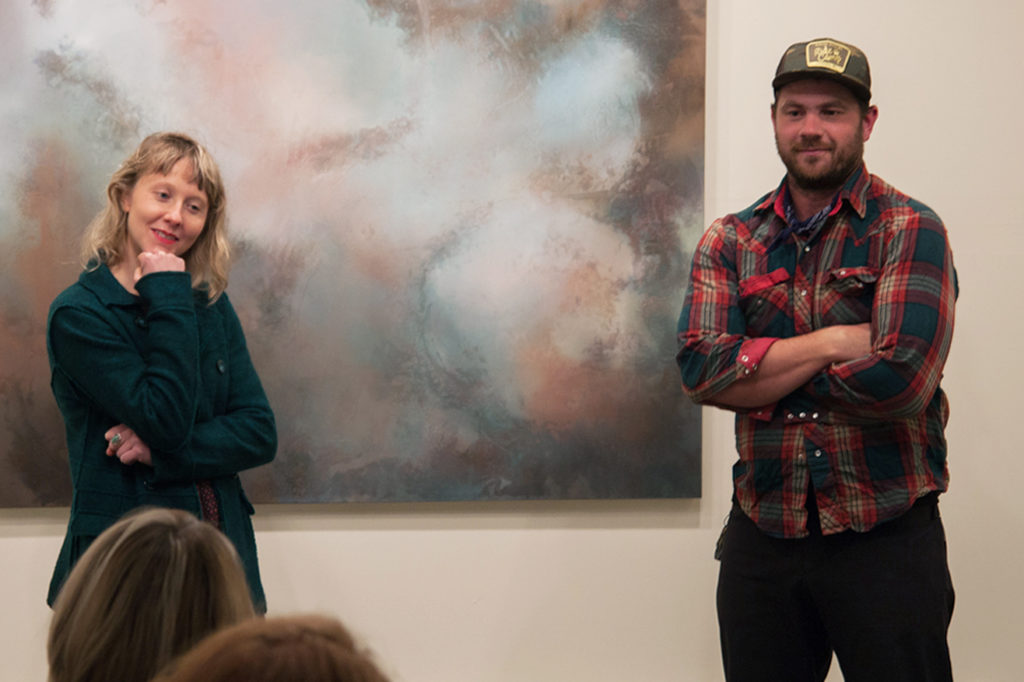 Join community members and artist resident Annie Hejny for a Capstone Art & Poetry Presentation on the Lanesboro Museum's outdoor porch, overlooking the Root River, on Saturday, August 26 from 6pm – 8pm. RAIN SITE IS THE DISCOVERY FAITH COMMUNITY at 507 Parkway Ave S (formerly known as the Lanesboro United Methodist Church).
Community members will be invited to share poetry reading and stories inspired by water and the themes explored in Annie's residency. The large scale abstract river paintings created with the community during her time in Lanesboro will be on display. Annie will present an artist talk about her work and engage in a dialog with attendees about the river. Bicycling folk musician and storyteller Ben Weaver will also play songs and share stories about water and place. Light refreshments will be provided.
Based in Saint Paul, MN, Annie Hejny ceremoniously harvests local river water and sediment to create textured abstract paintings. Her process begins the moment she steps into nature, leading to the river. She is passionate about how intentional exploration of the earth can lay the groundwork for informed painting in her studio. Annie's blended painting technique, in which she pours water and sediment over a flat canvas, allowing it to emulate natural flow and erosion before layering it with traditional brushwork, aims to honor the water's sacred and historical importance.
Ben Weaver is a songwriter and poet who travels by bicycle using relationships of all kinds to help awaken greater reciprocity between people and the land. Recent human-powered expeditions have taken him down the Mississippi River, around Lake Superior, across the Kenai Watershed in Alaska and throughout the Netherlands. Given the choice he will side with the animals, lakes, rivers and the trees.
Community members interested in connecting with Annie and sharing or participating in the capstone event are encouraged to contact Adam at Lanesboro Arts: 507-467-2446 or adam@lanesboroarts.org.
Keep the momentum going! Joing Annie at the Lanesboro Landscape Improvers Monday evening improvement event at 7pm on Aug. 28, Engstrom garden, 301 Ashburn St. E.