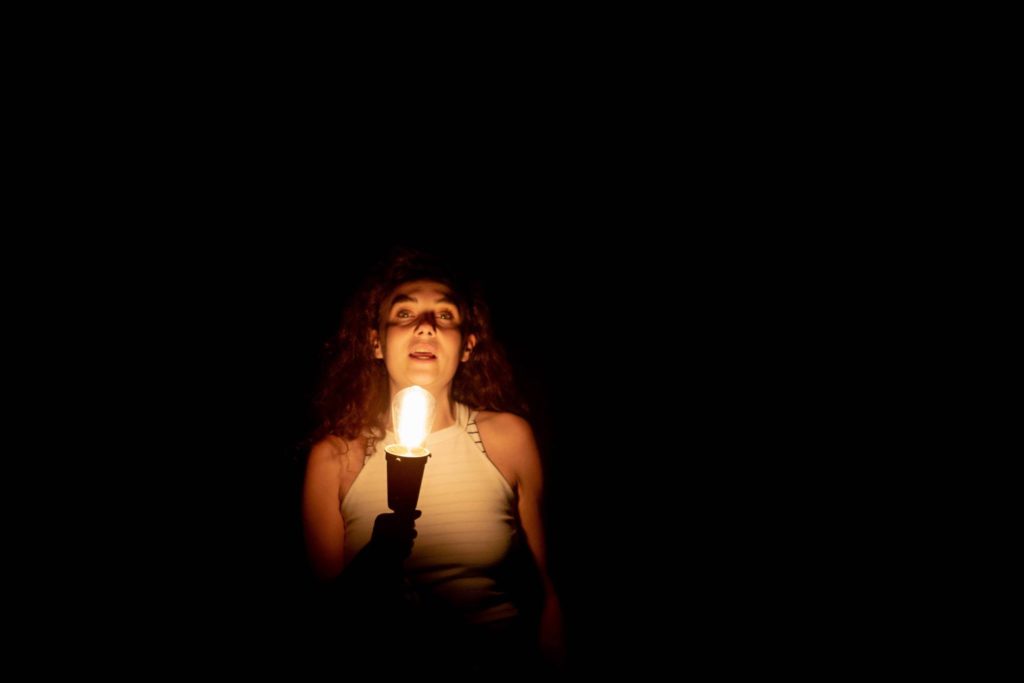 After three years of Audacious Raw Theater, A.R.T's format of seven performers creating seven or more new works in seven days, Year Four will take on a new iteration: Four for Four!
This year's pared-down ensemble will include devised theater-maker and educator, Jerome Yorke, Jr. of Cinncinati; actor, filmmaker and educator Hilary Williams of Chicago, and St. Paul-based teacher, composer, performer Eric Carranza (one of Lanesboro Arts' 2019 Artists in Residence). They will join Lanesboro's own performing artist Catherine Glynn to develop several new works based on the theme of "More than a Dream."
By building on their unique chemistry, this collaborative quartet is utilizing the virtual world to brainstorm and create devised works based on the writings of Mary Wollenstonecraft (A Vindication of the Rights of Women); Mary Shelley (Frankenstein); Mihaly Csikszentmihalyi (Flow) as well as Chaos Theory. …And that's just the beginning of their 2020 journey.
Borne of creative chaos, A.R.T. (Audacious Raw Theater) is Catherine's brainchild. Galvanized by her collaborative and experimental work with the Robert Wilson, Tadashi Suzuki, Rude Mechs, SITI Company (Saratoga International Theater Institute), Collaboraction, and Sushi Dance Studio in San Diego A.R.T. is a multi-year initiative to foster the creation and development of new theatrical works.
Prepare to be surprised, delighted, and inspired in a way that only Audacious Raw Theater can provide!
A.R.T. Year Four will erupt in two stagings of innovative, thought-provoking performances underscored with powerful live music at the historic St. Mane Theatre in Lanesboro, MN  on Saturday, May 30, and Sunday, May 31, at 7:30 p.m.
Audiences are encouraged to come for both stagings as each performance is unique. Because of the groups' deep belief in free speech, and the unpredictable nature of improv, this work is uncensored and audiences of ages 12 and up are recommended.
This event is presented by Lanesboro Arts and sponsored by the Wisconsin Public Radio, Commonweal Theatre, Inspire(d) Magazine, High Court Pub, and Granny's Liquors.
Please note:
The St. Mane Theatre box office will open at 6:30 p.m. the day of the event. Tickets will also be sold in-person beginning at that time.
Each ticket purchased with a bank card will be charged an additional processing fee of $0.99. Patrons can avoid this processing fee by paying via cash or check in the Lanesboro Arts Gallery, or before the show in the St. Mane Theatre lobby.
If you are unable to purchase tickets online or need additional assistance, you may try calling 507-467-2446 to purchase a ticket over the phone during business hours. Tickets are also sold in-person during business hours at Lanesboro Arts Gallery.
We will have a list of the ticket buyer names at the box office beginning at 6:30 p.m. If the buyer and their guests arrive together, no physical receipt or proof of purchase is needed in order to be admitted to the event–we will have a list!
Alternatively, attendees can present a printed copy of the ticket PDF the ticket buyer was e-mailed or simply pull it up and present it on a smart device.
Lanesboro Arts is committed to accessibility for all people. Learn more about our access services.