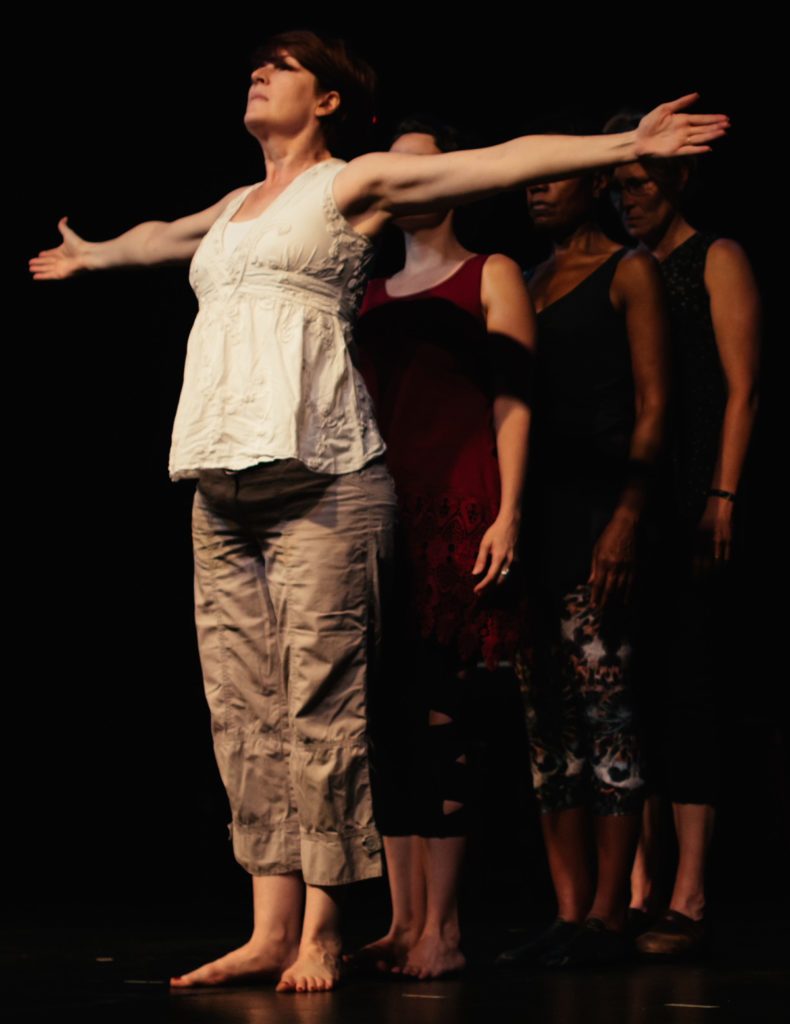 TWO PERFORMANCES! Friday, June 15 at 7:30 p.m. and Sunday, June 17 at 7:30 p.m.
Professional performers and musicians from across the country will come together for 7 days to create 7 devised works for two stagings of innovative, inspiring and thought-provoking performances at the historic St. Mane Theatre in Lanesboro, MN on Friday, June 15 and Sunday, June 17 at 7:30 p.m.
Inspired by the collaborative and experimental work done by theater companies such as the Rude Mechs, the Neo-Futurists, and the Saratoga International Theater Institute, Audacious Raw Theater (A.R.T.) has been conceived as a multi-year initiative to foster the creation and development of new works, while serving as a performance art companion to the Art in the Park fine art festival presented by Lanesboro Arts on Saturday, June 16.
The theme for year two, The Sound and the Fury, stems from Shakespeare's Macbeth:
Out, Out, brief candle!
Life's but a walking shadow, a poor player
That struts and frets his hour upon the stage
And then is heard no more: it is a tale
Told by an idiot, full of sound and fury,
Signifying nothing.
The artists include Jerome Yorke, Jr. a devised theater-maker and clown from Cincinnati; Hilary Williams a Chicago based actress, writer and educator; Penelope Walker a Chicago-based theater, TV, and film actor; stage actress Helen Merino from Austin, Texas; Emily June Newton a theater maker and comedian character creator, originally from Australia; Jay Owen Eisenberg an actor, writer and arts educator based in Minneapolis by way of New York City and Los Angeles; Jacinta Clusellas a guitarist, composer and arranger from Buenos Aires, Argentina, currently based in NYC; Katie Berger a performer, composer, and teaching artist based in St. Petersburg, FL, and Catherine Glynn, who divides her time between performing and producing theater and executive coaching at Fortune 500 companies around the world. The show will be stage managed by Nan M. Zosel of Minneapolis.
Prepare to be surprised and delighted by 7, or more, newly devised works of Audacious Raw Theater, while also gaining insight into the creative process and embracing the spontaneous. Together the group will be revising and recreating throughout their time in Lanesboro. Audiences are encouraged to come for both stagings as each performance will be unique!
Catherine Glynn has been living in Lanesboro since 2011. She shared the stage in 6 Commonweal productions—some of her favorite roles include Tracy Lord in Philadelphia Story and Elvira in Blithe Spirit. She has also performed the solo shows The Belle Of Amherst and Miss Myrna Davenport's Poetry in Motion with Lanesboro Arts. She has MFAs from UT Austin and University of Delaware. She currently divides her time between creating on stage and executive coaching with the Ariel Group and Voce Veritas. She shares her home with her talented husband Jeremy van Meter, and their circus of cats.
Jerome Yorke is excited to be able to come back to Lanesboro for A.R.T. Year 2. This a place he called home as part of the Commonweal family from '07-'11 and this year he brings own 'whole family' with him!  (His wife Suz gave birth to their first child, Dorothy Kay in April!) In addition to being a father, Jerome is a devised theatre maker and educator specializing in storytelling through movement, mask and theatrical clowning. His physically based work and approach to theatre making blends styles ranging from eccentric characterization to acrobatic dance. He is a full time faculty member for the University of Dayton Theatre, Dance and Performance Technology Program, a core member of UpLift Physical Theatre, and holds an MFA from Dell'Arte International.
Hilary Williams is a Chicago based actress, writer and educator, and is proud to be working with Catherine and Lanesboro Arts! Hilary has performed with such companies as The Hypocrites, LifeLine Theatre, New Leaf, Rivendell Ensemble, and Shattered Globe.  She is a company member with the fabulous LiveWire Chicago Theatre and Neverbird Project.  As an educator and teaching artist Hilary has worked with TimeLine Theatre, CAPE, and Catharsis Productions.  She is currently teaching theatre and auto-biographical performance in Chicago with Still Point Theatre Collective to incarcerated women at a federal prison, and previously incarcerated women at Grace House. She is so very grateful for her friend Catherine's invitation to create new work, and for the amazing support that surrounds her. And thanks for all the adventure and love, Rabbit!
Penelope Walker is a Chicago-based performer. Some of her recent credits include Life Sucks, Black Diamond; The Years The Locusts Have Eaten, with Lookinigglass Theatre Company.  THE HOUSE THAT WILL NOT STAND, No One As Nasty, Ignition Festival @ Victory Gardens Theatre; Love & Information at Remy Bumppo Theatre Company; We're Gonna Be Okay, The Projects, Agnes Of God, Doubt, People's Temple with American Theatre Company; Will You Stand Up @ Erasing The Distance Theatre Company; Seven Homeless Mammoths Wandering New England @ Theatre Wit; Love Lies Bleeding with Steppenwolf Theatre Company; 10 Virgins, Voyeurs de Venus at Chicago Dramatists; Eclipsed, Gees Bend, Bee Luther Hatchee @ Northlight Theatre Company; The Clink at Rivendell Theatre Ensemble. She performed her own solo show, How I Jack Master Funked The Sugar in My Knee Caps, throughout 2013 & 2014. And her film, television & web series credits include: Olympia: An Instruction Manual For How Things Work, Severed Ties, Flowers (film), Matching Pursuit (web series), "Chicago Fire" NBC, "Chicago Justice" NBC, as well as appearances on "Chicago Med" NBC & "Boss" Showtime (television).
Helen Merino has never been to Minnesota. She did, however, want to be Mary Tyler Moore as a kid. Now, after 10 years of "meh" work and excellent pizza in New York, Helen has returned home to Austin, Texas where she has chiefly performed with the Austin Shakespeare Company and Zachary Scott Theatre Center. Some favorite roles include Mary in Mary Stuart, Emily Dickinson in The Belle of Amherst, Gilda in Design for Living, Elizabeth in The Crucible, Lady Macbeth in Macbeth, Masha in The Seagull, and the title role in Hamlet. By day she is owner and chief dog whisperer and Freedog Austin – a dog care service.  By night she picks fur off her clothes. Helen is terrified to be here producing new work, but she's "terrified" in that standing-in-line-for–a-roller-coaster way. That's the best way, and she's so grateful to Catie for the rush!
Katie Berger is a performer, composer, and teaching artist based in St. Petersburg, FL, and is thrilled to be returning to Lanesboro after spending a little over a year at the Commonweal Theatre Company back in 2012. She currently teaches at American Stage and South Tampa Center for the Arts, and she is producing her first album, Hyacinth Girl, which will be available later this summer.  Favorite roles include Frances in The Burnt Part Boys and Ophelia in Hamlet.  She loves her ukuleles, the musical Spring Awakening, and the band Hanson.
Jacinta Clusellas is a guitarist, composer and arranger from Buenos Aires, Argentina, currently based in NYC. Her debut album El Pájaro Azul was released at the Consulate of Argentina in NYC, and is being distributed in Japan under the record label Inpartmaint Inc. She is currently composing and arranging the music for a Spanish language folkloric musical based on Ruben Darío's works, El Poeta Y El Rey (BRIC, NYTW, The Drama League & The Habitat) and writing the arrangements and orchestrations for I Am, a new play with music. In 2017, Jacinta was an artist in residence at Lanesboro Arts working on a documentary performance piece with Tatiana Pandiani called NORA, based on Ibsen's "A Doll's House." She holds a B.A. in Contemporary Writing and Production at Berklee College of Music; she is a Teaching Artist at the New York Philharmonic and a participating member at the Carnegie Hall Music Educators Workshop.
Emily June Newton is a theater maker and comedian character creator. Originating from Australia, she now resides in Portland, Oregon and works as a performer specializing in comedic characters. Emily has performed both national and internationally with companies including Terrapin Puppet Theatre (AUS), Tasmanian Theatre Company (AUS), Oregon Children's Theatre (OR, USA), The Children's Art Theatre of China (Shanghai, CHN) and Dell'Arte International (CA, USA). Recently, she reprised her title role as Frank, in her solo show 'Frank: to be Frank' as part of CoHo Summerfest (OR) and Zero to Fierce – International Women's Theatre Festival in California. Directed by Deanna Fleysher (aka Butt Kapinski), Frank: to be Frank has toured to Canada, the east coast of America and up and down the Pacific Northwest. Emily holds a Master of Fine Arts (MFA) degree in Ensemble-Based Physical Theatre from Dell'Arte International in California, and is passionate about character-driven work, interactive theater experiences, and storytelling.
Jay Owen Eisenberg is an actor, writer and arts educator based in Minneapolis by way of New York City and Los Angeles. He is a teaching artist with the Guthrie Theater and Children's Theatre Company, and a frequent collaborator with Pillsbury House + Theatre (≈[almost equal to], Breaking Ice, Chicago Avenue Project) and Mixed Blood Theatre (On Our Own Terms, Charm, HIR), where he also serves as the Transgender Community Organizer. Jay has recently worked with Open Eye Figure Theatre on Constance in the Darkness, as well as his solo show, BIG OLD ROCK. He is the recipient of a 2017 MSAB Artist Initiative Grant and a 2016 SPACE on Ryder Farm Residency. BFA, Drama: NYU Tisch School of the Arts, Experimental Theatre Wing. AEA/SAG-AFTRA.
Nan Marie Zosel is a drumming, dancing chaplain from South Minneapolis.  She brings experience in stage management, set, lighting and costume design and even puppetry to the outrageous experiment that is R.A.W.  Her dance background includes improv, ballet, modern, jazz and hip hop.  She is excited to be dramaturg, helper, promoter, girl Friday, extra body or voice, or spare percussionist in support of this mischievous mayhem.
Please note:
The St. Mane Theatre box office will open an hour prior to each performance. Remaining tickets will be sold in-person beginning at that time.
If you are unable to buy tickets online or need additional assistance, you may try calling 507-467-2446 to purchase tickets over the phone during business hours.
We will have a list of the names of ticket buyers at the box office beginning an hour before each performance. If the ticket buyer and their guests arrive together, no physical receipt or proof of purchase is needed in order to be admitted to the event–we will have a list!
Alternatively, attendees can also present a printed copy of the Eventbrite ticket PDF the ticket buyer was sent or simply pull it up and present it on a smart device.