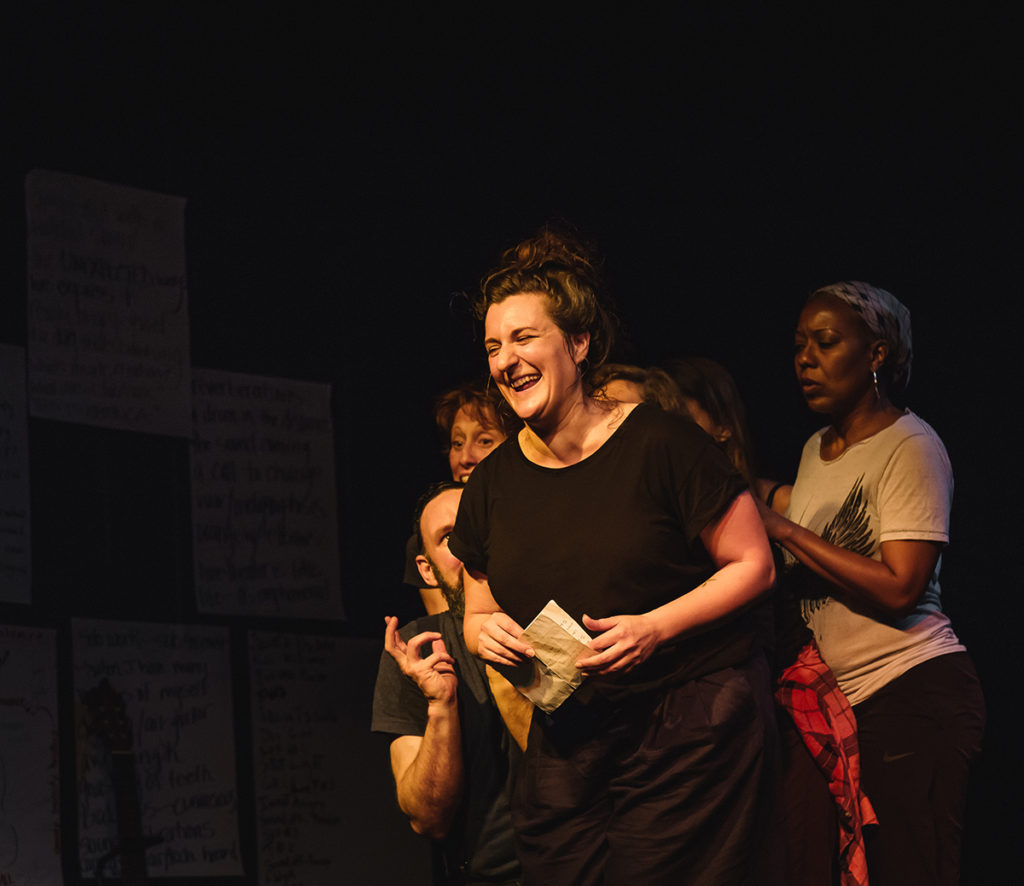 Seven professional performers and musicians from across the country will come together for seven days to create seven devised works for two stagings of innovative, inspiring and thought-provoking performances at the historic St. Mane Theatre in Lanesboro, MN on Saturday, June 1 and Sunday, June 2 at 7:30 p.m.
Inspired by the collaborative and experimental work done by theater companies such as the Rude Mechs, the Neo-Futurists, and the Saratoga International Theater Institute, Audacious Raw Theater (A.R.T.) was conceived by Lanesboro-based performing artist Catherine Glynn as a multi-year initiative to foster the creation and development of new works. The theme for year three is "Inside, Outside, Upside Down." Jerome Yorke who has been a part of A.R.T. since its inception chose the theme, "because of its seemingly inexhaustible potential, and the ability to flip norms on their heads." As Austrian physicist Erwin Schrödinger, who worked on the physical nature of unified field theory, has said, "The task is…not so much to see what no one has yet seen; but to think what nobody has yet thought, about that which everybody sees."
The artists include Jerome Yorke, Jr. a devised theater-maker and clown from Cincinnati; Hilary Williams a Chicago–based actress, writer and educator; Laura Gentry an artist and laughter ambassador from Marquette, Iowa; J Jha an actor, activist and storyteller originally from India; Aurelia Clunie an Evanston, Illinois–based actress, director and teaching artist; Paula Ramirez an activist, actor, improviser and educator originally from Venezuela; Lewis Youngren an actor, director and educator originally from Hastings, MN; and Catherine Glynn, who divides her time between performing and producing theater and executive coaching at Fortune 500 companies around the world.
Prepare to be surprised and delighted by 7, or more, newly devised works of Audacious Raw Theater, while also gaining insight into the creative process and embracing the spontaneous. Together the group will be revising and recreating throughout their time in Lanesboro. Audiences are encouraged to come for both stagings as each performance are unique and will never be repeated again! Year three of Audacious Raw Theater is happening in conjunction with the annual Rhubarb Festival in Sylvan Park from 10 a.m. to 3 p.m. on Saturday, June 1. All ages are welcome & encouraged.
Jerome Yorke Jr. is a theatre maker and educator specializing in ensemble-based physical theatre and devising performance. As a faculty member for the University of Dayton's Theatre, Dance, and Performance Technology Program (TDPT) he teaches theatre appreciation, acting, voice and movement, and is the faculty advisor for On The Fly improv troupe. His performance-based study of clown as shaman began with a solo performance entitled Welcome Goodbye and premiered for the TDPT program in 2015. While using puppets in collaboration with Zoot Theatre Co., his directorial debut at UD, And A Child Shall Lead, was chosen by Russell Florence (MostMetro.com) as the region's best collegiate production of a play for the 2015-2016 performance season. He holds an MFA from Dell'Arte International and his training is rooted in mask, and acrobatics. He is also a core ensemble member of the San Francisco based UpLift Physical Theatre.
Hilary Williams is a Chicago based Actor, Writer, and Filmmaker represented by Shirley Hamilton Talent Inc. Hilary recently played the role of Honey in Steven Dietz's Mad Beat Hip and Gone directed by Jess Hutchinson with Promethean Theatre Ensemble. She also did Production Design, Co-Produced and Co-wrote for the film "atoms of ashes" which shared it's premiere with The Women of the Now at their anniversary showcase. A film she starred in and did the voiceover for titled, Dear Frankie was as part of Cannes Film Festival. Her other work includes serving as a social justice educator for Catharsis Productions teaching sexual assault prevention for the Navy.
Laura Gentry, also known as Laughing Laura, is an internationally known motivational speaker, musician, clown, improv artists and the Founding Director of the Iowa School of Laughter Yoga. She has been a pioneer in spreading the laughter movement throughout the United States and around the world. She has presented Laughter Yoga on six continents and was selected by Laughter Yoga University as the first woman in America to become a Master Trainer of Laughter Yoga.
J Jha is a transgender, asylee/refugee from India who is practicing the art of story telling while finding what their own story is. Disrupting a post MBA life, J jumped into the MFA-Acting program at the University of Washington, graduating class of 2014. Settled in San Francisco, some of the other stories she has told across the Bay: Three Fat Sisters at Cutting Ball, Down Here Below at Ubuntu Theatre Project, Straight White Men at Marin Theatre Co, The Box at Z-Space, Peter & the Starcatcher at Berkeley Playhouse, Rickshaw Girl at BACT, Eat the Runt at Altarena, Seagull with Utopia. Coming up in 2019: The Good Person of Szechwan and the solo telling of Mahābhārata.
Aurelia Clunie is an actress, director and teaching artist from Evanston, Illinois. She holds a Bachelor of Science in theater from Northwestern University. There, she was a founding member and Artistic Director of Spectrum Theater Company and directed The Exonerated steps away from the home of the Medill Justice Project. She has performed in multiple devised works including Mirrors with Chicago Danztheatre Ensemble and the Collaboraction ensemble at Luftwerk's Luminous Field installation in Chicago's Millennium Park. Her solo piece Who/Where is Sarah Bartmann? examines voyeurism of the black female body in Western popular culture. Acting credits of note include Doubt (Mrs. Muller) Chestnut St. Playhouse, Ebeneeza (Marlene/Francesca/Various) and Asylum Hill:Meet Us Where We Are (Multiple roles) Hartbeat Ensemble, Romeo and Juliet (Lady Capulet) Capital Classics; Victory Gardens Biograph Theater, and The MLK Project: The Fight for Civil Rights (Alaya u/s) Writers' Theatre. When not performing, Aurelia is a teaching artist.
Originally from Venezuela, Paula Ramirez spent the last two years touring the country performing scripted and improvised material as a Sexual Assault Prevention Educator with Catharsis Productions. Paula moved to Chicago after receiving her B.F.A in Theatre Arts from Nebraska Wesleyan University. During that time she's had the pleasure of working with a number of theatres, including Rivendell Theatre where she's an ensemble member. Through her work with companies like Teatro Luna and F.Y.I Paula ignited her interest for theatre and storytelling as a means for social change and became passionate about the creation of new work through devising and collaboration.
Originally from Hastings, Minn., Lewis Youngren is an actor, dancer and dreamer that received his B.A. in Theatre Performance from U.W.-La Crosse. He is overjoyed and honored to return to Lanesboro and take part in Audacious Raw Theater! A Commonweal Theatre Company Apprentice from the 2016-2017 season, Lewis currently works at Park High School in Cottage Grove, MN as a substitute teacher, director, choreographer, and a speech coach. When he's not onstage or in front of a class, you can catch Lewis binge watching Netflix, chugging an iced latte, or jamming out to a Broadway playlist!
Catherine Glynn has been living in Lanesboro since 2011. She shared the stage in 6 Commonweal productions—some of her favorite roles include Tracy Lord in Philadelphia Story and Elvira in Blithe Spirit. She has also performed the solo shows The Belle Of Amherst and Miss Myrna Davenport's Poetry in Motion with Lanesboro Arts. She has MFAs from UT Austin and University of Delaware. She currently divides her time between creating on stage and executive coaching with the Ariel Group and Voce Veritas. She shares her home with her talented husband Jeremy van Meter, and their circus of cats.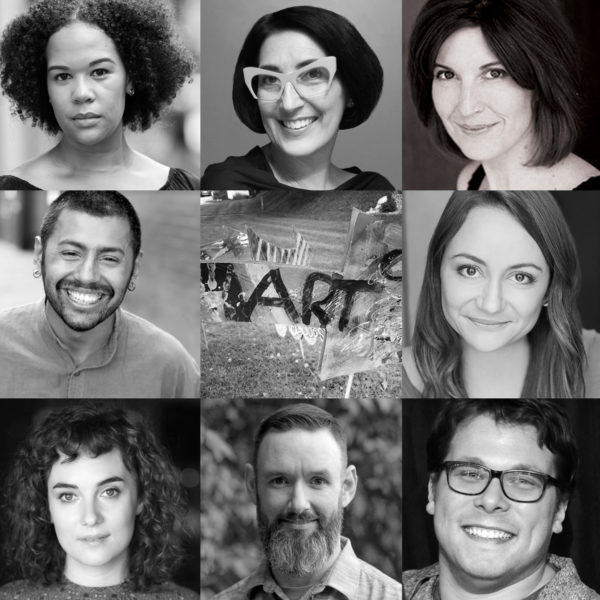 This performance is presented by Lanesboro Arts and sponsored by the Wisconsin Public Radio, Commonweal Theatre, Inspire(d) Magazine, High Court Pub and Granny's Liquors.
Please note:
The St. Mane Theatre box office will open at 6:30 p.m. the day of the performance. Tickets will also be sold in-person beginning at that time.
New in 2019: Each ticket purchased with a bank card will be charged an additional processing fee of $0.99. Patrons can avoid this processing fee by paying via cash or check in the Lanesboro Arts Gallery, or before the show in the St. Mane Theatre lobby.
If you are unable to purchase tickets online or need additional assistance, you may try calling 507-467-2446 to purchase a ticket over the phone during business hours. Tickets are also sold in-person during business hours at Lanesboro Arts Gallery.
We will have a list of the names of tickets buyers at the box office beginning at 6:30 p.m. If the buyer and their guests arrive together, no physical receipt or proof of purchase is needed in order to be admitted to the event–we will have a list!
Alternatively, attendees can present a printed copy of the ticket PDF the ticket buyer was e-mailed or simply pull it up and present it on a smart device.
Lanesboro Arts is committed to accessibility for all people. Learn more about our access services.