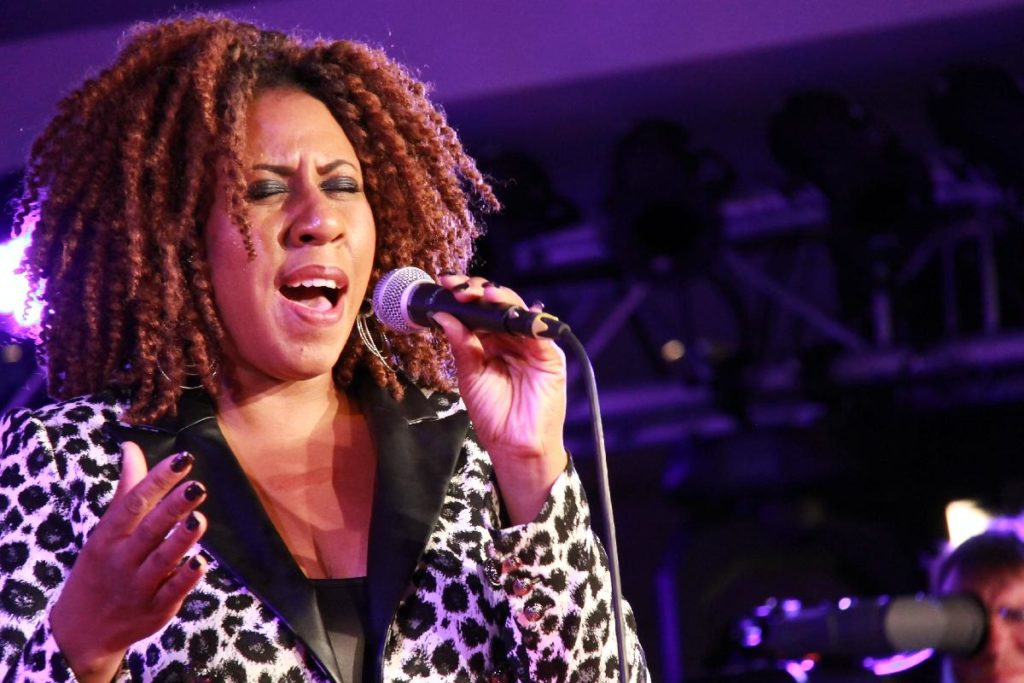 Lanesboro Arts presents an evening with the Annie Mack Band at the historic St. Mane Theatre in downtown Lanesboro on Saturday, July 11th at 7:30 p.m. Mack is a prolific performer and celebrated blues and gospel vocalist who performs with soul and conviction. She believes in the importance of inspiring others by sharing her story of perseverance, purpose and ultimately joy through music and outreach.
This concert will also serve as the capstone event of a mini-residency with Annie Mack, who will be participating in various music and outreach events throughout the week of July 7 with Lanesboro area residents as part of the Performing Artist Engagement Program supported by the Southeastern Minnesota Arts Council. A student rate of $5 will be offered to students 18 & under for this performance.
Mack uses her music to advocate for the power of creativity to bring people together and overcome barriers. Based in Rochester with roots in Minneapolis, Annie Mack began her musical career fairly recently. "After my mother passed away, the thing that really stood out to me was to do something that you like before you leave this life." Inspired by her mother's love of music, she began singing in remembrance of her, but never intended to be in the place she is now, pursuing music professionally.
Annie Mack has built a reputation for writing meaningful, relate-able and inspirational songs.  A dynamic vocalist and charismatic performer, she takes the audience on a journey from velvet lined melodic depths to gritty, full bodied church hollers. Most recently Annie had the honor of opening up for modern blues legend Robert Cray at the Historic Fitzgerald Theater in St. Paul, Minnesota.
Several songs from Annie's EP "Tell It Like It Is" have been receiving radio airplay on MPR/NPR The Current and Radio Heartland. Tell It Like It Is is what Minnesota Monthly described as a "four-song collection that tackles addiction, faith, and the challenges of relationships. Like the genre-testing R&B of Alabama Shakes, Leon Bridges, and Sharon Jones, each song could've been released decades ago, but still sounds fresh and vital today."
Annie recognizes the power of music on her own life, and aims to share that with audiences. As she describes it, "As a little kid I fell in love with music. I realized that a lot of times, when I didn't quite know how to express myself, music was able to convey for me what I couldn't. I believe my mission is to encourage people through the power of music. Music is a sacred thing…it brings about healing, truth and hope."
Thanks to support from SEMAC, a limited number of complimentary tickets to this event are available to be used by participants in the engagement and outreach events with Annie Mack listed here. For questions or more information, contact Adam Wiltgen at adam@lanesboroarts.org.
This event is presented by Lanesboro Arts and sponsored by the Wisconsin Public Radio, Commonweal Theatre, Inspire(d) Magazine, High Court Pub and Granny's Liquors.
Please note:
The St. Mane Theatre box office will open at 6:30 p.m. the day of the concert. Tickets will also be sold in-person beginning at that time.
Each ticket purchased with a bank card will be charged an additional processing fee of $0.99. Patrons can avoid this processing fee by paying via cash or check in the Lanesboro Arts Gallery, or before the show in the St. Mane Theatre lobby.
If you are unable to purchase tickets online or need additional assistance, you may try calling 507-467-2446 to purchase a ticket over the phone during business hours. Tickets are also sold in-person during business hours at Lanesboro Arts Gallery.
We will have a list of the ticket buyer names at the box office beginning at 6:30 p.m. If the buyer and their guests arrive together, no physical receipt or proof of purchase is needed in order to be admitted to the event–we will have a list!
Alternatively, attendees can present a printed copy of the ticket PDF the ticket buyer was e-mailed or simply pull it up and present it on a smart device.
Lanesboro Arts is committed to accessibility for all people. Learn more about our access services.