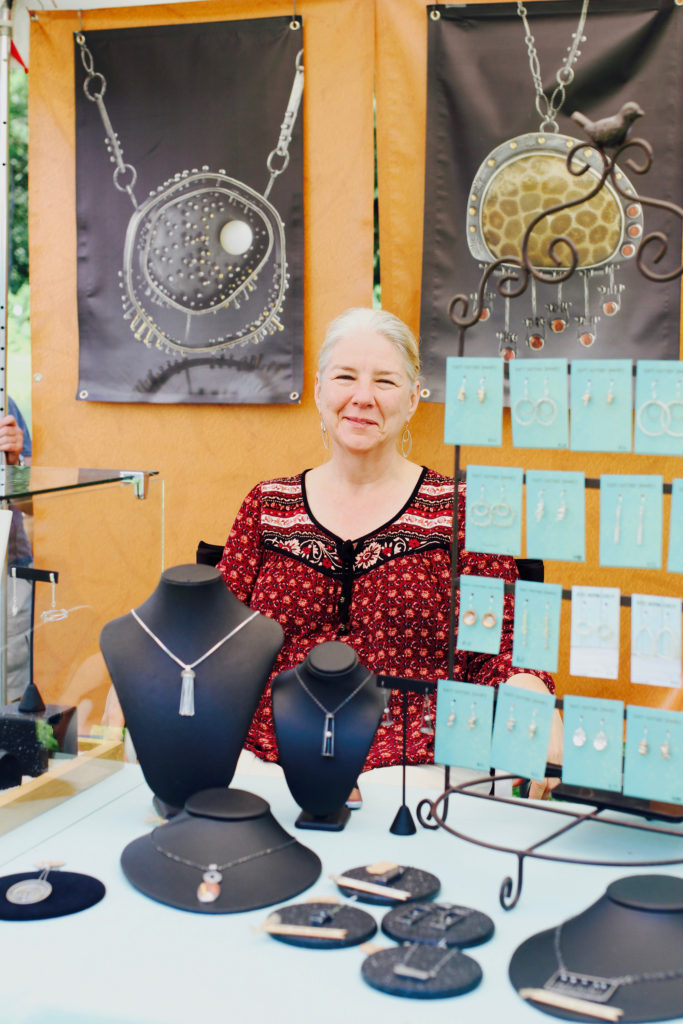 The annual Art in the Park fine art festival returns for its 37th year on Saturday, June 17, 2017, in Lanesboro's Sylvan Park with 90-plus fine art & craft booths and live music.
The focal point of Art in the Park is of course the art! Fine art and fine craft artist booths encircle Sylvan Park underneath canopies of shade, featuring a wide variety of artist-made work by artists from the tri-state region. There will be paintings, photography, fine jewelry, textile rugs & quilts, fish leather fashion accessories, varied fabric creations, stained glass, blown & fused glass sculptures, artworks utilizing reclaimed wood, artisan soap, ceramics, metalwork, hand-sculpted birdbaths, and whimsical yard/garden art, and more.
Starting off the day at 10 a.m is Jaybone Bell, aka Jason Ziebell — the chief songwriter and vocalist of celebrated Winona roots act "Jaybone Bell and Restless Light." A solo artist currently based in based in SE Wisconsin, Jason's distinctively smooth singing voice drives a sound comfortably centered in Alt-Country, Americana, and roots music.
Taking the gazebo stage at 11:45 a.m. is Maritza, a Decorah based quartet whose repertoire includes evocatively beautiful melodies forged in the passionate history of Europe and Russia, lively Jewish wedding dance horas and frailachs, Gypsy music, and twisting rythmic line dance tunes from Bulgaria, Romania, Macedonia and Greece.
Performing at 1:45 p.m. is Little Fevers, a sweet and crunchy amalgamation of pop rock that has formed, much like a pearl, over many years around a tiny grain of sand. Comprised of musicians who, having operated as longtime collaborators in Lucy Michelle & the Velvet Lapelles, have honed their craft traveling the country together for several years. Invoking the playfulness of bands like Pavement and the Violent Femmes, and vocal textures of idols such as Peter Gabriel and The Microphones to form something all their own. Lucy Michelle has previously performed several times in Lanesboro, including gigs at the Lanesboro Legion, the Riverside on the Root, and the Sons of Norway Hall.
The Yellow-Bellied Sapsuckers, the final musical act of the day at 3:30p.m., perform original songs and tunes inspired by the classic hillbilly, country-duo, and old-time musical traditions–and also mines this same repertoire for forgotten gems that deserve to be heard again. Based in Soldiers Grove, WI, the Sapsuckers (Nikki Grossman, guitar, fiddle, and vocals; Joe Hart, guitar, mandolin, and vocals) perform frequent concerts, as well as square and contra dances, and they are known for the light touch and sense of humor they bring to their performance.
Attendees will enjoy delicious and locally prepared foods at booths hosted by volunteers from local organizations. Back by popular demand, Lanesboro Arts will host the "Curry booth," serving egg rolls, curry and rice, condiments and salads of locally-grown produce, in partnership with Pedal Pushers Café of Lanesboro. Also available will be pulled pork sandwiches (Friends of Lanesboro Library), brats, hot dogs & pickles (Lanesboro Area Chamber of Commerce), and tacos (Lanesboro Public Schools' Tex-Mex Trip). The Farmers Market will offer healthy snack stands, and the Lanesboro Community Theater will sell ice-cold pop, lemonade, and water. Lanesboro Arts will also host the famous pie and ice cream booth, serving fresh pies including peach, cherry, blueberry, rhubarb, and apple (and coffee and ice cream to go with your slice of pie). Returning to Art in the Park in 2017 will be craft beer and root beer.
In honor of Father's Day Weekend and to promote artistic creativity, Lanesboro Arts will host an art activity booth for kids and families of all ages with all supplies provided. A henna artist and face painter will have their own booth set-up. Sylvan Park contains a brand-new playground, and ponds on the north side of the park are known for good fishing.
For more information, visit lanesboroarts.org/special-events/art-in-the-park!
Sponsored by Wisconsin Public Radio