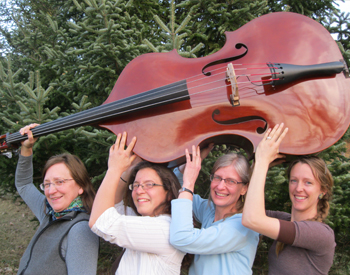 Named for a river in Bulgaria, Maritza was born during a jam session among Pine Wilson and friends in 1998 in Decorah, Iowa. Pine's love for Eastern European music and folk dance was the impetus for the band to take shape. Thanks to the enthusiastic and fun-filled tune ideas of many musicians over the years, Maritza keeps the beat going!
Maritza's repertoire includes evocatively beautiful melodies forged in the passionate history of Europe and Russia, lively Jewish wedding dance horas and frailachs, Gypsy music, and twisting rythmic line dance tunes from Bulgaria, Romania, Macedonia and Greece.
Pine Wilson is the band leader, and plays accordion, tupan and doumbek. Anne Streufert plays violin, viola, flute and percussion, and Hannah Breckbill the double bass.
Visit their website at maritzatunes.wordpress.com
Sponsored by Wisconsin Public Radio