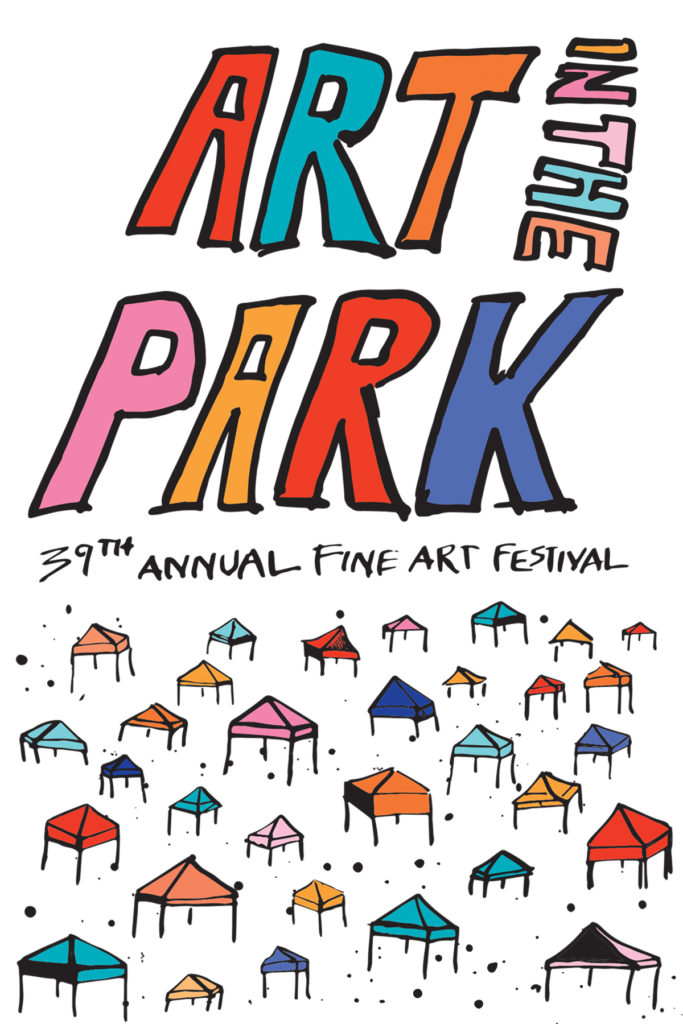 Lanesboro Arts is proud to present the 39th annual Art in the Park fine art festival on Saturday, June 15, 2019, in Lanesboro's Sylvan Park with 90-plus fine art & craft booths and live music. Renowned for quality, variety and value, Art in the Park is a family-friendly art fair that attracts thousands of regional patrons to Sylvan Park each year.
The focal point of Art in the Park is of course the art! Fine art and fine craft artist booths encircle Sylvan Park underneath canopies of shade, featuring a wide variety of artist-made work by over 90 artists from the tri-state region. There will be paintings, photography, fine jewelry, textile rugs & quilts, hand thrown ceramics, stained glass, original paintings, blown & fused glass sculptures, artworks utilizing reclaimed wood, stoneware clay pottery, metalwork, woven baskets, homemade embroidery, and more.
Kicking off the day at 10 a.m. is The Galactic Cowboy Orchestra, a unique Twin Cities based quartet that fuses the loud riffs & pop hooks of country-edged rock with the open-ended improvisation of jazz and world music. Prolific and energetic live performers, the group tours extensively and has performed at the Shakori Hills Grassroots Festival in North Carolina, the Minnesota State Fair and Riverbend Festival in Tennessee.
Taking the gazebo stage at 12:30 p.m. is Joyann Parker, a powerful blues-rock singer and multi-instrumentalist. Bravely risking emotional exposure, this Minneapolis- based musician shows a penchant for communicating a personal response to the ups and downs of life. Parker and her backing band work styles ranging from Chuck Berry and bluesy funk to French Quarter parades and Memphis soul approximations.
Jaedyn James & The Hunger, the final musical act of the day at 3:00 p.m., is an eight-piece funk and soul band from Minneapolis. Front woman Jaedyn James, is a young, high-energy, soulful belter who's part Irma Thomas and Amy Winehouse. Sporting a formidable horn section and groovy back-up singers this ensemble blends vintage and modern sounds in a repertoire that includes both funk bangers and slow, sultry crooners.
Attendees will enjoy delicious and locally prepared foods at booths hosted by volunteers from local organizations. Lanesboro Arts will host a "Meatball Booth," serving locally prepared Norwegian Meatballs & Gravy, in partnership with Home Sweet Home Café of Lanesboro. Also available will be pulled pork sandwiches and smoked chicken (Biggen's BBQ of Peterson) and tacos (Lanesboro Public Schools' Tex-Mex Trip). The Friends of the Lanesboro Library will be selling frozen custard from a Taylor soft serve machine. The Farmers Market will offer fresh food and healthy snack stands, and the Lanesboro Community Theater will sell ice-cold pop, lemonade, and water. Lanesboro Arts will also host the famous pie and ice cream booth, serving fresh pies including peach, cherry, blueberry, rhubarb, and apple (and coffee and ice cream to go with your slice of pie). Returning to Art in the Park in 2019 will be craft beer provided by Kinney Creek Brewery of Rochester, Island City Brewery of Winona, and KARST Brewing Co. of Fountain. Carlson Roasting of Houston will be set up serving fair trade organic coffee, as well as selling bags of their custom roasted coffee beans.
In honor of Father's Day Weekend and to promote artistic creativity, Lanesboro Arts will host an art activity booth for kids and families of all ages with all supplies provided. A henna artist and face painter will have their own booth set-up. On Three Printing and Design of La Crosse will be on site screen printing t-shirts with the new Art in the Park logo. Additional arts experiences, like Aerial Arts Fitness by Discover Happy and demonstrations by Northern Clay Center, are also in the works! Arts Education Activities will also be offered by regional nonprofits like Arthaus of Decorah & Rochester Art Center. Sylvan Park contains a brand-new playground as well, and ponds on the north side of the park are known for good fishing.
Art in the Park is presented by LANESBORO ARTS, sponsored by Wisconsin Public Radio, Thrivent Financial – Walter Bradley and made possible by support from the City of Lanesboro and the voters of Minnesota through a Minnesota State Arts Board Operating Support grant, thanks to a legislative appropriation from the arts and cultural heritage fund. Live music at Art in the Park is generously supported by the Rudolf E. Wilhelm Fund.