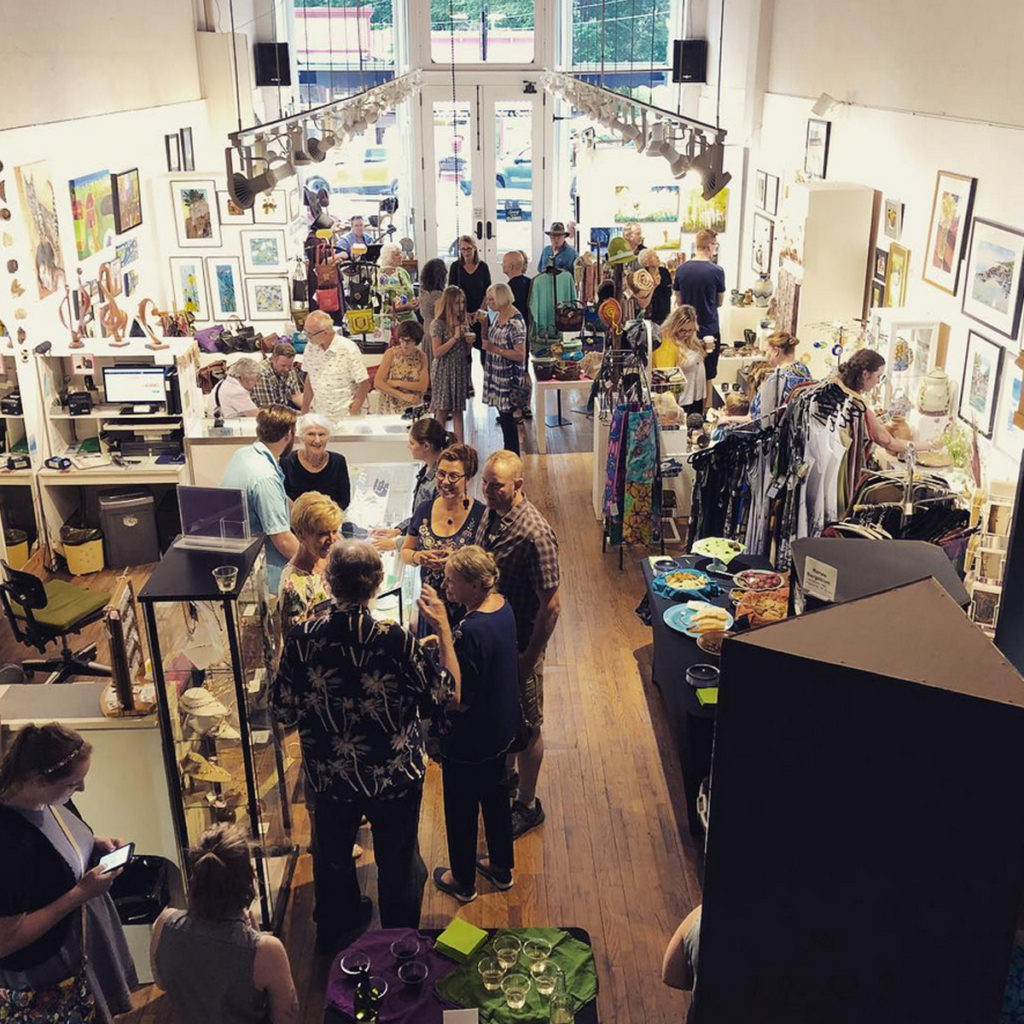 Lanesboro Arts invites arts enthusiasts of all ages to an After Hours Meet and Greet with juried sales gallery artists  Joan Finnegan, Anna Loney, Tom Rice and Debra D'Souza on Friday, September 6 from 6 p.m. to 8 p.m. Food and drinks will be provided! Each artist will speak for 5 minutes about their work before opening things up for informal discussion and conversation with attendees. This event is intended to be a fun and casual opportunity for visitors to learn more about the minds and techniques of these four talented juried sales gallery artists.
Joan Finnegan's artistic journey has included working in a variety of 2D art mediums-watercolors, acrylics, pastel, charcoal, oils and fabrics. She owned and operated a custom frame shop/print gallery for 18 years along with teaching painting classes. Lately, she works in both oils and watercolors, beginning with a miniature rough sketch on paper to work out the composition and lighting, moving to canvas or paper with brushes, paints and a vision. Her current collection of work focuses on studies from nature revealing the softer side of the outdoor world. She invites the viewer to step into her art and surrender themselves to the emotion of that moment, be it landscapes, waterscapes, or quirky portraits of country chickens and animals.
Metal has captivated Anna Loney for sometime. As a kid, using a torch, flux, and solder to join metal seemed like pure magic. And she's tried to learn all she can about related materials and methods ever since. She is now a metal smith. Since 1992, she's worked at making objects to fulfill needs. These include functional, artistic, architectural, and purely whimsical contrivances. Along the way, she's made a great number of wearable items, some might call jewelry, though she doesn't think of herself as a jeweler. The working of metal, gold, or silver or even simple metals like steel and copper, is really what drives her interest. Ancient tools and techniques, the basics of hammer and anvil still provide ample ground for her inquiry and the making of beautiful, thoughtful objects.
Tom Rice first became interested in wood as a teenager exploring spindle forms on an antique lathe. While the mechanics of the process were intriguing, the full extent of the medium's creative potential didn't become apparent until much later. He made a connection to to the turned form about twenty years ago when he started collecting the bowls of modern Hawaiian turners. Impressed with their natural beauty, he began to understand how the form, the character of the wood, and a fine finish work together to produce a bowl that will become an heirloom piece. Tom believes that a tree is a unique medium in that it has recorded its own history. It has shaded family gatherings, commemorated personal events, honored those who preceded us, and sheltered the forest dwellers.
Deb D'Souza is an artist that is drawn to detail and pattern, particularly the kind of detail one may not notice at first glance. She believes that mosaic is a language and tessera are the letters to form the lines/words and sentences. By leading the viewer through the contours, ebb and flow of the subject D'Souza strives for her mosaics to be a study of these rhythms. A mosaic artist creates the feeling of a subject with the materials size, shape, colors and elements. D'Souza's work is a combination of modern materials and ancient practice still rendered with the same techniques, using stone, glass, hammer and chisel. She is dedicated to preserving the history and tradition of mosaic art, along with the techniques and materials used in the past and believes that one must study and remember the past to be informed for the future.