An attractive and visible welcome sign contributes to a sense of inclusion and community pride.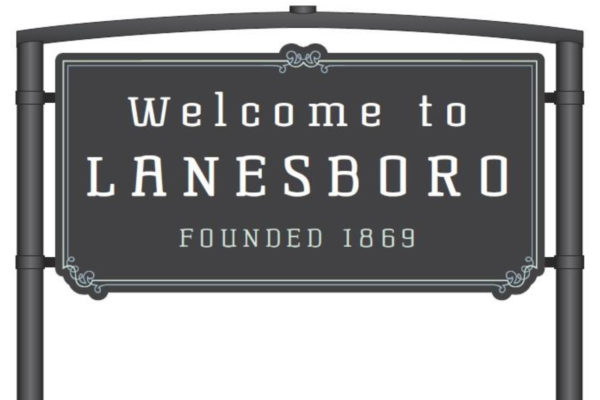 "Welcome to Lanesboro"
As part of on-going Arts Campus initiatives that align with the strategic goals of the City of Lanesboro, Lanesboro Arts has committed 50% in matching funds toward a new Lanesboro Welcome Sign on County Road 8. The sign was one of several ideas identified by Lanesboro area community members during public meetings to develop the first draft of the Lanesboro Arts Campus Vision & Connectivity Plan in 2013.
The sign was designed by Archetype, and is consistent with their designs for other Arts Campus signage in Lanesboro, such as the downtown wayfinding signs at the Country Rod 8 underpass and in Gateway Park, the haiku & information kiosk signs at the Poetry Parking Lot, and the Lanesboro History Series sign for the Historic Coffee Street Walking Bridge.
The project was discussed favorably at a City Council meeting in the summer of 2015. The design & project were formally approved by the Lanesboro Planning & Zoning Commission at their regular public meeting on May 17, 2017.
As of May 2017, the cost for Archetype to fabricate and install the sign is $11,200. Lanesboro Arts has committed $5,600 in matching funds as part of its on-going Arts Campus initiatives. Lanesboro Arts, with publicity assistance from the City, is seeking the remaining 50% from community groups and individuals in Lanesboro. The City of Lanesboro is not being asked to contribute monetary support to this project. Landscaping and lighting are not currently a part of this project and are not included in the standard fabrication and installation costs. The quote from Archetype and the cost to the community for this project is competitive and reasonable when one considers the fact that the sign is consistent with existing signage in Lanesboro and that, in general, community welcome signs can often cost upwards of $25,000 (or more).
Wooden Sign Repurposed
Lanesboro's heritage and traditions are important and absolutely worth keeping alive. Community members have already committed to repainting the old wooden welcome sign currently on County Road 8 and installing it at a location in close proximity to the Visitor's Center on the Root River State Trail.
We Can't Do It Alone
Lanesboro Arts is seeking 50% of the cost from community groups in order to build awareness and support for this project, which will benefit the entire community. Successful community initiatives require support and partnerships that cut across various sectors and cultures. Not only does a monetary contribution help make the project happen, but more importantly it demonstrates community support and helps cultivate understanding, while broadening the impact the sign can have toward future efforts to bring the community together to address challenges. Together we can build upon the assets of the Lanesboro area and preserve what is authentic and unique about our place. The support of you or your community group is instrumental in this project!
Please considering making a contribution today toward the $5,600 goal! Every contribution will be matched dollar for dollar by Lanesboro Arts. If the goal is not met, the project will not happen and your contribution will be returned. To learn more or further discuss the new Welcome Sign on County Road 8, please contact Adam Wiltgen at 507-467-2446 x4 or adam@lanesboroarts.org