A complete rundown of the fine art and unique experiences to be featured at Swingsation 2016 live auction!
A Night of Hors D'Oeuvres for 10 by Johnny Mango
Johnny Mango's Catering will provide a 'Night of Hors D'Oeuvres' for 10 people at the place of your choosing. Date and time will be mutually agreed upon. VALUE $600.
Mystery Party at the Scandinavian Inn
An evening of original (and non-threatening) mystery and intrigue for 6 people, hosted by the SCANDAL-navian Inn bed and breakfast in Lanesboro on a Saturday night/Sunday morning. Participants will assume the roles of characters (in the spirit of Agatha Christie novels) and will both participate in and help solve a puzzle. The evening includes: B&B check-in, where participants will be briefed on their characters and roles. After-dinner dessert and coffee, where the mystery will begin to unfold, evolving into an evening filled with deception, treachery, intrigue, and resolution, followed by a one-night stay at the B&B (up to three rooms), and breakfast on Sunday morning.
Dates of the event will be limited to Feb. 18, Feb. 25, Mar. 4, and Mar. 11, 2017. The specific Saturday must be determined by the item winner no later than December 5, 2016. VALUE $840.

Rustic Handmade Oak Love Seat by Jeff Richards
Eclectic and sculptural original rustic oak love seat handmade by Deephaven, MN woodworker Jeff Richards.  VALUE $750.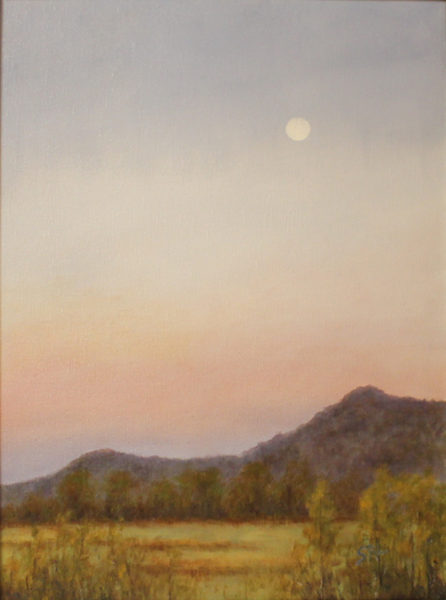 "Valley Moon" Oil Painting by Sara Lubinski
Created by Brownsville, MN artist Sara Lubinski who recently returned to the craft of painting following a period of working as a botanist. Her science career included time spent learning about the nature of the Mississippi River and many of our national parks. The beauty of these landscapes catalyzed her transition back to the easel. She loves weaving the threads of science and art together, resulting in deeply expressive paintings of the natural world. VALUE $1,575.
Five-Course Dinner Party for 10 by Johnny Mango's Catering
Your own private dinner party catered by Johnny Mango! A five-course dinner for 10 people, featuring Johnny's scrumptious food, at the place of your choosing. Date and time will be mutually agreed upon. VALUE $1500.
"Shadow Dance" Water Color by Catherine Hearding
As an artist based in Lake Elmo, MN Catherine Hearding  can observe the rural landscapes that she loves to paint. She has over 40 years of experience in watercolor leading up to this piece "Shadow Dance". VALUE $1100.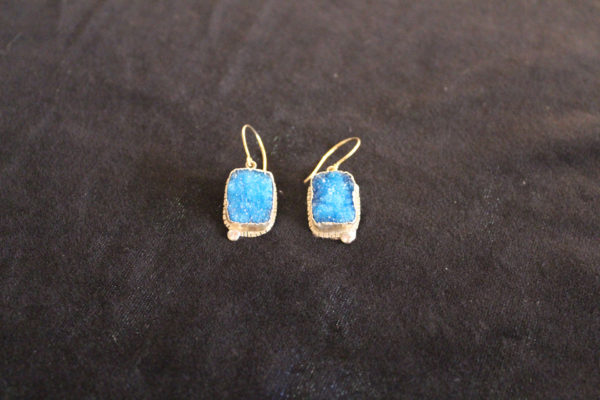 Sterling Silver with Gold and Diamond Accent Earrings by Camille Knutson
From Excelsior, MN, Camille Knutson strives to make jewelry that wears well and becomes more cherished the longer the piece is owned, handled, worn and loved. Her jewelry is hand fabricated from sterling silver, higher karat golds, fine gemstones and freshwater pearls. VALUE $225.
"Yellow Daffies" Glass Mosaic by Deb D'Souza
Large handmade glass mosaic piece by Rochester artist Deb D'Souza. Her pieces are either executed with Stained Glass, pebbles, or tesserae using hammer and hardi in a technique that has been used for ages by the Greeks and Romans. She believes that mosaic is a language and tessera are the letters to form the lines/words and sentences. By leading the viewer through the contours, ebb and flow of the subject D'Souza strives for her mosaics to be a study of these rhythms. VALUE $795.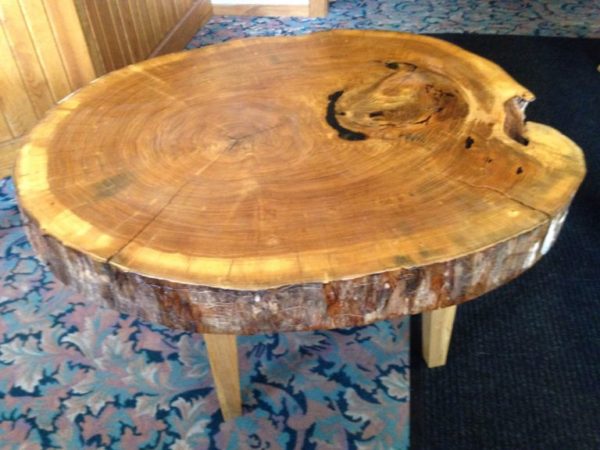 40″ Handmade Tree Coffee Table by Jeff Richards
Gorgeous handmade tree coffee table coated with clear polymer. VALUE $600.
Egyptian Dinner on One of Lanesboro's Favorite Terraces, Prepared by David Tacke
David Tacke grew an interest for Egypt when his son started a teaching position there. He was inspired by the country to create a fine Egyptian Dinner for Six. The finest local food will be used in this dinner, taking place on 'One of Lanesboro's Favorite Terraces' (aka the Church Hill School Condominiums), with a view high above Sylvan Park, the dam, rolling hills and bluffs. David has even talked about the possibility of going to Egypt before the dinner to learn the culture, food, and bring the tastes back with him! This summertime dinner will be prepared personally by David with help from expert sous-chef Linda Tacke. VALUE $Priceless!