New Orleans-themed Buffet Stations Prepared by Johnny Mango's Cabernet Catering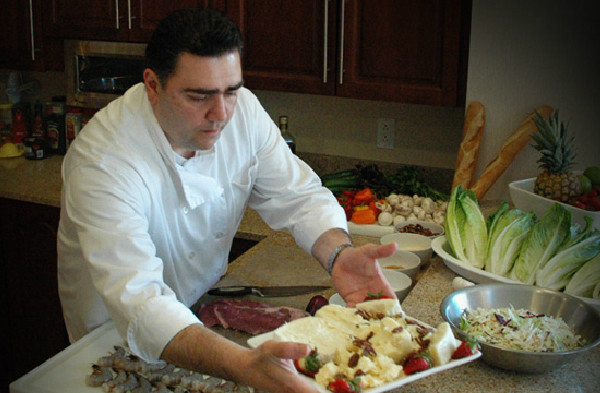 Full World Bistro Appetizers
Assortment of 5 cheeses, Roasted/grilled/chilled veggies, Gourmet crackers, Cured European meats, Marinated olives, Dried fruits, Nuts, Homemade Dip, Homemade pita chips, & Chocolates garnished with fresh fruit.
Buffet Stations
Station #1 – BOURBON STREET
Louisiana flat bread with Cajun Shrimp, Étouffée over bourbon grits, Mini po' boy sandwiches served on focaccia with citrus slaw, Jambalaya Skewers, Dirty rice with étouffée on top.
Station #2 – CROSTINI BAR
Smoked salmon pâté, Fried capers, caramelized onions, Homemade roasted garlic crostini, Filet mignon cranberry bacon rémoulade, Regular and pineapple bruschetta.
Station #3 – SUSHI BAR
Traditional sushi (California rolls, Spicy Salmon, & Seared ahi), Fried chicken & BBQ roll with candied onions, Catfish with Louisana hot sauce.
Station #4 – Carving Station
Bourbon crusted filet tenderloin with olive oil grilled baguettes, Captain Morgan candied mushrooms, Jack Daniels caramelized onions, Signature sauces (Blackberry Zinfandel, Gorgonzola cream, Texas BBQ).
Dessert
Chocolate dipped strawberries and Beignets with powdered sugar and Citrus simple syrup.
Click here to purchase tickets to Swingsation 2016!
About the Chef
Growing up in a stereotypical Greek family, Johnny Mango's love of food began at an early age because of his family's restaurant business in Seattle, Washington. There he nurtured and cultivated his love of fresh food, and the realization of how central food and a special meal is to family and celebrations. Johnny eventually ran the family business before venturing into the private golf and five-star restaurant worlds in the Midwest, and later started his own catering business based in Byron, MN.
For more on Johnny Mango's Cabernet Catering, please visit: chefmango.com
Swingsation 2016 is sponsored by generous contributions from: F & M Community Bank, Preble Farmers' Mutual Fire Insurance Co., POET Biorefining, O'Leary's B&B, KTTC TV, Merchants Bank, and the City of Lanesboro.