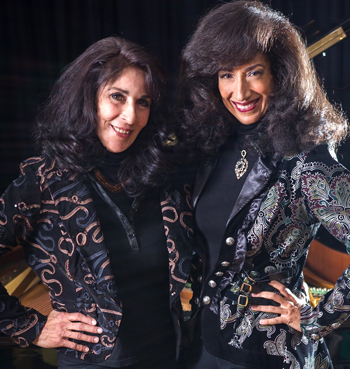 In the glut of contemporary solo pianists that followed in the wake of George Winston, fellow Windham Hill artist Liz Story has remained both emotionally complex and harmonically austere. A pioneer of new age and classical jazz piano, Liz Story possesses not only a graceful command of the keyboard but also a thoughtful improvisor's gift. Also featuring a solo set by versatile pianist Lisa Downing, this intimate Lanesboro concert will delight and mesmerize with compelling and impressionistic storytelling.
This concert and a post-concert reception for members at the Old Village Hall Restaurant are generously supported by Mark and Romi Wilhelm through the Rudolf E. Wilhelm Fund of the Community Foundation for Southeast Michigan.
Story, who began playing jazz piano shortly after graduating from the Juilliard School, developed her personal improvisational style by chance, stating "I had booked myself to perform in a club where I thought I could practice my sight reading, but when I arrived, I was shocked to see the piano had no stand for my music! The rest is history." One of the first artists signed to the popular instrumental music label Windham Hill in the 1980s, Story emerged as prominent figure in new age music while frequently touring the country. She has continued to record and perform evocative and Romantic music that defies traditional description, incorporating elements of Spanish folk, classical, flamenco, and jazz. Of her style, the New York Times has proclaimed that "One hears echoes of Chopin, Debussy, Gershwin, Scott Joplin, the minimalist side of Keith Jarrett and even Joni Mitchell in her compositions."
Liz Story has been touring with her friend and fellow solo pianist Lisa Downing for nearly a decade. Based in Colorado, Downing has been nominated for two Emmy awards, reached the top 5 on Billboard's new age chart, and has performed in Spain, Argentina, and Germany, as well as in concerts across the United States. "My musical vision encompasses the entire universe," shares Downing. "The piano helps me translate that vision. My music simply mirrors the harmony that is all around us."
Please note:
The St. Mane Theatre box office will open for business at 6:30 p.m. on the day of the event. Remaining tickets will be sold in-person beginning at that time.
If you are unable to buy tickets online or need additional assistance, you may try calling 507-467-2446, on weekdays before 5pm, to purchase tickets over the phone.
We will have a list of the names of ticket buyers at the box office beginning at 6:30 p.m. If the ticket buyer and their guests arrive together, no receipt or proof of purchase is needed in order to be admitted to the event–we will have a list!
Alternatively, attendees can also present a printed copy of the Eventbrite ticket PDF the ticket buyer was sent or simply pull it up and present it on a smart phone.
Sponsored by: