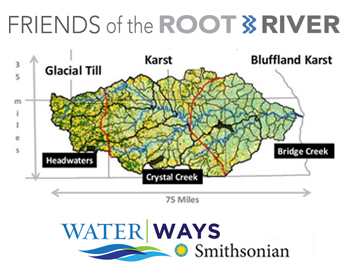 The Root River Field to Stream Partnership (RRFSP) is engaging farmers and residents in the Root River watershed. The program uses intense water quality monitoring and the latest research to measure and improve water quality. The RRFSP includes farmers and individuals from agricultural groups, conservation organizations and state agencies. The Partnership works in three sub-watersheds chosen to represent the diverse landscapes of the watershed. Since 2010, sediment, nutrient and hydrologic data have been collected in-stream at each sub-watershed outlet and at edge-of-field runoff flumes. Kevin Kuehner from the MN Department of Agriculture will share project findings and progress. Learn the results from the first six years of baseline monitoring and the practices producers are installing to protect and improve water quality. For more, visit friendsoftherootriver.org
Bring the kids! This week's free youth activity in the upper level studio space of the St. Mane Theatre is: Let's Play with Dirt!
Science Sundays is a speaker series that welcomes you to expand your mind on water related topics.  Every Sunday at 2pm in the St. Mane Theatre auditorium, an expert will share their knowledge and stories with you through film and presentations.  These events are family friendly thanks to a children's companion activity that occurs at the same time in the upstairs studio room of the St. Mane.  The children's activities relate to theme in a fun, educational way.  This series is free of charge, but donations will be accepted in the lobby and will go towards supporting Friends of the Root River and Lanesboro Arts.