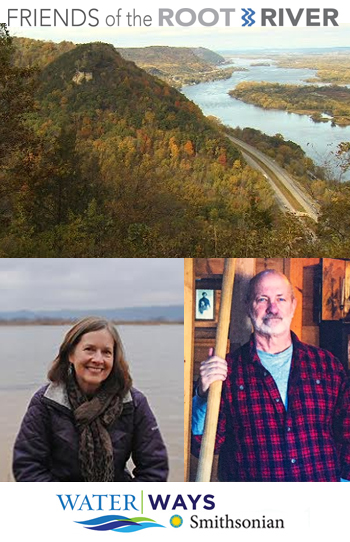 The film "River Sojourn" takes viewers deep into one of North America's natural treasures, the Driftless Region along the Upper Mississippi River Valley. Untouched by glaciers, this region's bluffs, ravines and rivers are home to flora and fauna unchanged since the Ice Age. A new documentary by KSMQ, "River Sojourn" follows artist Sara Lubinski, an experienced botanist into the Driftless Region to document this fragile environment through art and scientific observation. Presented by Friends of the Root River, a non-profit committed to the health of the Root River in Southeastern Minnesota. For more, visit friendsoftherootriver.org
Bring the kids! This week's free youth activity in the upper level studio space of the St. Mane Theatre is: Fish Printing.
Science Sundays is a speaker series that welcomes you to expand your mind on water related topics.  Every Sunday at 2pm in the St. Mane Theatre auditorium, an expert will share their knowledge and stories with you through film and presentations.  These events are family friendly thanks to a children's companion activity that occurs at the same time in the upstairs studio room of the St. Mane.  The children's activities relate to theme in a fun, educational way.  This series is free of charge, but donations will be accepted in the lobby and will go towards supporting Friends of the Root River and Lanesboro Arts.