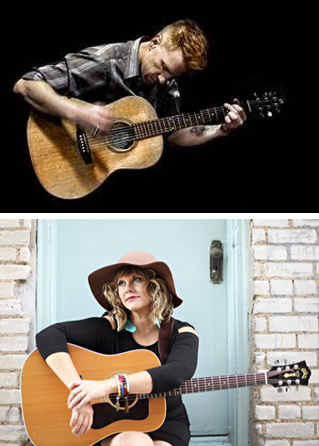 Creative, versatile, charismatic and adventurous, Ryan Lee is a musical storyteller, a folky innovator, a guitar-wielding poet; the artistic offspring of Woody Guthrie, Tracy Chapman, Rufus Wainwright, Joni Mitchell and Cat Stevens. He has traveled from Thailand to Honduras, from metro Minneapolis to off-the-grid Ojibwa, Wisconsin; writing, performing, teaching, creating and sharing his emotional, captivating songs of the sometimes challenging, frequently joyful, always engaging human experience. His is a friendly voice to take with you on your own life's path; invite Ryan to join you as your mentor, encourager, entertainer and friend; to weather life's ups and downs and to celebrate our undeniable, undefineable human connectedness, through song, story and artistic truth.
Ryan Lee was born and raised in Janesville, Wisconsin and has frequently pretended to be from the far groovier, nearby Madison. Raised in a Baptist family, he attended a small Christian school for 13 years with only two students in his graduating class. Following graduation (second in his class!) Ryan attended Northwestern College in St. Paul, MN, where he majored in theater and was introduced to the exciting Twin Cities music scene. A self-taught guitarist, Ryan began writing songs as a way to tell stories, express emotion and accept hidden, forbidden truths about himself. Music became his language, his tool, his salvation.
Vicky Emerson was raised in rural Wisconsin, has lived in New York City and San Francisco before relocating back to her roots in Minneapolis to raise her children. She has opened for songwriting luminaries such as Malcolm Holcombe and Gregory Alan Isakov, toured on a national basis and has mentored many songwriters on touring and career management.
Her music has always been steeped in blues, folk and traditional country, blended in her Americana trademark sound. By letting it all go, vocally and musically, Vicky was able to tap into that spark and sass that fans love to see when she plays live. The album was funded by fans and friends through a wildly successful Kickstarter campaign and validates the loyal following spanning the globe that Emerson has cultivated over the last decade through touring and previous releases.
Please note:
The St. Mane Theatre box office will open for business at 6:30 p.m. on the day of the event. Remaining tickets will be sold in-person beginning at that time.
If you are unable to buy tickets online or need additional assistance, you may try calling 507-467-2446, on weekdays before 5pm, to purchase tickets over the phone.
We will have a list of the names of ticket buyers at the box office beginning at 6:30 p.m. If the ticket buyer and their guests arrive together, no receipt or proof of purchase is needed in order to be admitted to the event–we will have a list!
Alternatively, attendees can also present a printed copy of the Eventbrite ticket PDF the ticket buyer was sent or simply pull it up and present it on a smart phone.
Sponsored by: