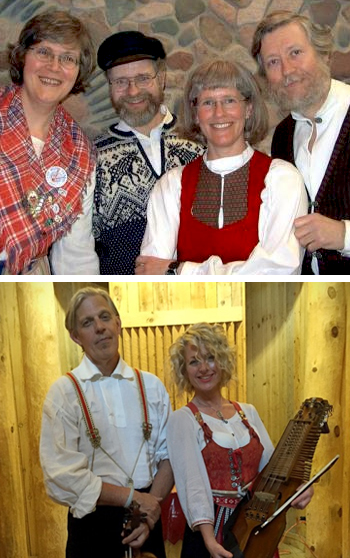 LANESBORO ARTS is proud to present an evening with Ole Olsson's Oldtime Orkestra and Rävlek, two Minnesota bands that specialize in the of traditional music of Sweden, Norway, Denmark and Finland, at the St. Mane Theatre on Saturday, April 22nd at 7:30 p.m. This concert of Scandinavian music is separate from, but coinciding with, the Ibsen Festival happening next door at the Commonweal Theatre the same weekend.
Ole Olsson's Oldtime Orkestra is a fun loving group of musicians who first met at the Good Templar Hall in Minneapolis, Minnesota playing for Scandinavian dances in times gone by. The band consists of Paul Wilson, Mary Abendroth, Char Bostrom and Art Bjongjeld. Bruce Bostrom occasionally contributes his talent on the Norwegian munnharpe to the group. Wilson is also the founder of the Nisswa-Stämman, a two day pan Scandinavian folk music festival that is celebrating its 18th year. Together as Ole Olsson's Oldtime Orkestra the band plays fiddles, accordions, pump organ and guitar while singing some funny Scandinavian vaudeville songs that have been known to occasionally make Lutheran ladies smile. They've performed at festivals and lutefisk feeds all around Minnesota, in addition to traveling from New York City to Thousand Oaks, California and from Minot, ND to Swedesburg, IA, all in their quest to spread the joy of Scandinavian folk music and perhaps find the perfectly formed piece of lefse. Members of the band performed in Lanesboro over ten years ago with the band Skål Musik and are excited to return to the scenic bluff country area to have fun and share stories with attendees.
Rävlek is a duo fueled by polska and Norwegian Cod Liver Oil that performs traditional Scandinavian roots with a contemporary feel. The group features Jon-Anders Persson on the fiddle and Renee Vaughan on nyckelharpa. Jon-Anders was born and raised in Sweden and has been a musician most of his life. Music from his Swedish Uppland roots includes the bondpolska, which he has played at various festivals and workshops throughout the US. Jon-Anders also received several years schooling in classical violin from Vladislav Coufal from the Czech Republic. Jon-Anders helped Renee learn how to play the nyckelharpa, a rustic, earthy and spiritual traditional instrument that has been around in one form or another for over 700 years.  A fun-loving, quick witted and enthusiastic lover of all things Scandinavian, Renee has performed for the King and Queen of Sweden in her other group the Nordic Bees and is a self-described "romantic sucker for waltzes and minor key schottisches."
This concert is presented by LANESBORO ARTS and sponsored by Inspire(d) Media, Commonweal Theatre, and Walter Bradley of Thrivent Financial.
Please note:
The St. Mane Theatre box office will open for business at 6:30 p.m. on the day of the event. Remaining tickets will be sold in-person beginning at that time.
If you are unable to buy tickets online or need additional assistance, you may try calling 507-467-2446, on weekdays before 5pm, to purchase tickets over the phone.
We will have a list of the names of ticket buyers at the box office beginning at 6:30 p.m. If the ticket buyer and their guests arrive together, no receipt or proof of purchase is needed in order to be admitted to the event–we will have a list!
Alternatively, attendees can also present a printed copy of the Eventbrite ticket PDF the ticket buyer was sent or simply pull it up and present it on a smart phone.
Sponsored by: