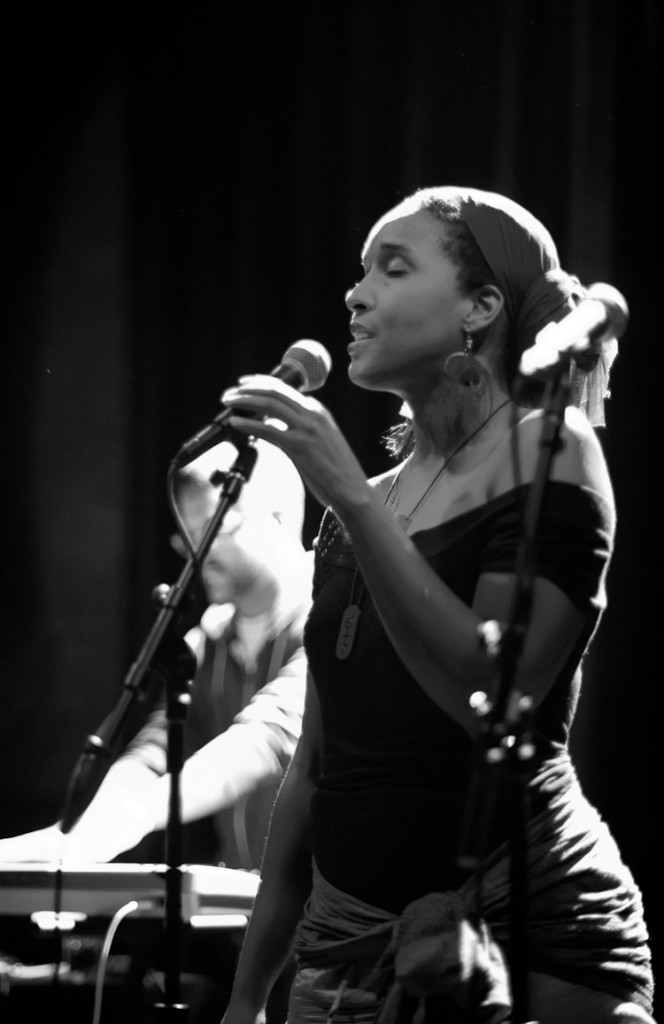 Lanesboro Arts is proud to present a performance by vocalist, song-maker, educator and activist Mankwe Ndosi, and producer / collaborator Zach Bagaason, at the St. Mane Theatre on Saturday, July 30, 2016, at 7:30 p.m. But for Mankwe, art isn't something made only in a studio or on a stage, but is integrated into the everyday. She sees art everywhere, and is always in the midst of an act of creation.
Of Tanzanian and African American heritage, Mankwe is celebrated for a sound and practice that spans genres and disciplines: celebrating influences from Jazz and African legacies, Hip Hop and Soul, performance art, theater, public art and improvisation. Based out of Minneapolis, Mankwe calls herself "a Culture Worker — an artist using creative practice to nurture and be useful to my community, my ancestors, and my planet." For their concert in Lanesboro, Mankwe and Bagaason plan to address transitions and personal transformations – endings and beginnings of both interpersonal and societal relationships – and explore connections between personal stories and global issues.
Ndosi has toured and recorded with independent hip-hop powerhouse duo Atmosphere and Brother Ali. Her solo releases include 'Do Gooder's Blues' (2009) and the critically acclaimed 'Science and Spirit' (2012). She describes her style on 'Science and Spirit' as "live, creative improvisational work with hip hop." A long-time creative associate of Chicago-based AACM (Association for the Advancement of Creative Musicians) Ndosi has spent years exploring improvisational and creative music making at the forefront and intersections of modern creative and avant-garde Jazz. Jazz Times reviewed the album, citing it as a "bold contribution to the art of Afrofuturism connects the all-embracing avant-gardism of the AACM, the cosmic chaos of the Sun Ra Arkestra."
Produced by Ndosi and Zach "Medium Zach" Bagaason of Big Quarters, 'Science and Spirit' is a gorgeous, slow-burning ember. Songs pulse with smooth beats that Ndosi flies over with vocal coolness. Ndosi describes it as "a fusion of live, creative improvisational work and vocal exploration and hip hop. It ends up being a mixture, which is where the name comes from, as well as there being a lot of songs about personal transformation and transformation points in relationships, whether out of or into. It's also talking about areas of society which can use some attention."
Mankwe has received support from the American Composer's Forum/McKnight Foundation, The Jerome Foundation, and the Minnesota State Arts Board. She works with people of all ages in exploring their creative voice and in valuing and unearthing their own songs and stories. She also has a brief history with farming, a passion for the soil, and is on the faculty of the Flourish Summer Camp at Dream Acres Farm in Wykoff, MN, teaching vocal improvisation.
Please note:
The St. Mane Theatre box office will open for business at 6:30 p.m. on the day of the event. Remaining tickets will be sold in-person beginning at that time.
If you are unable to buy tickets online or need additional assistance, you may try calling 507-467-2446, on weekdays before 5pm, to purchase tickets over the phone.
We will have a list of the names of ticket buyers at the box office beginning at 6:30 p.m. If the ticket buyer and their guests arrive together, no receipt or proof of purchase is needed in order to be admitted to the event–we will have a list!
Alternatively, attendees can also present a printed copy of the Eventbrite ticket PDF the ticket buyer was sent or simply pull it up and present it on a smart phone.
Sponsored by: