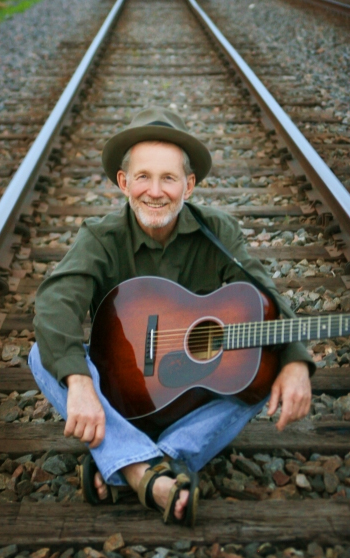 Lanesboro Arts will present an intimate evening of storytelling and folk music with singer-songwriter Johnsmith on Friday, May 5th at 7:30 p.m.  Returning to the St. Mane Theatre stage after a memorable 2014 performance, Johnsmith will be accompanied by his long-time friend, and String Ties member, Dan Sebranek on the guitar.
Based in Trempealeau, Wisconsin, Johnsmith is one of those artists so often under-recognized – he possesses a genius that cannot be denied, ignored, or overlooked. For the past thirty-plus years, Johnsmith has been sharing his music all across America and abroad. He has become a favorite at festivals, clubs, and house concerts alike. In addition to being a Kerrville New Folk Winner, Johnsmith has released seven critically acclaimed solo CDs, leads musical tours to Ireland, teaches songwriting, and has served as a staff songwriter in Nashville.
By his peers, Johnsmith is known as a "wordsmith"; by his fans, he is known as a healer. Above all, Johnsmith is a "bard": a mirror that is held up which reveals the secrets of the human heart and soul. He reveals these secrets through the mysterious alchemy of music, words and performances. His song lyrics are finely shaped and powerfully moving – often to tears.  With his faded jeans, his twinkly blue eyes, and his infectious smile, John immediately connects with audiences. You get the sense of a man who loves his life, his family and friends, and who loves nothing more than sharing that love in song and stories all across this land.
"Johnsmith's songs always move me. They make me laugh, cry, dance or just sing along. He is one of the most consistent writers of quality songs that I've ever met." – Lydia Hutchinson, Editor, Performing Songwriter Magazine
"[Johnsmith] is one of those really pure hearted people that isn't wasting any time on the cool factor, he gets there by virtue of his integrity."  – Frank Goodman Puremusic.com
Please note:
The St. Mane Theatre box office will open for business at 6:30 p.m. on the day of the event. Remaining tickets will be sold in-person beginning at that time.
If you are unable to buy tickets online or need additional assistance, you may try calling 507-467-2446, on weekdays before 5pm, to purchase tickets over the phone.
We will have a list of the names of ticket buyers at the box office beginning at 6:30 p.m. If the ticket buyer and their guests arrive together, no receipt or proof of purchase is needed in order to be admitted to the event–we will have a list!
Alternatively, attendees can also present a printed copy of the Eventbrite ticket PDF the ticket buyer was sent or simply pull it up and present it on a smart phone.
Sponsored by: