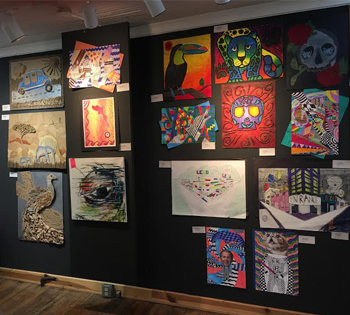 Lanesboro Arts will present the Annual Juried High School Art Show, showcasing work by 9-12th grade students from Mabel-Canton, Chatfield, Fillmore Central, Lanesboro, and Rushford-Peterson High Schools. The show opens with a reception on Saturday, March 11 from 6-8 p.m., which is a wonderful opportunity to meet and ask questions of the student artists and teachers from these schools. The show runs through March 26, 2017. Always free and open to the public, March gallery hours are Tuesday-Saturday 10 a.m. – 5 p.m.. The show features a variety of art projects, including those in ceramics, acrylics, pastels, ink, pencil, and mixed media sculpture.
Mabel-Canton art teacher Stena Lieb explained the value of her students participating in a juried public art show by saying, "…it allows them the opportunity to see that they can achieve art creation that is valued outside of the school community.  This has given my students a chance to see that I am not the only one who feels they can create artwork.  They can do it!"
According to Gallery Director Robbie Brokken, "The Art Show gives the students an opportunity to reveal a part of themselves to the public and each other through their art. Attendance and support of area families has been overwhelming and helps share our commitment to the community."
Minnesota's Standards for Fine Arts includes a presentation aspect of Visual Arts. Lieb added she has incorporated the Fine Arts Standards into the curriculum of her senior Art Exploration Class at Mabel-Canton by, "including Lanesboro Arts' Juried High School Art Show through a curator's eye in a real world setting.  My students can participate and understand what goes into the selection, presentation, and showing of artwork as a way of learning."
The exhibit is made possible by the voters of Minnesota through a Minnesota State Arts Board Operating Support grant, thanks to a legislative appropriation from the arts and cultural heritage fund.

Providing year-round arts programming for more than thirty years, the mission of Lanesboro Arts is to serve as a regional catalyst for artistic excellence and educational development in providing diverse art experiences for people of all ages.  For more information: www.lanesboroarts.org / 507-467-2446 / adam@lanesboroarts.org.  Handicapped accessible and free to the public, the exhibition gallery is located at 103 Parkway Ave N. in Lanesboro, Minnesota.