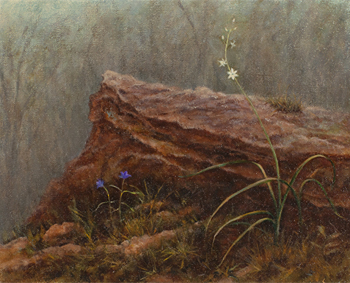 Lanesboro Arts presents "Small Treasures: Art of a Botanist", a oil painting exhibit by Sara Lubinski. The exhibit opens with an artist reception on Saturday, April 1, 2017, from 6-8 p.m., and runs through May 28, 2017. The reception will include wine and hors d'oeuvres, as well as live music. Always free and open to the public, the Lanesboro Arts Gallery is open six days a week through May (Tuesday-Sunday).
For oil painter Sara Lubinski, the Mississippi River Blufflands contain potential landscapes at every scale; this exhibit features the intimate beauty of small landscapes and the treasures they reveal: the delicate patterns of a moss-covered rock, the textured bark of a hickory tree, a butterfly in a sunlit meadow, the prairie flower blooming in April, and other small, and often rare, wonders of our region
"Small Treasures" is about changing scales and focusing on the smaller things Lubinski notices each day and has always wanted to paint. She hopes to raise awareness of how much there is to see and appreciate if we take the time to slow down and observe what is literally under our feet. "Small Treasures" is a compliment to her traveling "River Sojourn" exhibit; basically a shift from large to small.
Always an artist, Lubinski's 2004 return to the craft followed a period of working as a botanist.  Her science career included time spent learning about the nature of the Mississippi River and many of our national parks.  The beauty of these landscapes catalyzed her transition back to the easel.  She loves weaving the threads of science and art together, resulting in deeply expressive paintings of the natural world.
This exhibit is made possible by the voters of Minnesota through a Minnesota State Arts Board Operating Support grant, thanks to a legislative appropriation from the arts and cultural heritage fund. For more information visit www.lanesboroarts.org, call 507-467-2446 or email adam@lanesboroarts.org. Handicapped accessible and free to the public, the exhibition gallery is located at 103 Parkway Avenue North in Lanesboro.