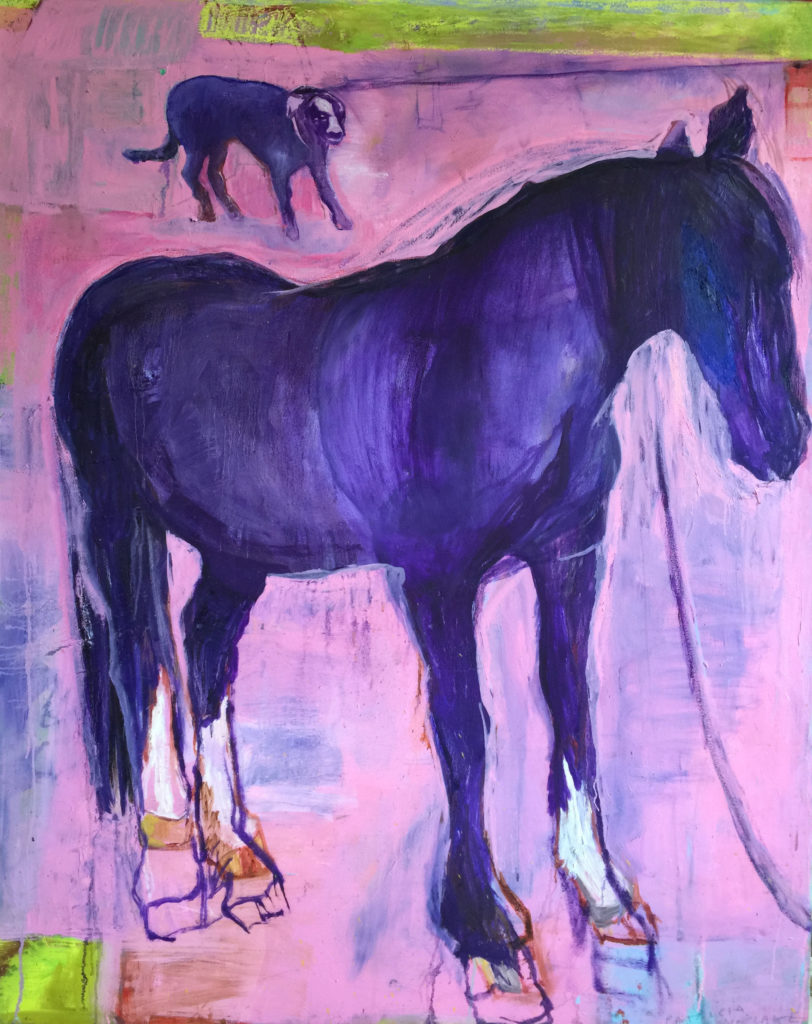 Lanesboro Arts presents "Rural Aesthetics," an exhibition of oil paintings by Patricia Canelake. The exhibit runs through August 6, 2017. Always free and open to the public, the Lanesboro Arts Gallery is open seven days a week June through October.
For Patricia Canelake, the rural aesthetic is an aesthetic of beauty–both obvious & mysterious. Simple figurative, and animal subjects, leashed and unleashed are the subjects of her work. She believes that the push and pull–the holding and letting go–are recognizable experiences of life.  The style of her paintings is a fine balance between storytelling and the rough elegance of form, line and color.
Canelake lives and works in Knife River, Minnesota, a small fishing village on the north shore of Lake Superior. She grew up on the Iron Range in Virginia, Minnesota where her father ran a handmade candy shop. She presently dips chocolates in Knife River and works at painting and printmaking in her two small, renovated buildings, which face the scenic north shore highway and Lake Superior. Her rural studio informs her practice immensely and her work often spills out into a large yard where she can stretch canvases outdoors or bring canvases to dry in the northeast winds and strong sun.
Canelake has received two McKnight awards, three Minnesota State Arts Board Grants, Public Art Commissions (Tech Village, Duluth, MN, Hibbing Community College, Hibbing, MN) and Arrowhead Regional Arts awards. She has participated in over eight national and international artist residencies. She taught Media Arts at Highland Park Senior High School in St. Paul, MN, as well as visual art and art history courses at Lake Superior College, Fond du Lac Community College, and Itasca Community College.
This exhibit is sponsored by Inspire(d) Magazine and supported by the voters of Minnesota through a Minnesota State Arts Board Operating Support grant, thanks to a legislative appropriation from the arts and cultural heritage fund. For more information visit www.lanesboroarts.org, call 507-467-2446 or email adam@lanesboroarts.org. Handicapped accessible and free to the public, the exhibition gallery is located at 103 Parkway Avenue North in Lanesboro.
Sponsored by: