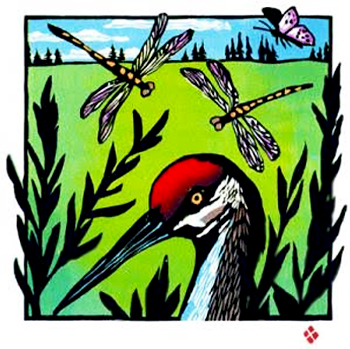 Lanesboro Arts presents "Homage to the Home Town", a printmaking exhibit by Betsy Bowen. The exhibit opens with an artist reception on Saturday, August 12, 2017, from 6-8 p.m., and runs through October 7, 2017. The reception will include wine and hors d'oeuvres, as well as live music. Always free and open to the public, the Lanesboro Arts Gallery is open seven days a week through October.
Betsy Bowen is an illustrator of both the wildlife and domestic life that takes place around her longtime home near Grand Marais on Minnesota's North Shore. The immediate lure of color and line in Betsy's woodcuts invites viewers to discover the good-humored stories she tells with her images. "Poet Muriel Rukeyser wrote that 'Scientists tell us that the world is made up of Atoms, but we know it is made up of Stories.' Now here is a concept that shaped my view of the world," states Betsy. "It is our Stories that hold the very form and energy of our existence."
To that end, Betsy has for many years produced prints to illustrate her own tales, including Antler, Bear, Canoe: A Northwoods Alphabet Year, and stories written by others, such as Nancy Van Laan's Shingebiss: An Ojibwe Legend. She is also involved with designing puppets and staging for local theatrics and is well known for the signature tepee she uses to mark her spot at art fairs.
Betsy operates a studio and gallery in the historic, century-old Grand Marais Playhouse. Her three sons are her collaborators: printmaker Jeremy, webmaster Eric and woodcrafter Philip. Their mission is "to express a life of hand-crafted, straightforward livelihood, considerate of the land and her inhabiting communities."
This exhibit is sponsored by the voters of Minnesota through a Minnesota State Arts Board Operating Support grant, thanks to a legislative appropriation from the arts and cultural heritage fund. For more information visit www.lanesboroarts.org, call 507-467-2446 or email adam@lanesboroarts.org. Handicapped accessible and free to the public, the exhibition gallery is located at 103 Parkway Avenue North in Lanesboro.