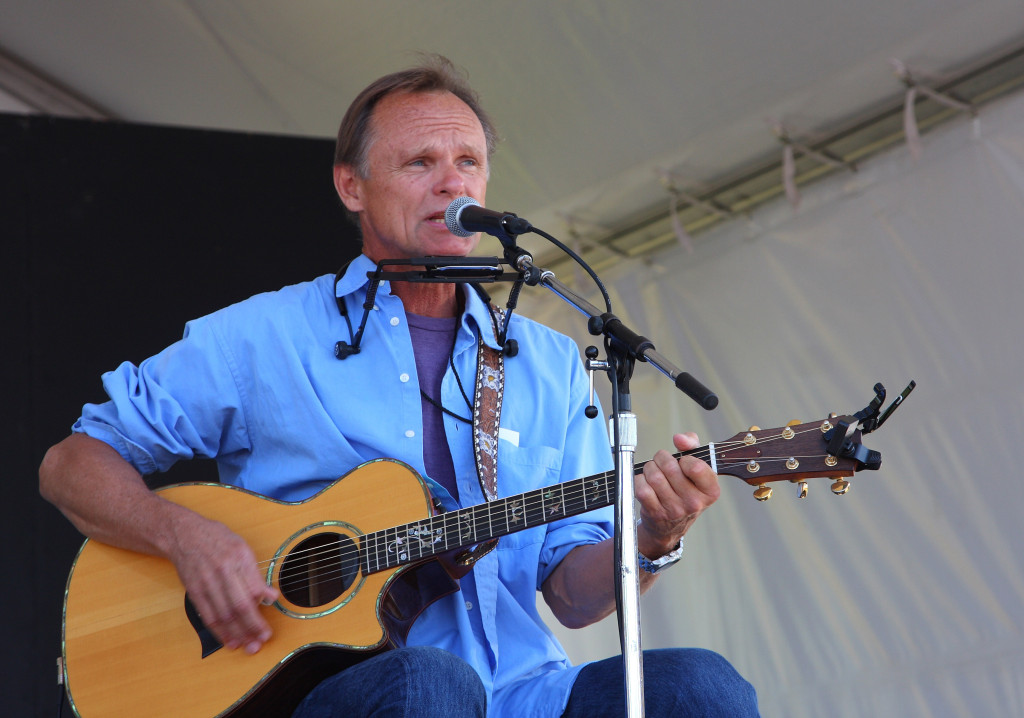 We are lucky to have him in Lanesboro! Four decades into a stellar career of uncompromising musical integrity, the man simply delivers, night after night – songs of passion, songs of insight, songs of humor, all rendered in that pure and powerful tenor which, like fine wine, has only grown sweeter with age. Since 1971, Jonathan has released 15 albums, including Blue Ridge.
Join us for the after-party upstairs in the St. Mane studio space!
This concert is supported by the Rudolf E. Wilhelm Fund of the Community Foundation for Southeast Michigan.
Jonathan's story – and his journey as a musician – is as good as his music. That journey began here in Minnesota, where he spent the first six years of his life before his father's government job brought the family to Virginia.  It was there that young Jon first sang in public – a solo in church at the age of eight – and began experimenting with songs played by ear on the family piano. On the brink of his teens, after only a few music lessons from the lady next door, he found that he was inclined to do his best learning on his own; in the decades to come, this would prove to be true not only with regard to music but also to life in general. Progressing from piano to guitar because, after all, it was the '60s, Jonathan began marching to the tunes in his own head rather than the ones dictated by his military school upbringing. "I started on a $29 guitar and immediately began putting a band together, writing songs and learning all the contemporary folk songs of the time," he recalls.  "I just loved it, loved everything about it, loved being in front of people playing music." He played (plays) all sorts of instruments. "I joined bands by saying, 'Can I be in your band?' and they'd ask, 'What do you play?' and I'd say, 'What do you need?'" he says. "I'm still that way.  I still love to play different instruments. It helps me understand production techniques and performance capabilities."
In his early twenties, Jonathan and his fellow band mates were playing over 100 grueling 6/40 gigs per year – six forty-minute sets per night – all over New England.  They played cover tunes as well as their own country blues originals. Not surprisingly, after a few years Jonathan grew weary of the grind, finding himself drawn more and more to the clean, simple sound of an acoustic guitar.  "I just one night said, 'Hey fellas, this isn't sounding as good as it could, and I'd like us to sound more intimate.'  I liked the sound of bronze strings on rosewood better than steel strings on magnets, and so I walked out of that club in Vermont, rented myself a van and PA system, and started traveling around the colleges in New England by myself, without gigs, just setting up in the lobbies of dormitories on a Saturday. Pretty soon I started getting a following. People would say, 'Has that guy been to your dorm yet? That guy just sets up, plugs in and plays all night.'" Jonathan's initiative and dedication soon paid off, and he found himself opening for national acts, including the Allman Brothers Band and B. B. King. Jump to 1998, when In 1998 Jonathan learned that a bootleg CD featuring the two Warner Brothers albums he had done back in the '70s had become a huge underground hit in the Netherlands. He contacted promoters there to see if there was any interest in having him come and do some shows, and the answer was a resounding "Yes!"  Since then, he has traveled there regularly, much to the delight of enthusiastic audiences who know all the words to his songs, refuse to let him leave the stage, and buy every CD they can get their hands on. Since 1971, Jonathan has released 15 albums, including Blue Ridge, his standard-setting collaboration with bluegrass favorites the Seldom Scene, and Little Hands, his collection of children's songs, which was honored with a National Library Association award.